The Flare of Neo-Singaporean Fare: Chef Han Li Guang at Makati Diamond Residences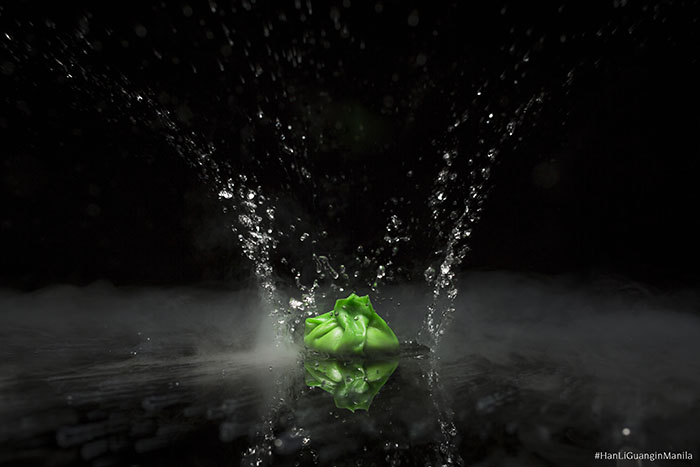 True to his promise of 'What you see is not what you get,' Chef Han Li Guang showcased his culinary prowess of avant-garde Neo-Singaporean cuisine last October 5 and 8, 2016 at Makati Diamond Residences.
This banker turned chef entered the culinary arena at age 29 as he opened his doors to Labyrinth Singapore. In a short period of three years, this emerging chef has gained recognition as 2014's 'Best New Restaurant' award by Wine & Dine Magazine and credited with the 'G Restaurant Award' by The Peak Singapore's Gourmet & Travel Magazine in both 2015 and 2016.
Making use of visual puns to surprise the eye and palate, his restaurant, Labyrinth Singapore, is known for their extensive tasting menus that alter textures and appearances without disappointing the expectations of traditional Singaporean flavors. Balanced in harmony with the produce of the Philippines, the dinner highlighted the similarities and cross cultural taste profiles of the Southeast Asian Nations.
Guests were welcomed with a specially crafted TWG Tea-Infused cocktail made of Darjeeling, Orange and Whisky.
The story unfolds with a pastry infused Asian salad, Rojak Puff, served with a Chwee Kueh rice cake and a pleasant pairing of Gosset Brut Rose.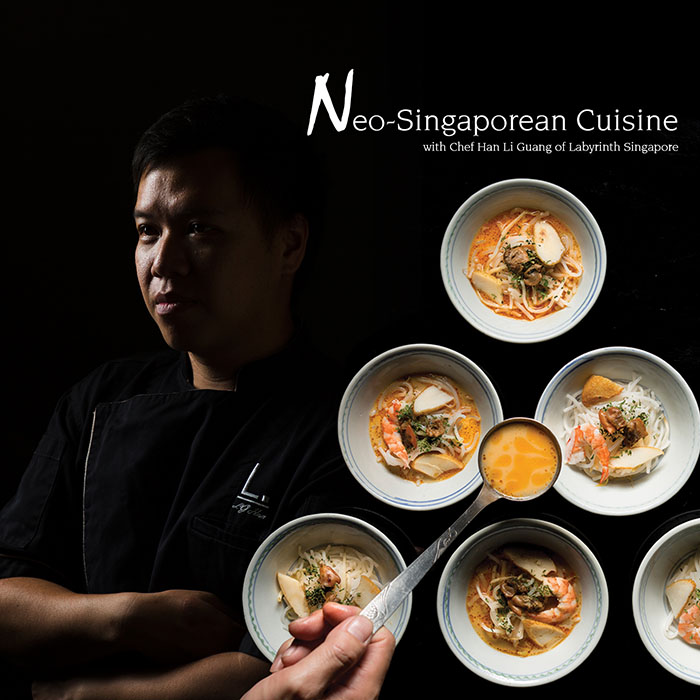 A progression of seafood was served, starting with a Chinese Ceviche and his personal take on the Filipino Kinilaw. The Trevally fish and scallops was carefully crafted together with Porridge Espuma smothered in a rich ramen broth exuding goodness of Umami flavor and dash of lemon juice for an extra layer acidity. Pan-seared to perfection, the succulent serving of King Mackerel was enhanced with the XO soup foam, providing it an additional earthy flavor profile. Labyrinth's celebrated savory and spicy dessert Chili Crab ends a feast of the sea, with ice cream made from tomatoes, chili and sambal urging diners to beware – of its delicious flavors sure to leave a lasting impression long after your last bite. A fruity and smooth Chardonnay from Central Coast, California hailing from the vineyards of Calera beautifully balances the seafood fare.
No celebration in the Philippines is truly complete without paying reverence to the traditional Roasted Pig. An unexpected blend of Char Siu, Umami Rice enriched with the dish's rendered fat and Seaweed Crisps are sure to excite those yearning for a new take on the local Lechon. Equally impressive was the Beef dish that followed, accentuated with the wonderful flavors of freshly made oyster sauce and burnt scallions. Both dishes served were delightfully complemented with a 2013 Cotes du Rhone Domaine de la Janasse.
Winding down the indulgence is what looks to be a signature Chendol Xiao Long Bao. The renowned dimsum is one of Labyrinth's unexpected jests, visually disarming you to an unexpected helping of Red Bean, Pandan and Coconut. To end, a Singaporean classic is served, sorbet made from local fruits in season, including Mangosteen, Pineapple and Dalandan, topped with Grass Jelly and Pandan Meringue.
This modern and fun take on authentic Singaporean dishes is sure to leave an impact on the local dining scene. Expect wonderful things to come out of this experience as the chefs of Alfred Restaurant undergo training to further their skill in Singaporean Cuisine and Molecular Gastronomy under the tutelage of Chef Han Li Guang, with the assistance of MasterChef Asia's first winner, Chef Wai Leong Woo and Chef Jin Amelia Yim.
Makati Diamond Residences is located at Legazpi Street, Legazpi Village, Makati City 1229. For more information, contact +63 2 317 0999 or visit www.makatidiamond.com or email reservations@makatidiamond.com. Check facebook.com/MakatiDiamondResidences or follow @makatidiamondresidences in Instagram for more updates.
Hits: 33