Restaurants Against Hunger: Dishes That Feed More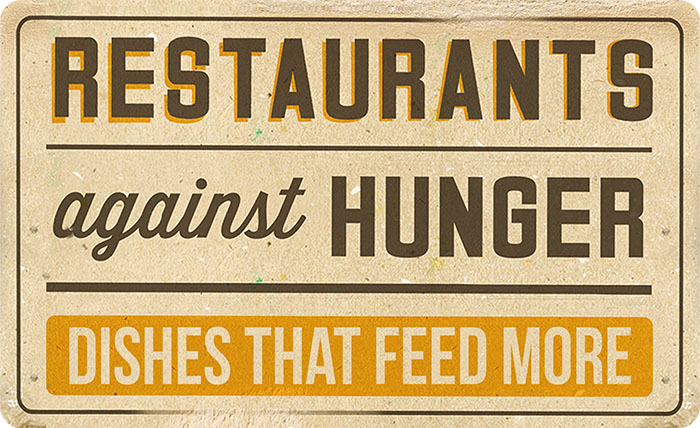 This holiday season, did you know that the simple act of ordering a dish can help alleviate malnutrition in the Philippines? From November 15, 2016 to January 15, 2017, international nongovernment organization Action Against Hunger together with partner restaurants and top chefs are bringing to life the Restaurants Against Hunger campaign. This campaign aims to save the lives of malnourished children in the Philippines through 'DISHES THAT FEED MORE' in participating restaurants. When ordered, proceeds from these dishes go to Action Against Hunger's programs in alleviating extreme malnutrition across the country.
For almost 40 years, across nearly 50 countries, Action Against Hunger has led the global fight against hunger. They are committed to ending world hunger, work to save the lives of malnourished children while providing communities with access to safe water and sustainable solutions to hunger. They ensure that the marginalized and most at risk have access to clean water, food, training and healthcare. They enable communities to be free from hunger. In the Philippines, Action Against Hunger has helped more than 500,000 people directly in 2015 alone. Of the 500,000, more than 30,000 were helped with nutrition programs – particularly saving lives via the prevention, detection and treatment of malnutrition, in particular during and following disasters and conflicts.  "Action Against Hunger continues to respond to these pressing issues and we want to reach more people to help and support us as we unlock children's potential and possibly give them something to look forward to in the future," says Javad Amoozegar, country director for Action Against Hunger Philippines.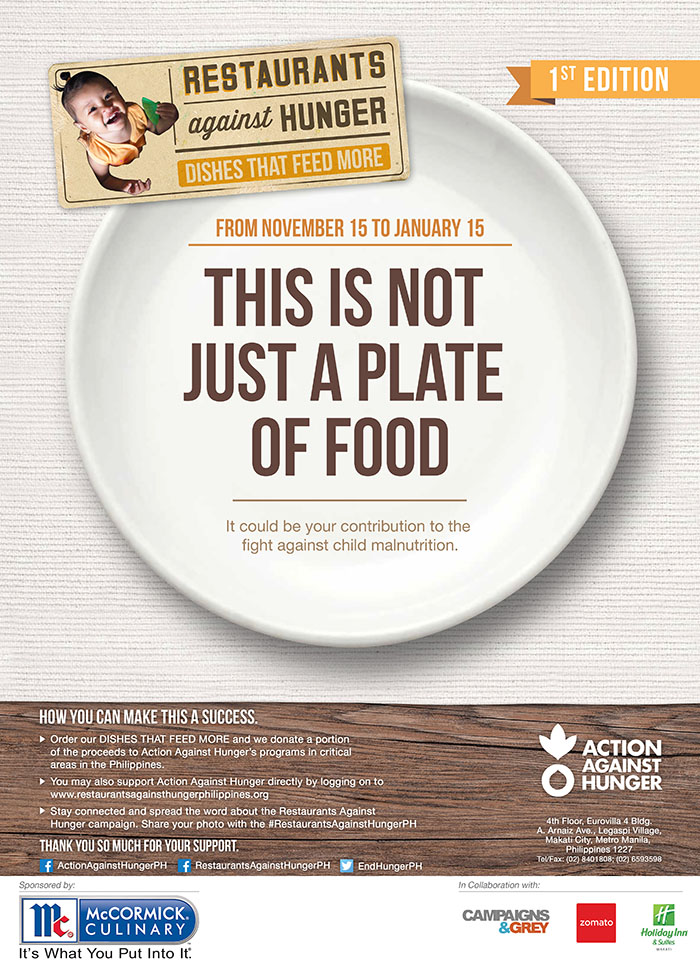 Hoping to raise more funds for ending hunger in the Philippines, Action Against Hunger is following the footsteps of its global counterparts by launching the Restaurants Against Hunger this 2016. Tracing back its roots from World Food Day in France back in 1998, Restaurants Against Hunger was also launched in UK, US, Canada, and Spain. The campaign is also currently running in Italy, Germany, Peru, Colombia and Bolivia. Joining the roster of multi-awarded chefs from around the globe, including the world's star chef John Roca, the Philippines own Chef Roland Laudico is a proud ambassador for the worthy cause.
"Restaurants Against Hunger makes me realize that our craft goes beyond mere cooking, it also transforms into a stronger cause that enables us to have a chance to make someone's future healthy," Chef Roland Laudico says.
Currently, over 103 establishments, including branches, have signed up to be a part of the campaign – and Action Against Hunger hopes that more restaurants sign up before December 15. "It's high time that we address this issue together and put up an advocacy that really encourages people to help fight malnutrition in their own ways— a simple act of ordering a dish can make a big difference," says Amoogezar.
In March 2016, Action Against Hunger released a report on the Socio-economy of Chronic Malnutrition in the Philippines. The Philippines, a lower-middle income country, is among the fastest-growing economies in Southeast Asia. However, sustained economic development has not manifested in a significant reduction of high stunting prevalence: 33.4% of children under-5 years old nationwide in 2015. This means that 1 in 3 Filipino children below five years old is too short for their age. Failure to achieve optimum child growth and development is attributed to several factors including poverty.
"High national stunting prevalence rates in the Philippines, along with very modest progress in stunting reduction over time, makes stunting one of the biggest challenges the country faces as it economically develops.  Stunted growth is not only about what we can see with our eyes but it also about poor intellectual development.  Stunting is more than just a health issue as it has an impact on adult productivity and Philippines' future. As stunting is a big challenge, it calls for a big effort among all Filipinos. Each one can make a meaningful contribution," says Amoozegar.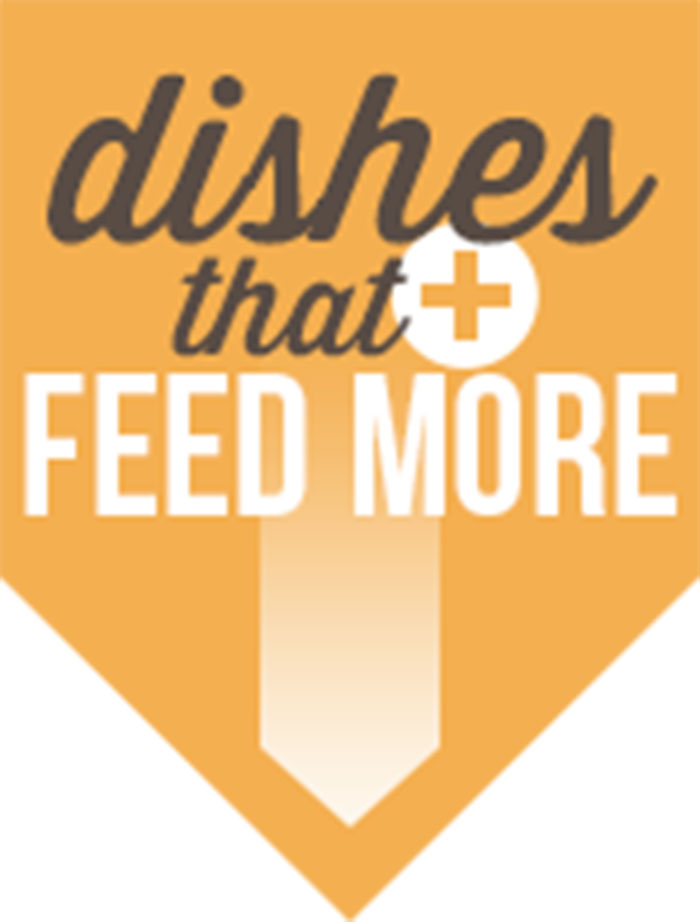 This campaign is about channeling the Filipino passion for food into life-saving impact against hunger and child malnutrition. Dine in these participating restaurants, order their DISHES THAT FEED MORE, and give children a healthier future: 8 Cuts, Beni's Falafel, Chelsea Grand Café, Chelsea Kitchen, Chotto Matte,  Corazon, Crisostomo, Crying Tiger, Cyma, El Cabrito, El Chupacabra, El Corazon, Elias, Feast, Felix, Florabel, Green Pastures, Grilla Filipino Cuisine, Guevarra's, Izakaya Sensu, Kabila, Manam, Melt Grilled Cheesery, Mexicali, Museum Café, OK Café, Ooma, Potts Point Café, Providore, Saboten, Señor Pollo, Simple Lang, Stella & Rocket Room, Terraz Bistro & Meetings, Terry's Bistro, The Café Mediterranean, The Corner Tree Café, The Old Spaghetti House, The Shrimp Shack, and Wild Ginger. Together, let's make every dish truly count.
Campaign starts November 15, 2016 and ends on January 15, 2017.  Registration for restaurants is open until November 30, 2016.  To register and get more information about the campaign, visit the website www.restaurantsagainsthungerphilippines.org.  For updates, follow the campaign in Facebook @RestaurantsAgainstHungerPH; Instagram @RestaurantsAgainstHungerPH; Twitter @EndHungerPH.  To help spread the word on the campaign, use the hashtag #RestaurantsAgainstHungerPH.
For more information about the organization, follow the official Facebook page @ActionAgainstHungerPH and visit the website www.accioncontraelhambre.org/es/filipinas.
LIST OF RESTAURANTS PARTICIPATING  IN RESTAURANTS AGAINST HUNGER:
8cuts
Beni's Falafel
Chelsea Grand Café
Chelsea Kitchen
Chotto Matte
Corazon
Crisostomo
Crying Tiger
Cyma
El Cabrito
El Chupacabra
El Corazon
Elias
Feast
Felix
Florabel
Green Pastures
Grilla Filipino Cuisine
Guevarra's
Izakaya Sensu
Kabila
Manam
Melt Grilled Cheesery
Mexicali
Museum Café
OK Café
Ooma
Potts Point Café
Providore
Saboten
Señor Pollo
Simplé lang
Stella and Rocketroom
Terraz Bistro & Meetings
Terry's Bistro
The Café Mediterranean
The Corner Tree Café
The Old Spaghetti House
The Shrimp Shack
Wild Ginger
Hits: 57