Pinyapel: waste pineapple leaves transformed into sustainable, locally-made specialty paper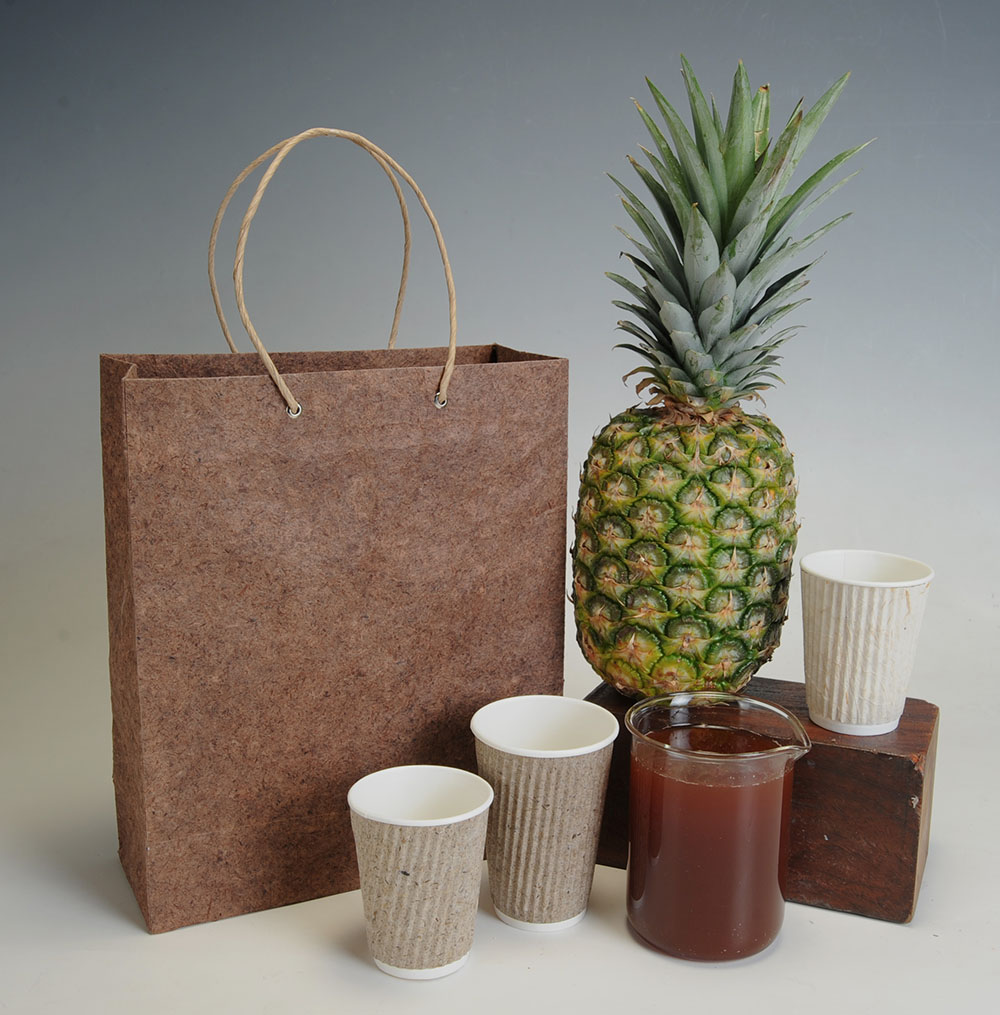 The Design Center of the Philippines, an attached agency to the Department of Trade and Industry committed to strengthening the Philippines' design ecosystem, recently launched pinyapel, a locally-processed and locally-manufactured specialty paper from locally-sourced discarded pineapple leaves.
"Design Center's pinyapel is a welcome development in our country's materials library," says Maria Rita O. Matute, executive director of Design Center. "Aside from indigenous raw materials, material choices now include processed agricultural waste, such as pineapple leaves, developed into high value materials."
"Exploring different materials and experimenting with the strength, assets, and potential of those material, we at Design Center intend to produce uniquely Filipino yet globally relevant material solutions that can improve our country's competitiveness in the global market," Matute adds, underlining the role of materials as building blocks of design.
Design Center has a materials research and development program that is committed to producing sustainable, cost-effective and commercially-viable new materials that can enhance Philippine products and services, and contribute in bolstering local businesses.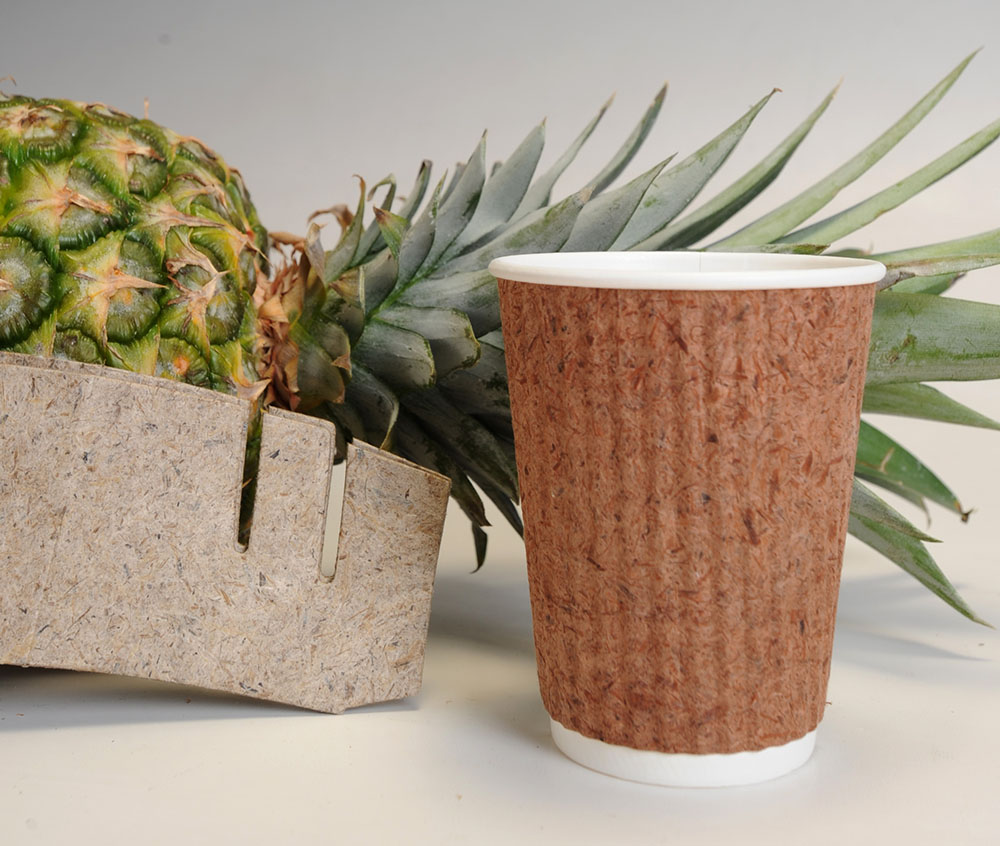 Locally-sourced, locally-manufactured paper
As the second largest producer of pineapple products globally, the Philippines produces the sweet-tasting and healthy tropical fruit in millions of metric tons annually. In year 2017 alone, the Philippine Statistics Authority's Selected Statistics on agriculture reports that pineapple production figures amount to 2.671M, with around 5% of that comprised of agricultural wastes such as pineapple leaves (Food and Fertilizer Technology Center).
Through the rigorous materials research and development efforts of Design Center, an IP (intellectual property)-protected process was developed, and yielded a specialty paper using pineapple leaves, reinforced and print viable for secondary packaging applications.
Pinyapel offers a solution for agricultural wastes by giving them new purpose and value. In this case, discarded pineapple leaves from pineapple plantations, and increasing livelihood for their farmers.
Nature's Fresh Pineapples, who supplied the discarded pineapple leaves for the experimentation and prototyping phases of pinyapel, says that aside from the diversified use of pineapple leaves from their farms, the initiative also became a tool to increase livelihood of their farmers. "For every one cycle of drying, collecting, and bagging of five tons of pineapple leaves, it adds an approximately Php 1,753 to the weekly income of every seven pineapple laborers," Aleli Mae Uy, chief operating officer of Nature's Fresh Pineapples, adds.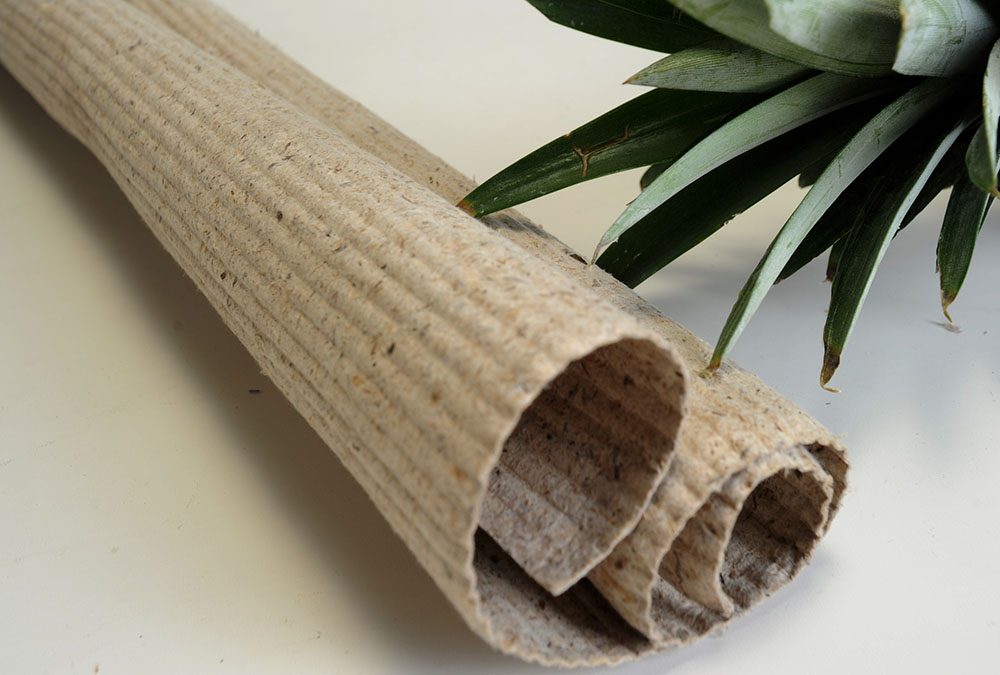 Pinyapel also leverages the country's agricultural industries to align with the UN Sustainable Development Goal of responsible production and consumption. Especially with the increasing awareness on sustainability going around locally and globally, Design Center's pinyapel initiative offers to spark more ideas in transforming local raw materials, agricultural and industrial wastes to high-value materials that can be used in new product development and innovative designs.
Lolita Cabanlet, general manager of CDO Handmade Paper, the paper sheet processor that partnered with Design Center in producing pinyapel, is proud that the Philippines is gradually moving towards sustainable and ecologically-conscientious manufacturing and production through the pinyapel initiative. "The development of pineapple paper by the Design Center of the Philippines came at its right time when people are searching for biodegradable and sustainable materials. It is best for packaging items such as bags, boxes, pouches, envelopes and many more. Aside from the local market, there is a huge demand for a food-safe pineapple paper itself from other countries, thus, export opportunity for it is bountiful," she further comments.
Lastly, the initiative seeks to involve raw materials suppliers, material converters, and manufacturers nationwide to encourage a circular economy that unlocks commercialization opportunities using the newly developed specialty paper.
For Ideatechs Packaging, who is also a partner for the beta run of the pinyapel production, the opportunity to collaborate with Design Center expanded material options as they were able to use pinyapel in gift bags and paper cup sleeves. "We at Ideatechs find it fulfilling that this collaboration has allowed us to support sustainability through the upcycling of waste pineapple leaves, and the local pineapple industry, especially those in the SME sector," Helen Lising, general manager of Ideatechs, shares.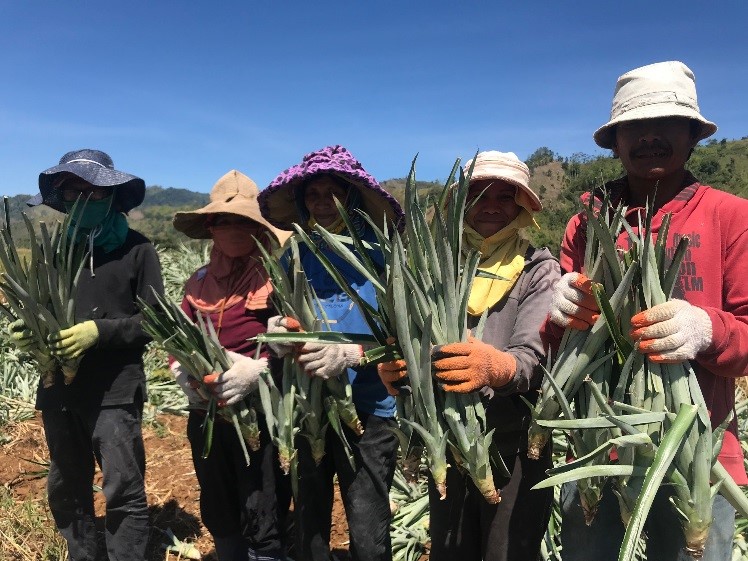 Further research and development initiatives are underway to develop a high value material for more product applications. Design Center is open to more interested converters and manufacturers willing to adopt the pinyapel formulation and process, and collaborate to further explore pinyapel for a more expansive commercialization.
Hits: 782