Wüsthof Classic Line and Knife Skills Class at Gourdo's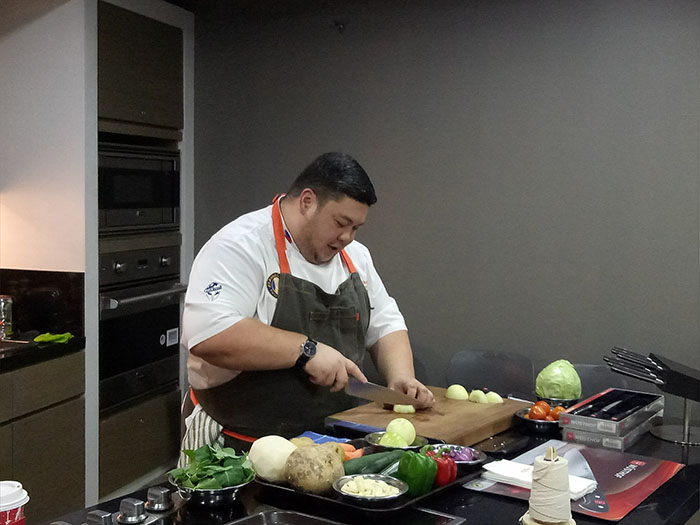 Wüsthof has been in the business of making knives in Solingen, Germany for over 200 years.
To produce a Wüsthof knife, 40 major manufacturing steps are involved, following strict rules in order to achieve the finest quality, while remaining environment-friendly.  For the Wüsthof Classic® range each knife is forged from a single blank of high carbon stainless steel (chromium-molybdenum-vanadium). This special alloy ensures that from the beginning, every Wüsthof Classic®  knife retain its razor sharp edge longer.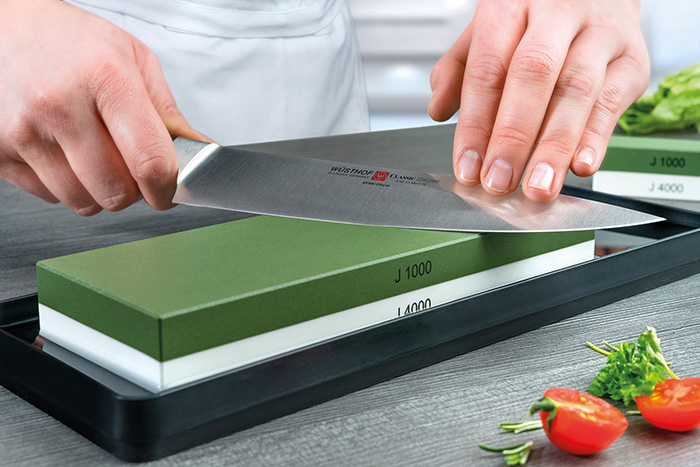 And with the new Wüsthof Precision Edge Technology (PEtec), Wüsthof knives are better than they have ever been. Through PEtec, the blades are measured before sharpening using lasers, computers calculate the precise sharpening angle for each blade and precision robots sharpen the blades on a whetstone, then the knives are given a final polish using a special disc.
The use of PEtec results in extremely high initial cutting performance, exceptionally long edge retention, and optimum cutting edge along the entire length of the blade which enables clean and precise cuts. In addition, Wüsthof  knives are particularly resistant to corrosion and are easy to sharpen.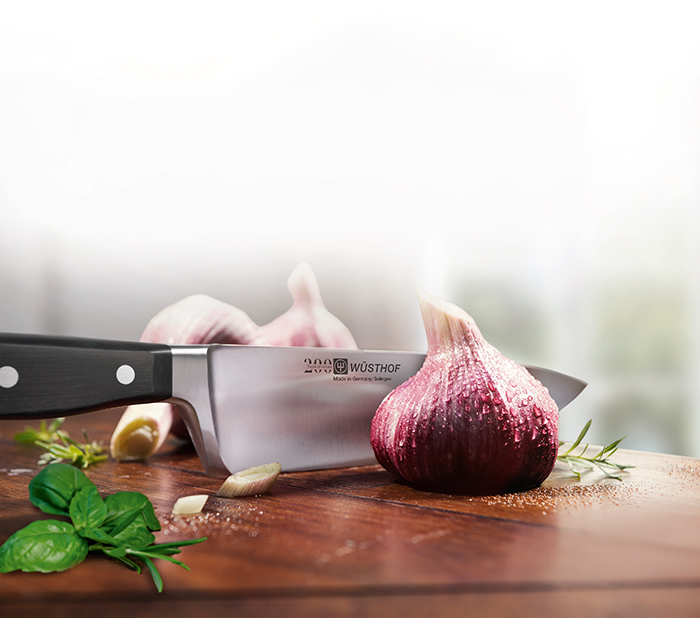 When you look at Wüsthof  knives in detail, you can easily see what makes them so popular with home cooks and professional chefs.  The spine of the blade is carefully ground and beautifully smooth, no sharp edges are left behind to press uncomfortably into the ball of the thumb. Stainless steel rivets permanently secure the handles to the tang. A finger guard is present to protect the fingers from sliding down the blade and the heel of the handle is shaped appropriately so that the knife can always be handled safely. Its weight also allows for the knife to be perfectly and securely balanced in the hand.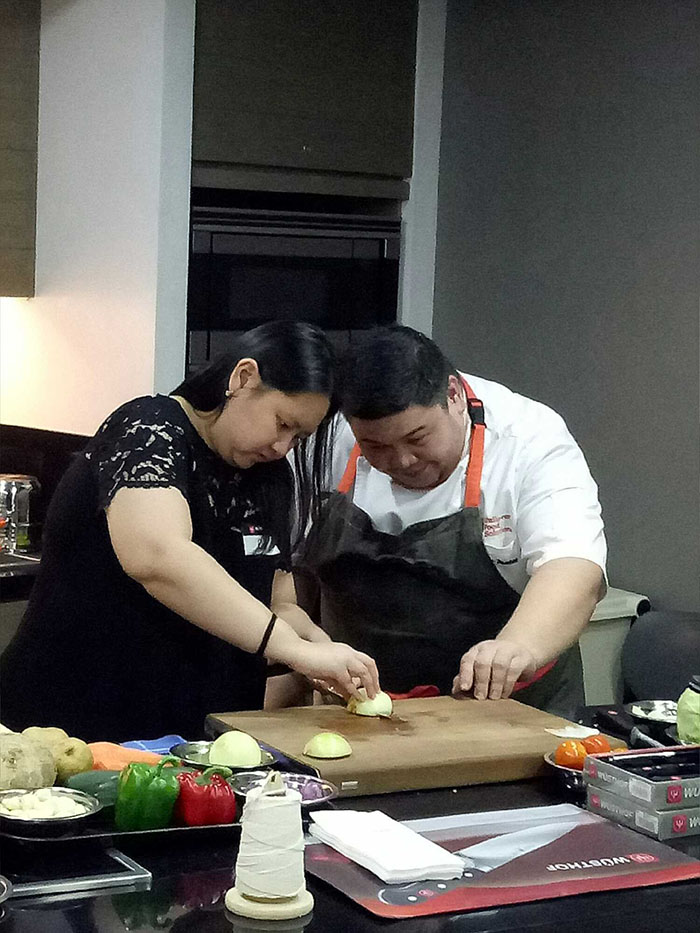 The Wüsthof Classic® line features an aesthetically appealing black handle sculpted in a classic design that is made of high quality synthetic material and triple-riveted to fit comfortably in the hand and ensure a safe hold during use. It is the first, the oldest, and the widest in the entire Wüsthof range.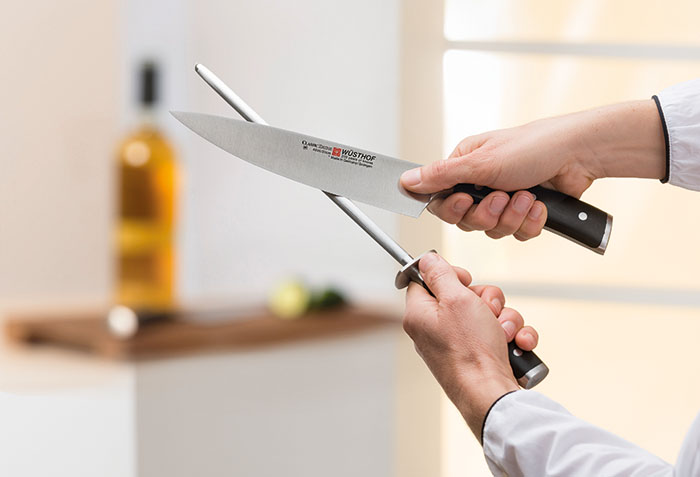 A few of the items from the Classic® Line were showcased during a recent event at Gourdo's in Megamall.  Chef Brando Santos used a Wüsthof Classic® Cook's knife to demonstrate the proper way to achieve different cuts such as the julienne, batonnet, dice, and brunoise. He also taught his audience how to execute techniques —  shred, mince, and chiffonade, among others. The Cook's knife is the most essential of all knives used in the kitchen. It is almost like the extension of your hand so it must be perfectly balanced. "The ergonomic handle design of Wüsthof's Classic® Cook's knife was developed in consultation with professional chefs," pointed out Alexander Hunn,  Area Sales Manager from Wüsthof, Germany.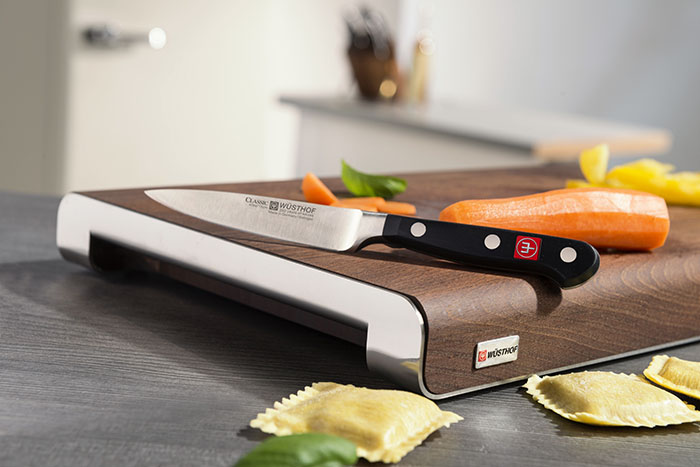 The versatile Wüsthof Classic® Paring Knife was chosen by Chef Brando for the tourne method and for mincing vegetables.  While the Wüsthof Classic® Boning Knife was whipped out for the portion on chicken fabrication.
Wüsthof knives are sharp from the start and retain their sharpness for a long time. However, if you use your knives frequently, you will need to sharpen them every now and then and Chef Brando explained how to sharpen knives using Wüsthof Whetstone and Steel.
The demonstration was just a sneak peek into the Knife Skills Class scheduled for January 28 to 29, 2017, 1:00 to 5:00 pm at Gourdo's Workshop in Megamall. Participants of the 2-day hands-on class will get the chance to work with fruits, vegetables, meat, poultry, and seafood. The culminating activity will be a cooking demonstration using the ingredients the students worked with. The fee of P5,000 covers the use of knives during class and ingredients. It also includes a certificate of completion and a free Wüsthof paring knife.
"The Knife Skills Class is just one of the many workshops that we conduct at Gourdo's. We are thankful to Wüsthof for supporting our vision of bringing together homemakers, food enthusiasts, professional chefs, and restaurant-owners for collective learning," said Susan San Miguel, Gourdo's Assistant General Manager for Merchandising.
For more information, log on to www.gourdos.com or call the Gourdo's 24-hour hotline at (02) 8123022.
Wusthof products which include forged knives along with cutting boards, knife blocks, kitchen tools, and scissors are exclusively distributed by Gourdo's, with branches at Uptown Mall and The Fort in BGC, Megamall, Alabang Town Center, Glorietta 4, Trinoma, Greenbelt 5, Gateway Mall, Robinson's Magnolia, and The Promenade in Greenhills.