Wolfgang's Steakhouse Bar: Nothing beats a classic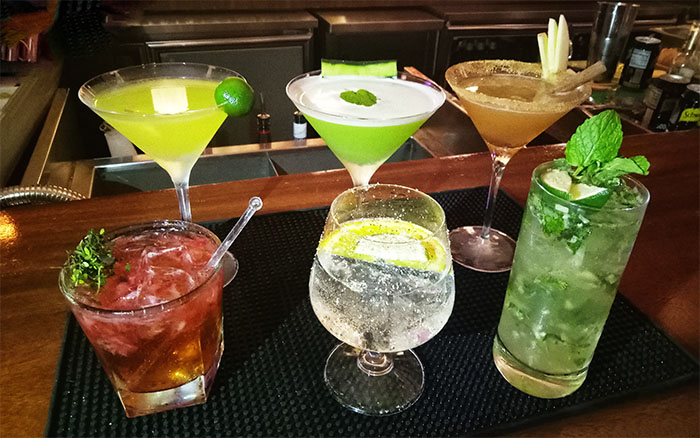 After a productive day of work, nothing beats knocking back a few drinks at the local bar. Just a few good cocktails, a couple of colleagues and friends to enjoy them with, and a nice relaxing night of conversation, work-related or otherwise. Unfortunately, classic and laid-back bars are few and far between in a metro that's filled with crowded watering holes that play music on full blast, which are not entirely conducive for good conversation.
For those who crave a bar experience that is a bit more relaxed, conversation-, and business- friendly, the Wolfgang's Steakhouse bar in Resorts World Manila is ready to serve. At their recent bar launch, guests got a taste of what it's like to drink and dine like the elite power set.
"We want to give our guests a classy and relatively quiet bar experience," said Travis Halverson, General Manager of Wolfgang's Steakhouse. "It's a place where you can celebrate a successful business deal, meet professional contacts and personal friends, or just unwind after your daily grind," he continued.
The bar looked stylish and reminiscent of bars of that in New York and Chicago, with an extravagant display of liquor bottles afront a large mirror, looking out onto a classic-style bar with beautiful brown leather bar stools to complement the neutral-toned interior of the restaurant.
At the launch, six new drinks were presented to the guests. Each drink has a unique spin to it, which makes for an interesting taste and feel. Some of the drinks featured were Overthyme (a savory gin-based drink with thyme and strawberries) Newport Silk, containing egg white foam, and a calamansi-ginger-vodka concoction for a hint of local flavour.
Wolfgang's Steakhouse, which serves the best steak in Southeast Asia, has been operating in the country for a year. Since then, it has become the premiere destination for lavish steak dinners fit for even the most discerning world-traveler.
The restaurant is operated by the Excello Restaurant Management Group. According to Excello Managing partner Leina Bolinas, the group is always taking great care to give customers of its restaurants and authentic experience. "As [Wolfgang's] is a renowned steakhouse that originated in New York, we go to great lengths to replicate the experience of the original," she said. "Our lead kitchen and bar staff, as well as us, the managers, even went to train and immerse in the main branch in New York so we can capture what really makes Wolfgang's the world renowned steakhouse that it is," she explained.
That said, those looking for an authentic New York bar experience, or just a nice quiet place to drink, deal, and socialize, need not book plane tickets to the Big Apple. Wolfgang's Steakhouse bar will bring that experience to you right here in the metro.
For inquiries and reservations, you may call Wolfgang's Steakhouse at 0920-821-9247, 0995-610-2361, or 02-358- 7706. You may also e-mail them at reservations@wolfgangssteakhouse.ph.