Phoenix Court, The Bellevue Manila Welcomes Guest Chef Lim Chee Hoe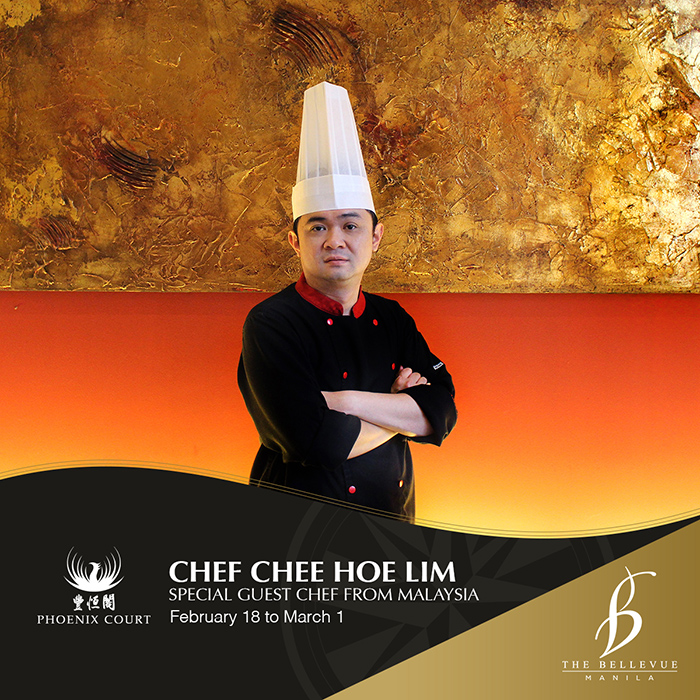 The Bellevue Manila brings the best of Oriental dining experience to Alabang from February 18 to March 1, 2017 as Phoenix Court features a new Dim Sum menu tailor-made by Malaysian guest chef Lim Chee Hoe.
Bringing in solid years of culinary expertise is Malaysian born Chef who has been working on dim sum delicacies from his previous stints in the Philippines, Malaysia, Russia, India and Dubai. His impressive portfolio includes working in Pullman Hotels and Resorts, ZU Restaurants, Malaysia Genting Group Casino, Yauatcha Mumbai, and Resorts World Manila.
Chef Lim Chee Hoe, together with Phoenix Court's Executive Chinese Chef Cheong Kwan Loong, will introduce a custom menu featuring original and exquisite specialties, such as Baked Barbecue Bun, Steamed Prawn and Kut Choi Dumpling, Deep-Fried Bun with Milk Cream Porcupine Style, and Steamed Rice Roll with Assorted Mushroom, alongside other culinary delights.
Phoenix Court will offer this mouth-watering Dim Sum menu for lunch at 11 am to 2:30 pm, and for dinner at 6:00 pm to 10:00 pm, every day except Monday, on February 18 to March 1, 2017.
For enquiries and promo information, please contact (63 2) 771 8181 local 2211 or visit the hotel's website www.thebellevue.com.
Hits: 61