Crimson Hotel Culinary Dream Team wins Gold at the 2017 Philippine Culinary Cup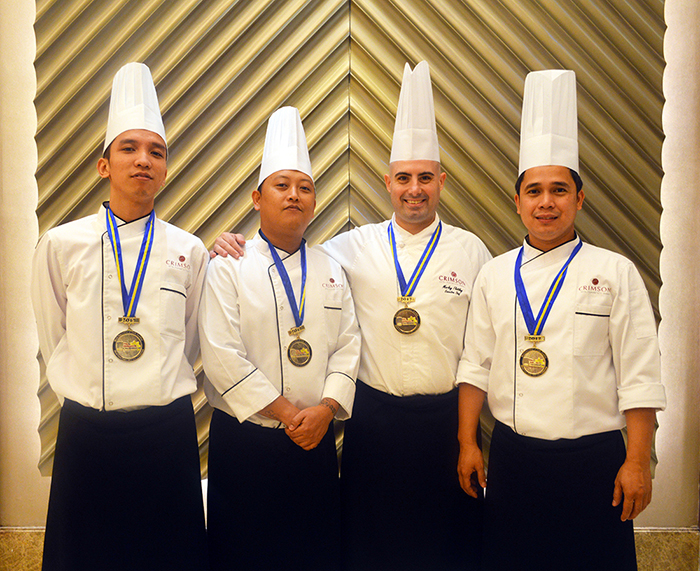 The culinary team of Crimson Hotel Filinvest City, Manila won gold at the Dream Team Challenge category of the 2017 Philippine Culinary Cup held recently at the SMX Convention Center in Pasay City. The Philippine Culinary Cup is considered as the most prestigious culinary competition in the Philippines.
Crimson Hotel's winning Dream Team is composed of Executive Chef Marley Flattley, Executive Sous Chef Plaridelio Adora, Chef Daniel Tan and Chef Virgilio Vasquez.
The team was asked to prepare and present a three-course menu for three (3) persons within 120 minutes. The team was also tasked to create an appetizer using flounder, a main course of Iberico belly and foie gras and, a dessert utilizing chocolate, milk, butter, cream and cheese.
Criteria for judging includes mise en place and hygiene, correct preparation, practical and up-to-date presentation—and most important of all—taste.
Crimson Hotel's winning Dream Team was able to create the delectable three-course menu, namely: Smoked flounder confit with mango salsa, pickled beetroot and sweet pepper reduction as appetizer; Slow roast pork belly with foie gras croquette, boulangere potato and red cabbage puree for the main course; and Chocolate cremeux with basil cream cheese, crunchy milk chocolate croquantine and jalapeno pistachio puree for dessert.
The triumphant Crimson Hotel team was led by Executive Chef Marley Flattley, a Maltese national and Institute of Tourism Studies Malta alumnus bearing a degree in Culinary Arts, who had an extensive global experience in the hotel sector. His culinary expertise brought him to Hilton Malta, Trump Turnberry Resort in Scotland, The Savoy Hotel in London, JW Marriott in Azerbaijan and Intercontinental Hotel in Oman among others. He is currently regaling food enthusiasts with irresistible dishes at Crimson Hotel Filinvest City, Manila.
Asked what he thinks made them win the category, Chef Marley Falttley was quick to say that, "It's teamwork. I think we made our dishes with love."
Lending his culinary prowess is one of Crimson Hotel's finest, Executive Sous Chef Plaridelio Adora. His vast experience includes previous Sous Chef roles at Oryx Rotana in Qatar, Movenpick Hotel JBR in Dubai and at Ritz-Carlton in Riyadh.
The judges noted that the winning dishes were flavorful, spicy, and nicely presented with good color combination.
Experience the award-winning culinary expertise of the Crimson Hotel dream team. For more information or reservations, please visit the official website at http://www.crimsonhotel.com/manila/ or call (02) 863-2222.
Hits: 124