Explore a World of Unique Coffee Experiences with Nespresso
A cup of coffee should offer more than just a quick fix to your caffeine craving; it should mean much more than a daily habit. Whether you like to take a sip in the morning before plunging into your day, or have quite a few doses between meetings, coffee should offer a pleasurable experience, with delightful taste and aroma that fill your senses.
This is exactly what Nespresso is about. The brand doesn't want to give you just coffee, it wants you to have your own Nespresso Moment.
The pioneer and reference for high-quality portioned coffee, Nespresso has revolutionized the global coffee culture with its 24 Grand Cru capsules and stylish and state-of-the art machines that allow you to create the perfect cup like a skilled barista.
Transforming Coffee Culture
Nespresso has been providing coffee consumers with the highest quality coffee experiences for over three decades. Since its creation in 1986, the company has redefined and revolutionized the way millions of people enjoy their coffee today, shaping the global coffee culture, and becoming the reference for portioned coffee worldwide.
Nespresso continues to define and shape the industry through constant innovation, renewal, and engagement, reinventing the overall coffee consumption experience with the combination of its strictly-selected coffee, cutting-edge technology, and the unparalleled, personalized service.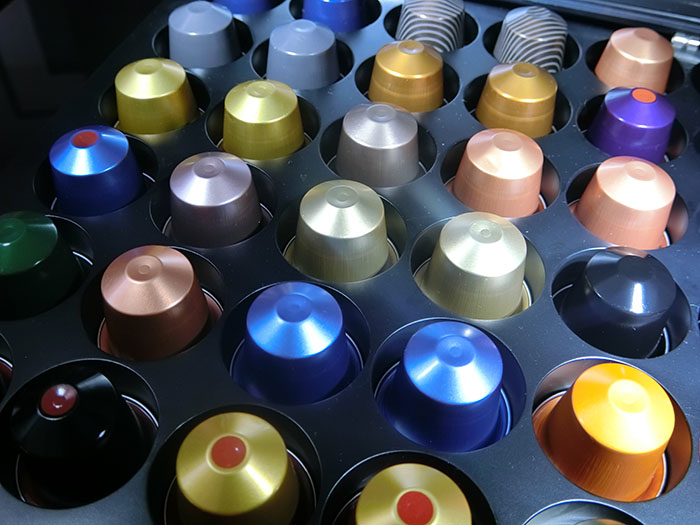 The Grand Cru Coffees
Only 1-2% of the worldwide coffee crop meets Nespresso's strict quality and aroma profile requirements for its Grand Cru coffees. These rare coffees, from the world's most well-renowned coffee growing regions, are crafted into exceptional blends and single origin coffees, specially developed to suit every taste preference.
Decaffeinato
The Grand Cru coffees are available in 24 exceptional blends, each one featuring a distinct aroma profile, and hermetically sealed in aluminum capsule which preserves the freshness and aromas of the coffee against damaging factors, such as light, air and humidity and ensures that all aromas are protected until extraction in the consumers' cups.
Espresso
The Stylish, State-of-the-Art Machines
The perfect cup doesn't end with just the coffee. Nespresso machines are equipped with a unique technology that delivers an optimal equilibrium between the right water temperature, quantity and speed, along with the optimal extraction pressure, creating an exquisite cup every time. Each parameter has been calculated with great precision to ensure that all the aromas from each Grand Cru can be expressed, giving it body and creating an incomparably dense and thick crema, the sign of ultimate coffee quality.Designed to deliver extraordinary taste and convenience, each machine remains unique in itself so as to answer to various preference.
The Nespresso machines are also stylishly designed, each one with different looks, functions, and features that suit any personality, preference, lifestyle, and individual sense of style.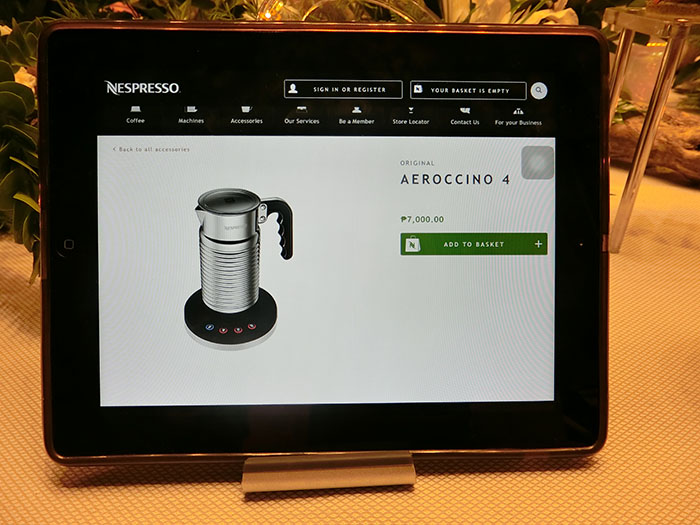 Staying Connected
Completing the extraordinary coffee experience is the personalized service that Nespresso provides its customers. It has built channels where it can cultivate direct and personal relationships with its global community of customers, allowing it to continually anticipate their expectations and evolve to meet them. Its unique route-to-market, encompassing e-commerce, call centers, and physical stores, separate Nespresso from just any other coffee provider.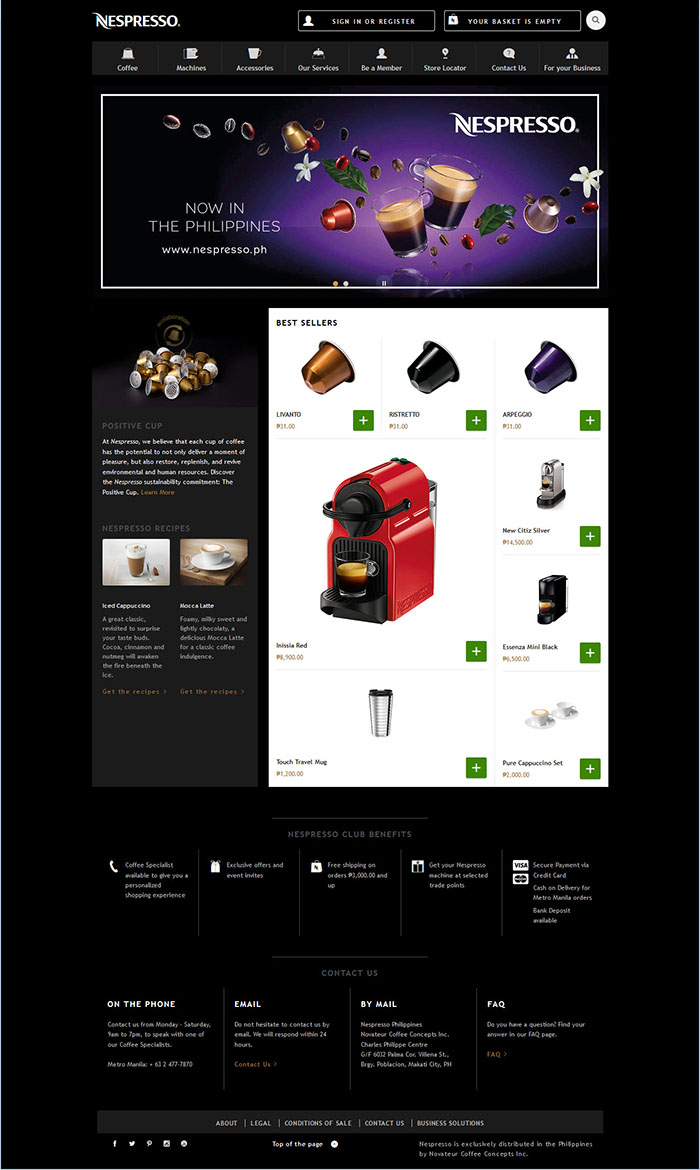 Customers can purchase any Nespresso product online, allowing them to get their hands on their coffee fix with just a few clicks. What's more, Nespresso customers can register their information online to qualify as Nespresso Club Members, which allows them to enjoy exclusive perks and privileges, like never having to be without Nespresso coffee ever again, meaning, if the machine needs repair or maintenance, Nespresso would provide a temporary unit until the original one is delivered back.
Intenso
Nespresso Arrives in the Philippines
Coffee lovers in the Philippines are about to get that extraordinary coffee experience as Nespresso officially sets foot in the country this month. Filipino consumers will finally be able to enjoy this affordable luxury with a direct and more convenient access to Nespresso products. They can now buy their Nespresso machines conveniently where they usually shop, as these will be available at Rustan's Makati, Rustan's Shangri-la Plaza, and Abenson BGC initially, and will expand to other locations in the next few months. They can also taste the different Nespresso coffees in these locations.
Lungo
As the brand marks its presence in the country, several customer touchpoints will also be opened, giving consumers relevant information, utmost convenience, and channels through which they can get in touch with the brand and ultimately get the most out of their Nespresso.
Pure Origin
A customer hotline will be available where Nespresso Coffee Specialists can offer consultation and receive orders, too. Orders for machines, coffee capsules, and even accessories can be made through www.nespresso.ph, with delivery to their address of choice. Now you can have the delicious Nespresso coffee without even having to leave your home and have it delivered right at your doorstep.
Variations
But there's more to look forward to, as Nespresso will be opening its first ever Nespresso Boutique in the Philippines in December. The brand is serious about making your every day extraordinary, and with the delicious and high-quality coffee and superb customer service that they offer, Filipino coffee lovers are set to have a taste of the full Nespresso experience.
A Local Spin on a World of Flavors
In celebration of Nespresso's much-anticipated official launch in the Philippines, it collaborated with Chef Sunshine Puey to develop a special coffee recipe infused with some local flavors. The objective was to come up with something simple and easily doable at home, making use of ingredients that are familiar and accessible to the Filipino.
The resulting recipe is Toasted Coconut Mocha- Nespresso coffee, a bit of dark chocolate syrup, some coconut milk, and topped with toasted coconut.  It is a well-balanced drink- the coconut milk giving creaminess and richness, without overpowering the flavor of the espresso.  The dark chocolate gives a hint of sweetness and depth, while the toasted coconut shavings provide a surprising textural element. The use of coconut makes the recipe truly Filipino, being a common ingredient in many Filipino desserts, and even viands in some regions.
The Nespresso Grand Crus featured in this recipe is the Capriccio, one of the four original Nespresso Grand Crus launched way back in 1986.  At that time, at an intensity level of 5, it was the most intense coffee in the range.  Its flavor is rich and distinctive, with some cereal notes.  The coconut milk in the recipe enhances Capriccio's medium roasted flavors and reveals its smooth, sweet character, without losing the distinct espresso flavor.
Chef Sunshine Puey is known for her desserts, particularly of the French kind.  After graduating with a degree in Education from De La Salle University, she studied in Tante Marie's Cooking School in San Francisco and the Institute of Culinary Education in New York. She also took a Master's class in Ecole Ritz Escoffier in Paris and worked as a caterer for 6 years. She was co-chef and owner of The Goose Station restaurant from 2009-2016. She opened Gourmandise, a specialty dessert shop, in 2012.
Asked about Nespresso, this project, and her inspirations, Chef Sunshine says:
How did you discover Nespresso?
I discovered Nespresso about 10 or 11 years ago when my mother tried it on a trip to Switzerland. She came home raving about this new coffee that she tried and proceeded to buy machines for myself and my siblings. We've all been loyal to the brand ever since.
Favorite Nespresso Grand Crus?
Volluto for drinking and Arpeggio for cooking.
Describe your journey as a Nespresso customer and now a chef behind a Nespresso  recipe with a local twist.
I somewhat feel like my journey with the brand has come full circle. But that is not to say that it has come to an end. Not only do I immensely enjoy the product, I also love the advocacies and the stories behind the brand. I love that they are so environmentally responsible as they also think about what happens to the pods after use and use it to help local farmers with their endeavors.
What  message do you want to convey to Filipino coffee lovers when  they try your recipe? What do you want them to take away from the coffee experience?
I personally think that one of the reasons why Nespresso is so great is because each cup and brew are so consistent. And they make brewing your own coffee so easy. So I'd like to share with Filipino coffee drinkers that exceptionally made coffee is available with just the simple touch of the finger and right in their very own homes as well.
What's your general philosophy or inspiration when  concocting your recipes?
I don't like anything too complicated as I believe good ingredients should shine.
Aside from the Toasted Coconut Latte, Chef Sunshine developed three other recipes for Nespresso, which will be launched in the succeeding months, leading to the big opening of the first ever Nespresso Boutique in the Philippines towards year-end.  These recipes will be featured in the upcoming Nespresso events, and also in the Boutique's tasting station.
TOASTED COCONUT MOCHA
1/4 cup dark chocolate syrup
(2 cups) Nespresso Capriccio espresso
1/2 cup dairy or coconut milk
1/2 cup toasted coconut
In the bottom of one coffee mug pour 2 tablespoons chocolate syrup. Pour in 1 cup hot coffee and stir until dissolved. Stir in 1/4 cup coconut milk. Repeat with a second coffee mug. Top both with whipped cream and toasted coconut.
Hits: 173