Air Juan Redefines Direct Flights
Traveling in the Philippines can be a bit of a paradox. While the scattered islands pose a challenge to accessibility, the same geography gives us a lot of unique places and experiences that can't be found elsewhere.
Such is the reason why Air Juan, an exciting new commercial carrier, is bringing its unique brand of aviation to Philippine travelers. Since its maiden flight in 2012, the company has been redefining the term "direct flight" in ways never before seen in local commercial aviation.
"When Air Juan says we fly direct, we can mean it in the literal sense," says John Gutierrez, President of Air Juan. "Imagine landing directly in front of your beachfront resort. With our seaplanes and our team of specially trained pilots, it's possible for all destinations where this service may apply", he adds.
Air Juan commands a fleet of seaplanes, landplanes, and helicopters to extend their reach beyond the usual hubs. As the only commercial seaplane operator in the country—and the largest in Southeast Asia—the company can fly to places with short runways, or in most cases, no runways at all. A total of 12 aircraft currently make up the fleet, which the company plans to double in size in the next five years.
Air Juan's Direct Flight Destinations
Unlike most commercial carriers, Air Juan specializes in inter-island travel. They fly directly between destinations without having to pass through the major hubs, eliminating the time that's usually wasted in crowded airports. Scheduled flights cover 22 popular routes but, with seaplanes and helicopters at its disposal, the company can fly practically anywhere in the country. Especially with the newly-improved terminal in CCP Complex, travelers can forget long airport queues and just sit back as they fly directly to the country's gems of tourism.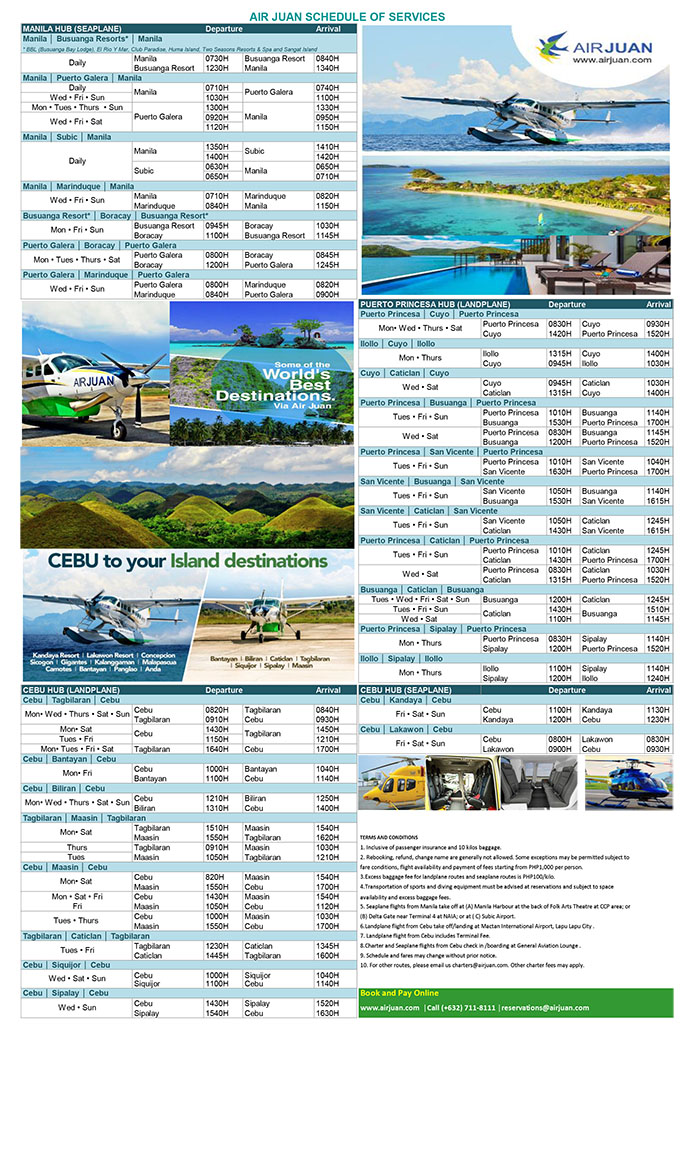 "We make every flight as pleasantly memorable as possible, but we still remain focused on our goal, which is to take passengers to their destination as safely and conveniently as possible," explains Gutierrez. "After all, time spent waiting in queues could be time spent enjoying the islands and its people."
About Air Juan Aviation Inc.
Air Juan is a pioneering aviation company that operates seaplanes, land planes and helicopters; providing fast and convenient air transport services to the Philippines' most beautiful destinations. The company is a duly licensed scheduled airline by the Civil Aviation Authority of the Philippines (CAAP) and the Civil Aeronautics Board (CAB). Air Juan is also accredited by the Department of Tourism (DOT) as a Tourist Air Transport provider and is the biggest commercial seaplane operator in Southeast Asia.
Hits: 102