Make gatherings healthy and the delicious – the Mediterranean way
With the arrival of the 'ber' months, a lot of gatherings, meeting and family reunions will take place. You don't have to be harassed with all the preparations.  In fact, you can make food on your own and be proud to let everyone know that you have prepared something that is delicious yet healthy at the same time.
When we say "healthy and delicious", one cuisine that comes into mind is Mediterranean food.  Now, if you don't have much time, try these two treats: Shrimp Puttanesca Rice Bowl with Capers & Tomatoes and the Fusilli with Anchovy Caper Sauce.
Following these easy-to-follow recipes courtesy of Doña Elena, you're sure to hit the yum spot with this hearty and healthy one-bowl dish and pasta favorite. Don't forget to take these flavor-packed dishes to the next level using Doña Elena Premium Mediterranean line of products.
With its wide array of Mediterranean products — Black and Green Olives, Capers, Olive Oil, Flat Fillets in Anchovies, Spanish Sardines and Canned Tomatoes — confidently re-create the authentic gourmet flavor of any Spanish Mediterranean dish right in the comfort of any kitchen, whether it is at your home or the office to mark the celebrations this coming 'ber' months.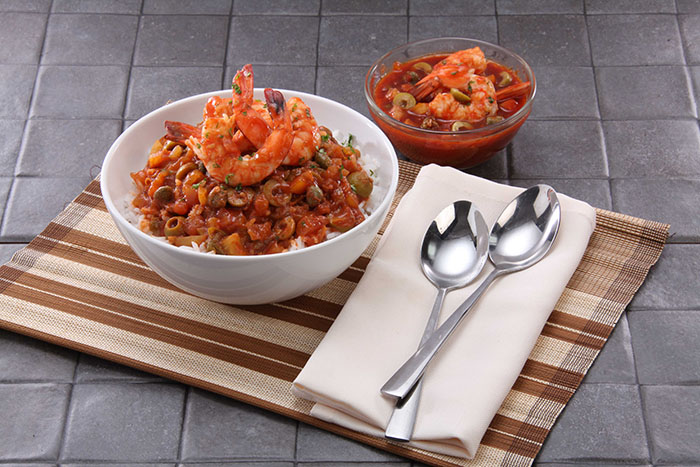 SHRIMP PUTTANESCA RICE BOWL WITH CAPERS & TOMATOES
INGREDIENTS:
1 tbsp Doña Elena Pure Olive Oil
3 cloves Garlic, minced
3 fillets Doña Elena Anchovies, chopped
¼ tsp Red pepper flakes
800g Doña Elena Diced Tomatoes
2 tbsp Doña Elena Capers, drained
¼ cup Doña Elena Sliced Black Olives
1 lb Shrimp, shelled and deveined
¼ cup Italian parsley, minced
2 cups White rice, cooked
PROCEDURE:
Heat Doña Elena Pure Olive Oil in a large skillet set over medium heat.
Add the garlic, Doña Elena anchovy fillets and red pepper flakes. Break the anchovies using a wooden spoon. Cook for 2 minutes.
Add Doña Elena Diced Tomatoes, Capers and Sliced Black Olives. Bring to a boil, then simmer for 10 to 15 minutes or until the sauce slightly thickens.
Add the shrimp and simmer until the shrimp are just cooked through, turning partway through, about 3 minutes. Stir in the parsley.
Divide the rice between 4 bowls. Top each portion with ¼ of the Shrimp Puttanesca.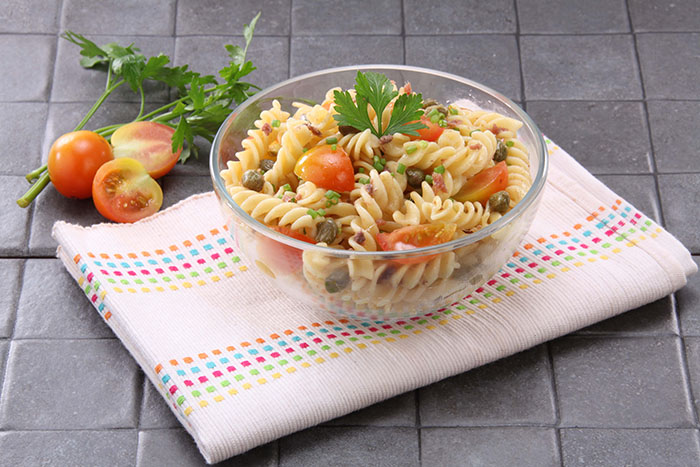 FUSILLI WITH ANCHOVY CAPER SAUCE
INGREDIENTS:
1 pack Doña Elena Al Dente Fusilli pasta, cooked
8 fillets Doña Elena Anchovies, mashed
1/2 stick Butter
1 tbsp Doña Elena Pure Olive Oil
1/2 pc White onion, thinly sliced
2 tbsp Doña Elena Capers, drained
1 cup Cherry tomatoes, cut in half
1/2 pc Lemon, juiced
1/2 cup Parsley, chopped
1/2 tsp Dry tarragon
1 clove Garlic, thinly sliced
To taste Salt and pepper
 Pasta water (from boiling pasta)
 Doña Elena Extra Virgin Olive Oil
PROCEDURE:
Heat pan to medium low. Add a drizzle of Doña Elena pure olive oil and butter. When butter melts, add onion, garlic, 1/2 of the parsley (set aside other 1/2 of it for topping), tarragon and mashed anchovies and combine. (If using fillets, add them first and allow them to break apart in the butter before adding onions, garlic and herbs.) Cover and cook until onions become somewhat soft.
Add Doña Elena Capers, cherry tomatoes, pepper and about 1/2 teaspoon salt, continue cooking uncovered.
When the sauce begins to thicken, squeeze a little lemon juice on it and add a ladle of starchy pasta water from the pot and stir it in.
Stir in the cooked fusilli pasta and drizzle of Doña Elena extra virgin olive oil. Sprinkle the remaining parsley, then toss until well combined.
Hits: 143