This is your last chance to get one of the funkiest planners of 2019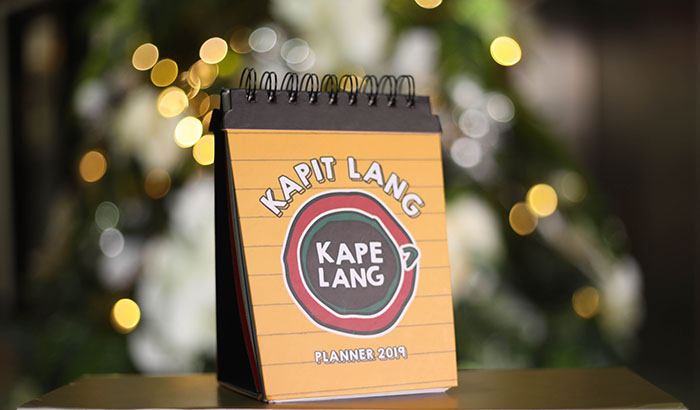 Life has a way of messing things up—mapa-lovelife, career, o pangarap sa buhay. But there's nothing you can't handle with the right planning. Especially when you have the right wit and humor!
Buti na lang, there's City Blends' 2019 Kapit Lang, Kape Lang Planner. Created in partnership with Linya-Linya, this planner will ensure that you get yourself through the year with a smile on your face.
The best part here is that you can get it for just P299 and a cup of City Blends or City Blends Prima Coffee!
Tama—you're just one cup away from purchasing the year's funkiest planner. From Dates to Remember (date as in petsa, hindi date as in lalabas ka dahil may ka-date), to Notes Para sa Mga Notes na Sinabi Kong Gagawin Ko Pero Hindi ko Pa Rin Nagagawa, the Kapit Lang Kape Lang Planner will always remind you to never take yourself too seriously. It can also remind you about appointments, if that's your thing.
There's the "Kapit List", which includes Places to Travel (I-experience mo. Wag lang panay picture), Books to Read (Basahin mo, a? Hindi yan display) Movies to Watch (Wag pirata. Umayos ka!), Friends to Meet (Yung real friends, ah. Hindi yung yayabangan ka lang sa achievements nila in life), Food to Try (May hindi ka pa ba nata-try?), and Gigs/gigs to Attend (Support local bands/artists).
The promo for City Blends Kapit Lang, Kape Lang planner runs until January 29, 2018. Drop by a 7-Eleven store today!
Hits: 58