Holiday Inn Manila Galleria Engineer and Public Servant Wins 'Supervisor of the Year' at the 23rd Mabuhay Awards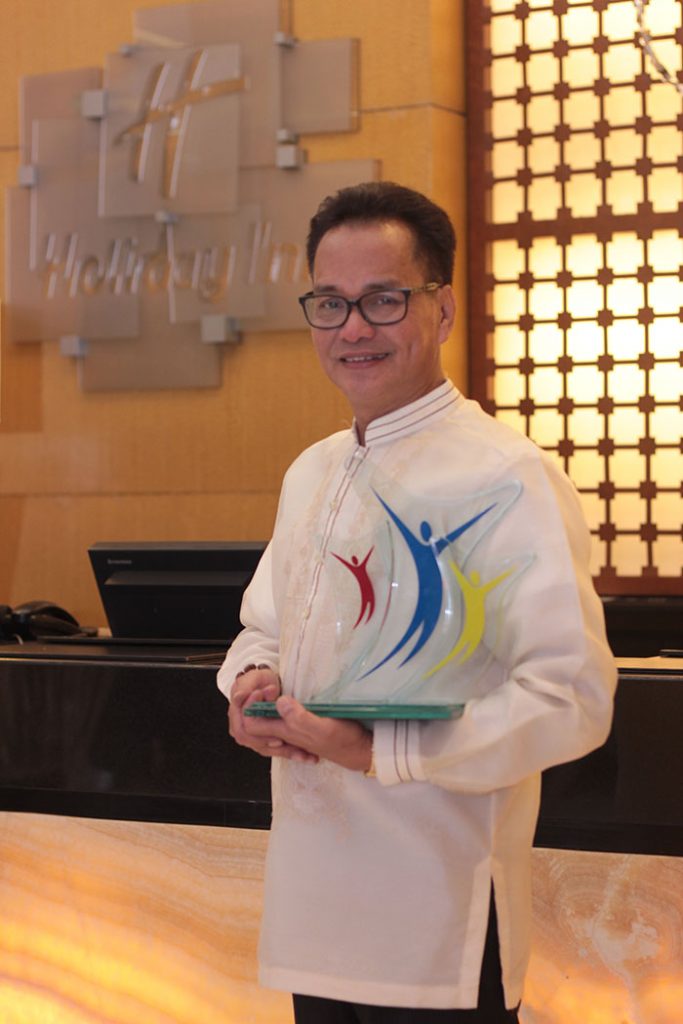 A Holiday Inn Manila Galleria employee under the management of the InterContinental Hotels Group (IHG), and a public servant, bested his peers in the Philippines at the 23rd Mabuhay Awards in the Bellevue Hotel, Alabang. Eduardo S. Quintana, along with six other finalists this year representing both Holiday Inn Manila Galleria and Crowne Plaza Manila Galleria, competed against the country's best and brightest in the Philippine hospitality industry. Eduardo is the fourth Mabuhay Awards recipient under the two hotel brands.
Perpetual Maintenance Management Leader of Holiday Inn Manila Galleria Eduardo S. Quintana was named Supervisor of the Year. He was among the 20 finalists in the award category. Eduardo is also a local government officer, serving as a Kagawad for Barangay 718 in Malate, Manila.
Eduardo, fondly called "Ed Q" by his colleagues, was recognized for his more than two decades of innovative contribution to project management as a vital component of hotel operations. A seasoned hotelier, Ed Q began his journey with IHG in 1995 as a Carpenter of Holiday Inn Manila Galleria, and has since spearheaded projects during the hotel's 25 years of operations. In his current role, he is often looked up to as a "kuya" or older brother for his innate care and mentorship of his team members and colleagues. His win comes merely two days after his mother's passing, a bittersweet victory for the doting husband and father of three children.
In his capacity as a Supervisor, Ed Q ensures the quality of experience of the Holiday Inn Manila Galleria guests as he safeguards the venue's maintenance requirements, including carpentry, repairs, plumbing, construction, refurbishing, and renovating tasks on property. He likewise consistently extends his dedication and service to the guests and employees of Crowne Plaza Manila Galleria, going the extra mile.
Ed Q singlehandedly laid out and efficiently executed the plans to build the employees' gym and lounge, serving as another testament to his undeniable concern and care for the welfare and benefit of his colleagues.
Prior his being named this year's Supervisor of the Year, Ed Q has been awarded a number of times over his significant tenure as a hotelier, most recently, his citations as Holiday Inn Manila Galleria's "Stay Real Hero", "Winning Ways Superstar of the Year", and "Perfect Attendance for the Year" for the fifth consecutive time – in 2017 alone.
An advocate of the environment, Ed Q rides an electric bicycle to and from work each day from Malate, Manila to Pasig City. He is also a member of Green Engage, a hotel program that promotes and fosters sustainable development. The projects he undertakes are consistently accomplished at minimal cost, as he is a staunch believer of reusing materials and keeping waste to a minimum.
Ed Q's dedication to serve goes above and beyond his duties as a hotelier. As Kagawad of Barangay 718 in Malate, Manila, he contributes to monthly feeding programs, cleanliness drives, and government initiatives that uplift the lives of the community.
The two hotel brands owned by JG Summit Holdings, Inc. were well represented at the awards ceremony that evening, with a total of seven finalists who vied for the coveted accolades in their respective categories: Harry Furio for Manager of the Year, Eduardo Quintana and Krishna Dennise Gallardo for Supervisor of the Year, Rosalie Cosme and Yeushua Camille De Jesus for Front of the House, and Daryl J. Ibias and Lyra Rosales for Heart of the House.
There are currently four Mabuhay Award awardees from Crowne Plaza Manila Galleria and Holiday Inn Manila Galleria, including Renato Mancanes (Visual and Graphic Artist) for Heart of the House in 2010, Gibeth Gloria (Director of Food and Beverage) for Manager of the Year in 2011, and Daniel Convocar (Executive Housekeeper) for Manager of the Year in 2016.
The Mabuhay Awards was previously known as the "Gawad Lingkod Award", mounted by the Association of Human Resource Managers in the Hospitality Industry (AHRM) in 1984 to recognize the best rank and file staff in the hotel restaurant industry. In 1995, the Association included supervisors and managers, modifying the Gawad Lingkod concept and renaming the recognition program to Mabuhay Awards.
Over and above the objective of recognizing and rewarding exemplary staff in the industry. The Mabuhay Awards also promotes outstanding service excellence commitment among Filipino hospitality industry professionals. Winners of each category were decided on by the AHRM judging panel based on a combination of facts presented in the applications, interviews, and testimonials.
For more information, guests can call Crowne Plaza Manila Galleria or Holiday Inn Manila Galleria at 633-7222 or email mnlcp@ihg.com and 633-7111 or email higm.reservations@ihg.com, respectively.
Hits: 72