A Pesto-filled Noche Buena this Christmas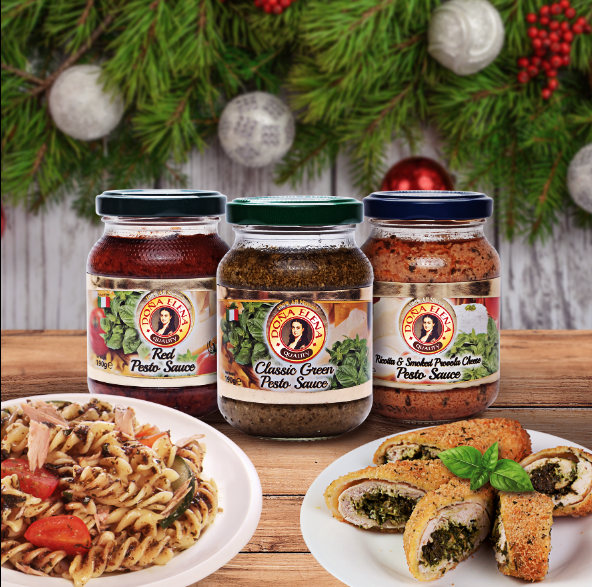 Christmas is fast approaching! Celebrate the merriest season of the year with your loved ones by making your Noche Buena more meaningful and exciting.  Get more creative in the kitchen! Add colours to the dishes and use different ingredients that will elevate and satisfy your family's taste buds. Start with a perfect Italian sauce, the Pesto sauce.
Originated from Liguria, Italy, and the Pistou sauce or commonly called as Pesto, traditionally consists of basil, crushed garlic, and pine nuts well-blended with olive oil and cheese. Due to innovations of this recipe around the Mediterranean regions, variations of Pesto sauce were invented.  Arugula, mint, and ramson leaves became substitutes for basil.
Known for its healthy ingredients and its delectable combination of garlic and cheese flavour, a lot of people are not aware that the Pesto sauce can also be used in different dishes. Here's how:
    Pasta
Surprise everyone this Christmas by using pesto sauce for your Noche Buena pasta. Simply cook the pasta and add Pesto sauce and your preferred meat ingredients. You will now enjoy a different kick of flavour for your pasta.
    On Bread
The mouth-watering flavour of pesto can be used as a spread to different kinds of bread. It is best served as an appetizer.
    Salad Dressing
Christmas is a holiday where almost every Filipino indulges in extra amount of food during parties, reunions, etc. Be extra-healthy this season by using Pesto as a salad dressing. It will complete your all-vegetable dish for the health-conscious in you.
    Fritters
Fritters are palm-sized cakes that are made from a mixture of batter, different vegetables and meats, and crumbs. Try this dish along with Pesto and surely you'll be making it again for next Christmas.
    Dipping Sauce
Aside from catsup, mayo, and cheese, why not add Pesto to the list? May it be fries, mojos, or hash browns just combine it with Pesto goodness and your potato cravings will be more than satisfied.
For a colourful and flavourful Noche Buena, Doña Elena introduces its newest addition to its Mediterranean line, the Pesto Sauce which comes in three different variants: Classic Green Pesto Sauce, Red Pesto Sauce, and Ricotta & Smoked Provola Cheese.
Why need to travel and look for a fancy restaurant when you can make fine dishes using Doña Elena's Pesto Sauce?
Elevate your cooking and dining experience with your loved ones by using only Doña Elena's Pesto Sauce and its other products which includes Doña Elena Olives, Capers, Canned tomatoes, Spanish sardines, Flat fillet anchovies, Al Dente pasta, 100% Tuna and Olive Oil.  These products will not only help you create a wonderful spread of Mediterranean culinary favourites but will also add allure to your salads, pizzas, or main dishes. Doña Elena products are available at these supermarkets: Landmark, Fishermall, Alabang Supermarket, Cash and Carry, Waltermart, Rustans, Shopwise, Unimart, and at selected Robinsons and Puregold Branches.
Remember, you don't need to spend much or take too much time to impress your guests; it just takes a dash of creativity (and Pesto magic!) to make this year's Noche Buena the best there is.
Hits: 33