Delicious Holiday Meals Made Easy at Electrolux's A Taste of Christmas event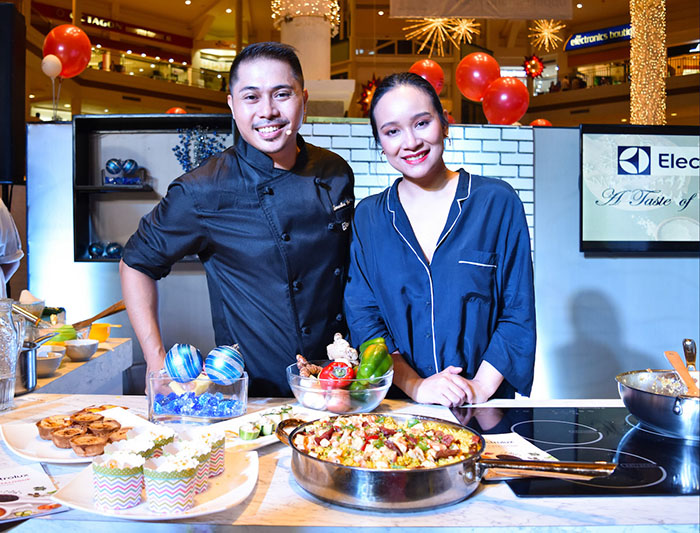 The holidays are upon us and let the Christmas feasts begin! Electrolux presented A Taste of Christmas, a cooking demo showcasing how to prepare delectable Christmas celebrations last December 2-3 in Anson's at Alabang Town Center.
With the help of Chef Jonathan Paul Em, the audience learned new and exciting dishes for the whole family to enjoy this Christmas season! They've witnessed him prepare classic holiday dishes with a twist such as the Christmas Paella and the Spiced Fruit Salad Cups at the Electrolux Kitchen Studio.
Whipping up the perfect Christmas dishes that are new, delicious and kid-approved is also a breeze with Electrolux as it offers a full range of innovative kitchen appliances.
To keep food and especially produce fresher for longer, Electrolux has the NutriFresh line of refrigerators, which ensures that your fruits and vegetables stay market-fresh for up to 7 days so that dishes are healthier and more flavourful.
The NutriFresh™ Inverter Refrigerators is equipped with a FreshShield Crisper which comes with a unique tight seal to keep temperatures stable, minimize water loss and provide higher humidity so that fruits and vegetables stay fresh for up to 7 days.
When it comes to cooking, Electrolux also offers a variety of appliances to suit your every cooking need.
If you live in a condo or apartment with a smaller kitchen or looking for cooking convenience, you will love the Electrolux Tabletop Microwave Oven with Grill & Convection EMS3288X. This 2-in-1 appliance combines the convenience of a microwave and the performance of an oven, grill and even a steamer, which allows you to prepare a wide variety of dishes.
Meanwhile, if you have a big family, the Electrolux Built-in Oven EOB2200BOX is perfect for you. It comes with the InfiSpace Oven with a 68-litre capacity that gives you plenty of room to cook multiple dishes in one go, plus a large fan that circulates hot air evenly throughout the oven to ensure uniform cooking temperature. It even comes with an enamel coating that repels grease and dirt, making it easier to clean – so you don't have to stress about after-party clean ups!
Combine your Built-in Oven with the Electrolux Built-in Induction Hob. Induction is faster than other cooking technologies, boiling one litre of water in three minutes, allowing families to enjoy tasty meals in no time.
Induction cooktops are also safer to use as it directly heats the cookware while the cooktop remains cool and safe, so you can involve your kids and family during holiday meal preparations without worrying about accidental burns. How's that for great family bonding!
If you are looking for a cooking range, check out the Electrolux Cooking Range EKI51300OX, which gives you the advantage of induction and oven cooking at the same time. It also comes a spacious layout that lets you cook more dishes at once and precision heat control that allows you to accurately set your desired flame to avoid over or undercooking.
Of course, to keep your home smoke and odor-free, equip your kitchen with the Electrolux Chimney Hood, which will absorb all the grease and cooking fumes while recirculating indoor air. This allows you to go from kitchen to party without worrying about smelling like food! It also has a removable cassette filter, making it easier to clean.
With Electrolux, Christmas food prepping is quick, easy and fun, allowing you to spend more time with your loved ones. Let Electrolux help you create delectable dishes that are fast and easy to prepare. Now that's Christmas in every bite!
For more delicious holiday meal ideas, please visit www.electrolux.com.ph and follow @ElectroluxPhilippines on Facebook and Instagram or @ElectroluxPH on Twitter.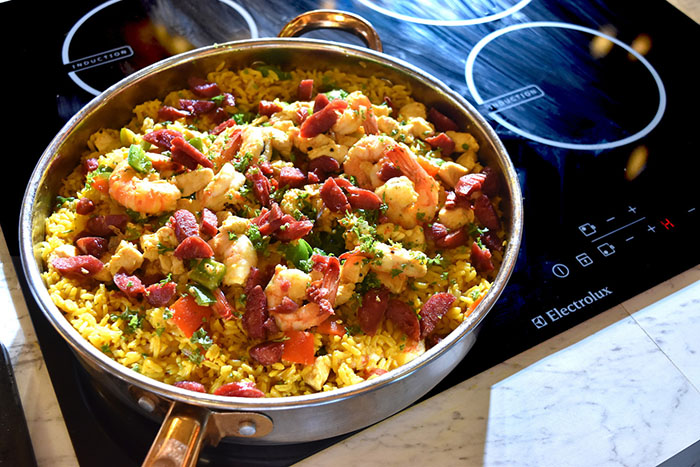 Christmas Paella
Prep time: 30 mins | Cook Time: 45 mins | Serves: 10
INGREDIENTS
4 tablespoons olive oil
1 pound chorizo sausages
1 tablespoon turmeric powder
2 teaspoons dried oregano
Salt and pepper to taste
2 pounds skinless, boneless chicken breasts, cut into 2 inch pieces
3 cloves garlic
1 teaspoon crushed red pepper flakes
2 cups uncooked white rice
1 bay leaf
1/2 bunch Italian flat leaf parsley, chopped
4  cups chicken stock
2 lemons, zested
1 white onion
1 red bell pepper, coarsely chopped
1 pound shrimps, peeled and deveined
PROCEDURE
Heat 2 tablespoons olive oil in a large skillet or paella pan over your Electrolux Induction hob set at low heat. Add the chorizo and cook until most fat is rendered and chorizo browns. Set aside.
Using the same pan, keep the oil and stir in garlic, onion, red pepper flakes, and rice. Cook, stirring, to coat rice with oil, for about 3 minutes. Stir in bay leaf, parsley, chicken stock, and lemon zest. Bring to a boil, cover, and reduce heat to medium low. Simmer for a few minutes then transfer in the Electrolux built-in oven for 15-20 minutes or until rice is cooked.
Meanwhile, heat 2 tablespoons olive oil in a separate skillet over medium heat. Stir in chicken; cook 5 minutes. Stir in bell pepper and sausage; cook 5 minutes. Stir in shrimps; cook, turning the shrimp, until both sides are pink. Arrange on top of rice and serve.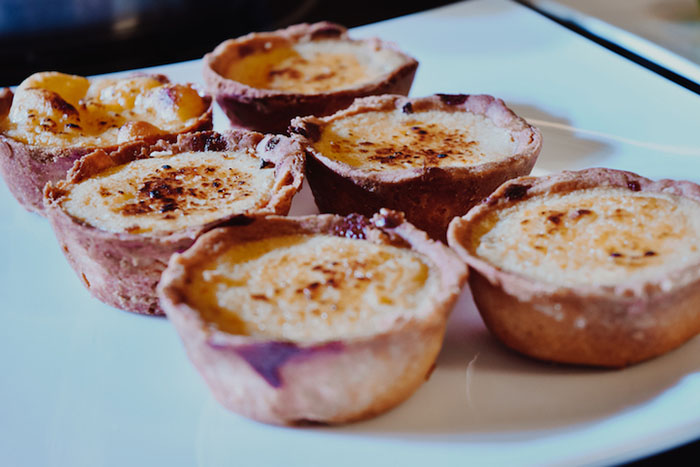 Cassava Tarts
Prep time: 10 mins | Cook Time: 10 mins | Serves: 14
INGREDIENTS
250g grated cassava
1/4 cup sweetened condensed milk
1/4 cup evaporated milk
1/4 cup coconut milk
1/4 cup coconut cream
1 egg
2 tablespoons chopped coconut meat
14 tart shells
Topping:
2 egg yokes
1/4 cup reserved sweetened condensed milk
1/4 cup reserved coconut milk
1/4 cup reserved coconut cream
PROCEDURE
Preheat your Electrolux built-in oven to 350° f.
Set aside tart shells. In large mixing bowl, combine all other cake ingredients.
Mix well. Pour equally into 12 mini tart shells.
Bake in the Electrolux built-in oven until top is no longer liquid (approximately 20-30 minutes).
Mix topping ingredients well and spread evenly on top of tarts.
Bake an additional 7 to 10 minutes. Cool completely.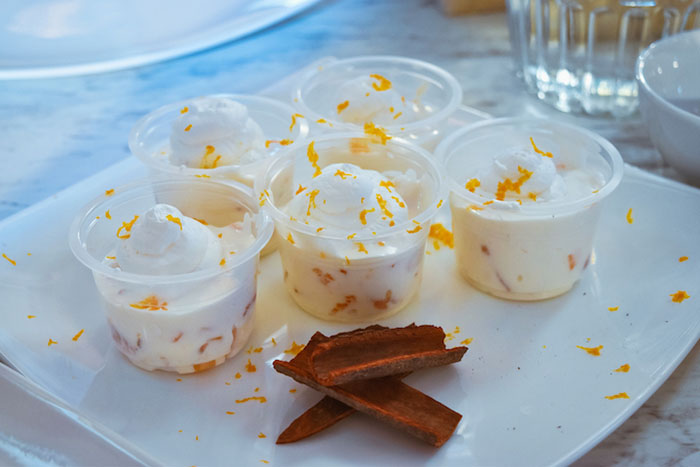 Spiced Fruit Salad Cups
Prep time: 40 mins | Cook Time: 30 mins | Serves: 12-15
INGREDIENTS
1/2 cup white sugar
½ cup water
2-3 pcs star anise
2 sticks cinnamon
1 tablespoon sliced ginger
½ teaspoon salt
1 teaspoon orange zest
1 can fruit salad mix, drained
1 cup lychee chopped
1 ½ tablespoons gelatin
¼ cup water
¼ cup condensed milk
1 cup whipped cream
PROCEDURE
In a small pot, make a syrup using the sugar, water, anise, cinnamon, ginger, salt and orange zest. Cook using your Electrolux induction hob set at low heat. Stop when the sugar is completely dissolved. Set aside to cool.
Pour the syrup into a bowl with the fruit cocktail mix and lychees. Allow to marinate for 20 mins, then drain.
Dissolve gelatin in cold water. After mixture sets, place in the Electrolux microwave set for 30 seconds. Mix with condensed milk.
Whip cream and fold into the condensed milk, then fold in the marinated fruits.
Portion into smaller cups or a pan mold and chill inside Electrolux Nutrifresh Inverter refrigerator for 1 hour or until ready to serve.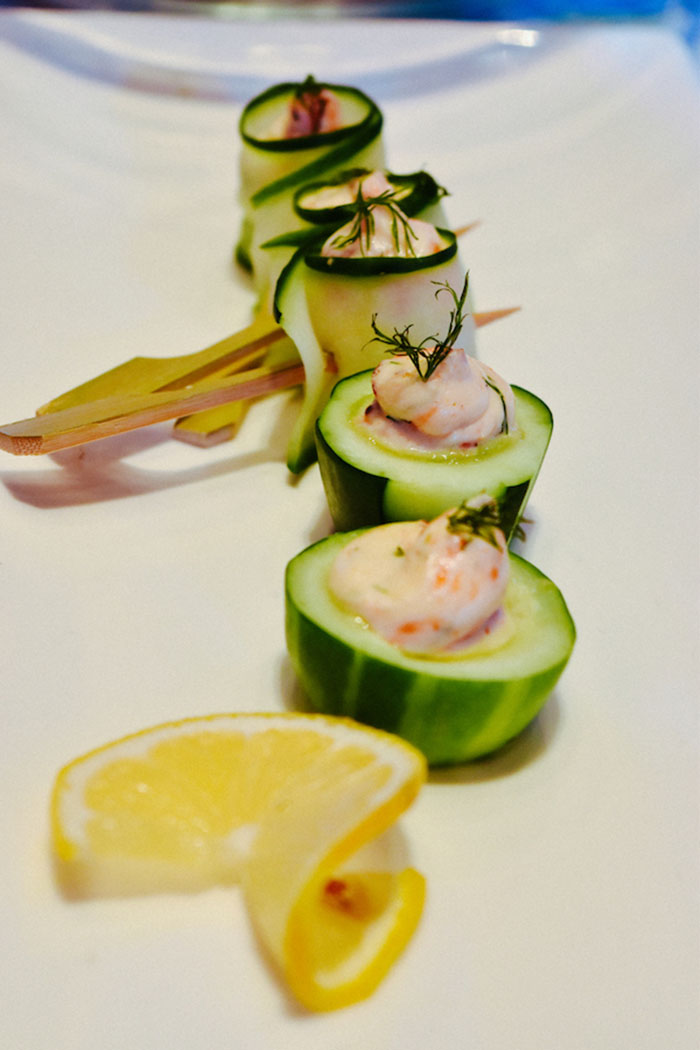 Smoked Salmon Cucumber Rolls
Prep time: 20 minutes | Serves: 15-20
INGREDIENTS
100 grams smoked salmon, chopped
1/4 cup cream cheese
1 teaspoon fresh dill
Salt and pepper to taste
1/2 teaspoon paprika
1/4 teaspoon cayenne
1 teaspoon honey
Red bell peppers, cut into medium cubes
1 cucumber, sliced into thin strips
Cocktail skewers
PROCEDURE
In a medium bowl, cream together cream cheese, salt and pepper, paprika, cayenne and dill.
2. Mix in the smoked salmon and honey.
3. Spread over cucumber strips and roll. Secure with a skewer and a bell pepper.
4. Chill in your Electrolux Nutrifresh Inverter refrigerator.