8 'lucky' Chinese dishes to welcome good luck this Year of the Earth Dog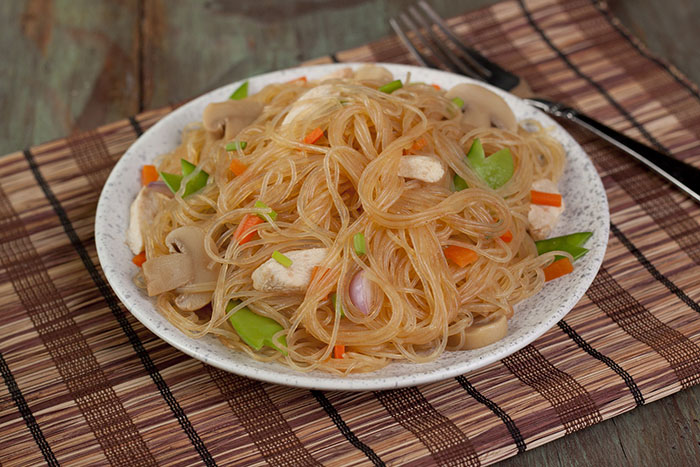 Tikoy. A "Tsinoy" reunion dinner won't be complete without the presence of tikoy, which is an absolute favorite even among non-Chinese revelers. Ideal for gift-giving and served at the dinner table as well, tikoy's sticky glutinous rice consistency signifies strong familial bonds and togetherness. Delight family members and friends more by taking the tikoy cooking game a notch higher by making it crunchier:  encrust the tikoy slices using sesame seeds or coat them in Good Life Japanese Style Bread Crumbs before frying them to a perfect light golden brown.
Long noodles (mian tiao).  Served hot and uncut, this ubiquitous noodle dish symbolizes longevity or long life. Impress guests by making different pansit dishes like Canton, Bihon, or Sotanghon easily using Good Life Vermicelli, Egg Noodles, and Bihon.
Fish. Because 'Yu', the Mandarin word for fish, sounds like the word meaning having more or "extra", a whole fish is served by the Chinese as a way of symbolizing surplus or abundant wealth. If serving pan-fried fish, easily give it a richer, Oriental flavor by infusing it with Good Life Oyster Sauce. Or, for a more crunchy rendition, give the fish a crusty coating using Good Life Japanese Style Breadcrumbs.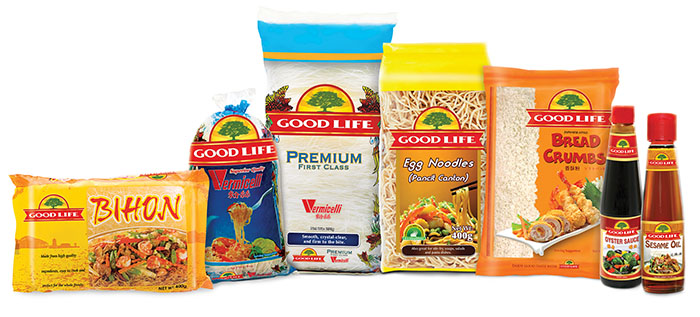 Poultry, or jia qin. In the true spirit of the occasion, eating chicken (served with the head and the feet still attached) is a must as it symbolizes unity and good marriage between families. Commonly marinated then air-dried for three hours until the skin becomes paper-thin like, the chicken is then flash fried and coated with spices.  Best served with Good Life Oyster Sauce (or chili sauce) for dipping, boiled rice and steamed Shanghai cabbage. 
Vegetables.  A classic salad called the "Prosperity Toss" (also known as lo hei in Cantonese or yu sheng in Mandarin) is also served during the celebration. Containing shredded vegetables, strips of fish, along with a variety of sauces and condiments, the Prosperity Toss symbolizes abundance and prosperity. Make this year's version even more sumptuous and filling by giving its sauce a bit of seafood flair using Good Life Oyster Sauce. 
Dumplings (jiao zhi). Associated with wealth because of its close resemblance to the yuan bao or gold ingots which were used as money in Ancient China, they are traditionally served boiled along with soy sauce dip. Bless guests even more by serving dumplings alongside Good Life Oyster Sauce.
Spring Rolls. Another quintessential part of the holiday experience is serving spring rolls. Resembling gold bullions, serving this dish is said to bring more prosperity and wealth. In Mainland China, eating spring rolls – made up of fresh vegetables or any ingredient grown or available during Spring time – is a way to welcome the arrival of the new season. Give your spring rolls an indulgent Oriental twist by stirring in some spoonful of Good Life Oyster Sauce while cooking the vegetable filling, then fry them until perfect golden brown.
Mooncake and hopia. Again because of their round shape and sweetness which symbolize good fortune, both mooncake and hopia are given away by the Chinese during the occasion. If and when you ran out of mooncake and hopia, one budget-friendly round-shaped option is Buchi or Sesame Balls.
Because great food is the centerpiece of the Chinese New Year celebration, always remember to put extra thought and care in putting up your holiday menu. Lastly, enjoy good fortune and great flavors throughout many years by making Good Life a part of your many eating traditions. Gong Xi Fa Cai! 
Keeping Asian cooking traditions and flavors alive since year 2000, Good Life has been offering a varied line of food products to those who want a delectable, authentic taste of Oriental meals with its top grade products: Vermicelli, Egg Noodles, Bihon, Japanese Style Bread Crumbs, Sesame Oil, and Oyster Sauce. 
Hits: 91