Doña Elena Olive Oil teams up with Raintree Restaurants for a tasty and healthy dining in the Metro
Forget foodie fads and caloric choices as Doña Elena Olive Oil and Raintree Restaurants introduce delicious dishes packed with health benefits. The Raintree Restaurants which includes Chelsea Kitchen in SM Megamall, Museum Cafe at the Ayala Museum Complex, and Providore in SM Aura BGC are known and well-loved for their imaginative yet familiar menu choices that keep customers coming back. Corporate Chef Kalel Chan consistently proves that guilt-free options can be deliciously healthy. This is why throughout the months of June and July, Doña Elena Olive Oil and these three restaurants are coming up with limited edition dishes that can help you on your road to a fitter and better you, without scrimping on the taste and flavor.
When it comes to creating dishes that pack a ton of nutrients such as a high amount of antioxidants, polyphenols, and oleic acids, Doña Elena Olive Oil is the perfect cooking partner that also guarantees great tasting dishes. Each bottle is loaded with vitamins E, K, and A that helps prevent cardiovascular diseases, fights bad cholesterol, and trims down fat and calories in your daily dishes.
The partnership with Raintree Restaurants highlights these benefits in all dishes. Available in three variants: Doña Elena Extra Virgin Olive Oil that's ideal for dips, drizzling, and salad dressing; Doña Elena Pure Olive Oil for sautéing; and Doña Elena Pomace Olive Oil for frying and deep frying. One won't surely run out of cooking ideas given the versatility of Doña Elena Olive Oil variants.
The recipes also incorporate Doña Elena Bottled Pasta Sauces. These sauces come in three exciting combos of Classic Green Pesto, Sun-dried Tomatoes with cheese (Red Pesto), and Ricotta and Smoked Provola Cheese variant. Doña Elena's bottled pasta sauces are all crafted to make various recipes irresistibly first-rate whether for pasta, bread, chicken, fish, and vegetables – without the hassle of making your own sauce.
So get to know these limited edition dishes that will be available at the Raintree restaurants – a true testament of how unparalleled taste can also be healthy.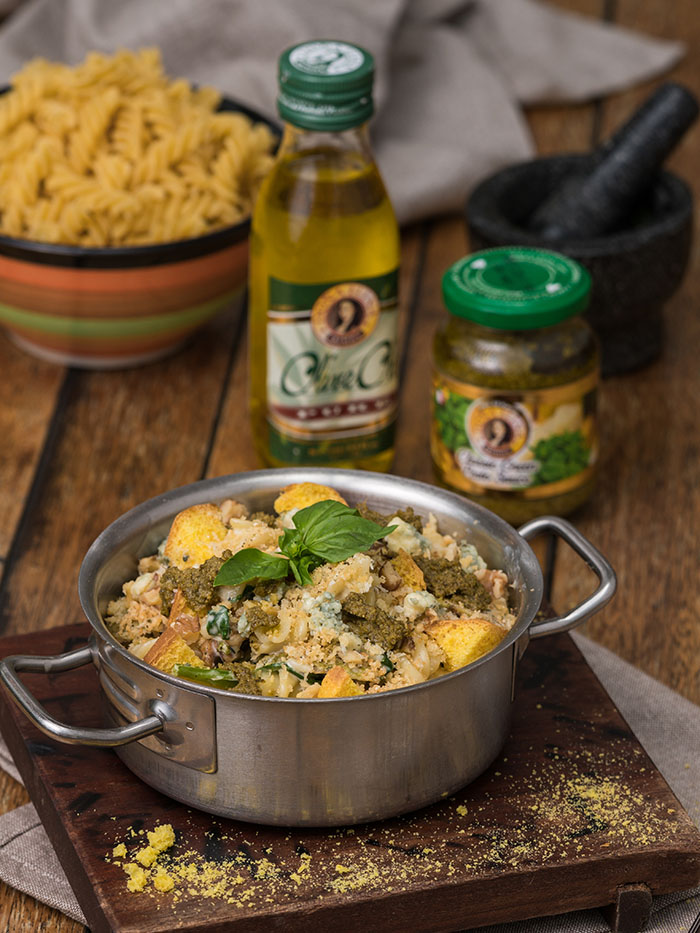 Pesto Marinated Grilled Chicken Fusilli pasta with gorgonzola cream and toasted walnuts AT CHELSEA KITCHEN, P530
Equal parts filling and flavorful, Chelsea Kitchen's Chicken and Pesto Pasta is made with top-notch ingredients beginning with Doña Elena Pure Olive Oil and Classic Green Pesto Sauce, mixed with the ideal ratio of cooking cream. Using Doña Elena Al Dente Fusilli Pasta, the final recipe is topped off with grilled slices of chicken and toasted croutons for a crunchy contrast. Doubly rich but deliciously balanced, the ideally smooth gorgonzola dip is made creamy with parmesan and breadcrumbs. Try this protein-rich dish once and you'll never go back to your old favorite for sure! Located inside the bustling SM Megamall, Chelsea Kitchen is primarily known for the peerless pasta recipes. This casual restaurant is not only an ultimate representation of comfort; it's also inspired by the retro chic European cafes with menus updated for the modern palate.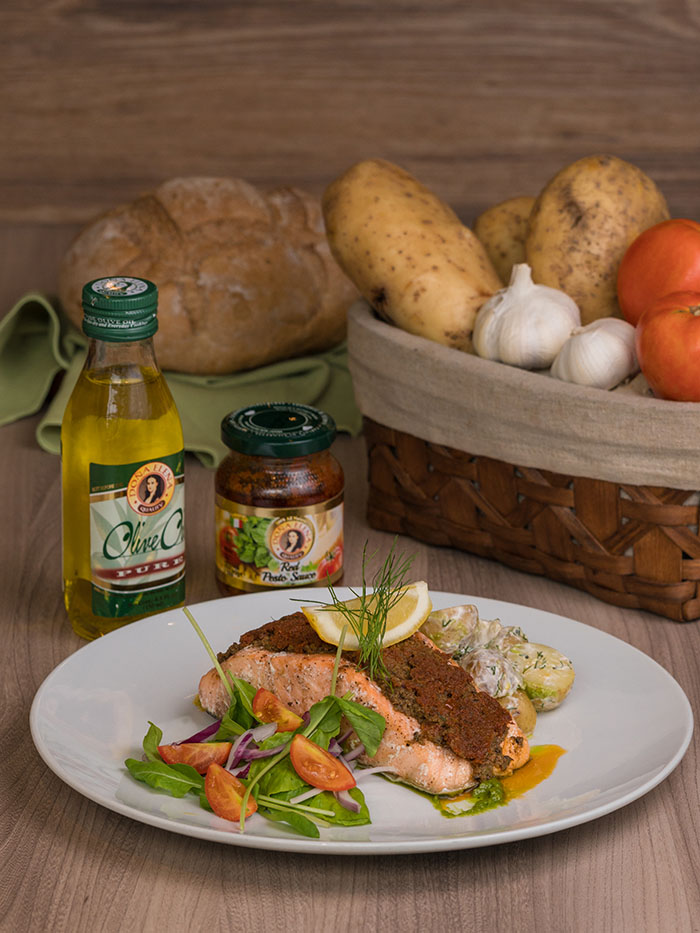 Olive oil slow poached Salmon with sundried tomato pesto, warm dill Potato salad and Arugula salad with lemon vinaigrette AT MUSEUM CAFÉ, P650
Irresistibly low-calorie and tasty, M Café's Slow Poached Salmon Confit uses the clean taste and firm texture of Norwegian salmon. It is a combination of the light but flavorful Doña Elena Pure Olive Oil along with some rosemary herbs, Doña Elena Black and Green Olives, and a generous spread of Doña Elena Red Pesto Sauce. This dish also comes with a healthy portion of marble potato wrapped in sour cream and fresh arugula, making it a great choice for pescatarians, light eaters, and those who simply want more Omega-3 in their diet. If you're in search for something more than your regular fare, the M Café is your ideal destination. With a stand out, art-inspired ambiance, their modern Asian cuisine is all about straight-up food with a contemporary twist.
Smoked Pimenton Spanish Chorizo tiger prawn garlic gambas and olive focaccia AT PROVIDORE, P550
Lovingly poured with Doña Elena Pure Olive Oil, the Chorizo and Tiger Prawn Gambas is a fresh take to an old favorite. Adding to its lively and bright flavors are the smoked pimenton, Spanish chorizo, and tiger prawn gambas ideally partnered with olive focaccia bread. Its delicate combination of spice and aromatic flavors also make it the perfect pair with rice. So if you're looking for sophisticated simplicity, back-to-the-basics kind of menu and other old time favorites, head over to Providore at SM Aura for this pleasurable choice.
From small plates to family-style feasts, you'll want to add these limited edition menus to your regular rotation when making the rounds of your must-visit restaurants in the metro. The flavors and health benefits of Doña Elena Olive Oils, Pesto Sauces, and other Doña Elena ingredients make each dish a stand out without much of the guilt. After trying them out at the restaurants, why not try replicating them at home yourself? All Doña Elena products are available in all supermarkets and grocery stores nationwide.
For inquiries and reservations, contact:
Chelsea Kitchen: SM Mega Fashion Hall, Ortigas City, Metro Manila; 958-6777
Museum Café: Ayala Museum Complex, Greenbelt 4, Dela Rosa Street, Makati, Kalakhang Maynila; 757-3000
Providore: Upper Ground Floor SM Aura BGC, Taguig, Metro Manila; 802-9448
Hits: 94