This Valentine's Day, Give The Best Love With Toblerone
It's that time of the year once again where we go the extra mile to tell our special someone, I love you. They deserve only the finest things in life, that's why we let our hearts speak and give them the sweetest surprises ever that come in all shapes and sizes.
But this Valentine's Day, the best shape is simply a Swiss triangle.
Take your enchanting dedications and fancy dates to the next level only with Toblerone. Indulge your senses with the best gift this season, and fall madly in love with the extraordinary taste of premium, high-quality chocolate made of honey and nougat all the way from Switzerland. Since 1908, its unique richness of flavor and iconic triangular shape had been well-known all over the globe, making histories of tender moments, genuine happiness, and luxurious experiences shared by generations with every single bite.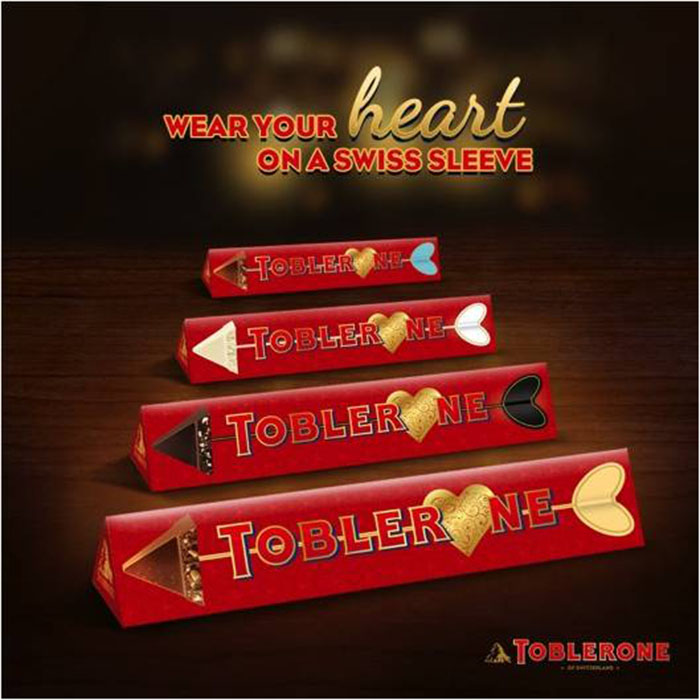 Today, Toblerone continues its legacy of filling hearts with more joy by firing up your Valentine's day story with a red-hot new treat. Each chocolate bar now comes with a limited edition red metallic sleeve fit for the bold lover to express your deepest feelings like no other. And inside is still the legendary Toblerone mix the world desires.
This season, visit any of Toblerone's 75 mall hubs nationwide for a chance to win the most luxurious present you can give to your loved ones. For every purchase of Toblerone worth Php 250.00 and above, you get a raffle ticket for a chance to win an all-expense romantic date in Switzerland. You also get to pick any Toblerone product as a prize for every purchase of Toblerone worth at least Php 200.00. Lastly, every 200g and 400g bar entitles you to a free Toblerone paper bag.
Nothing is better than a premium 100% Swiss-made chocolate with a unique shape. A Valentines gift has never been this exciting!
#GiveTheBestLove with Swiss-made Toblerone.
Hits: 150