Ready, Set, Go: La Germania revs up to Chic Driven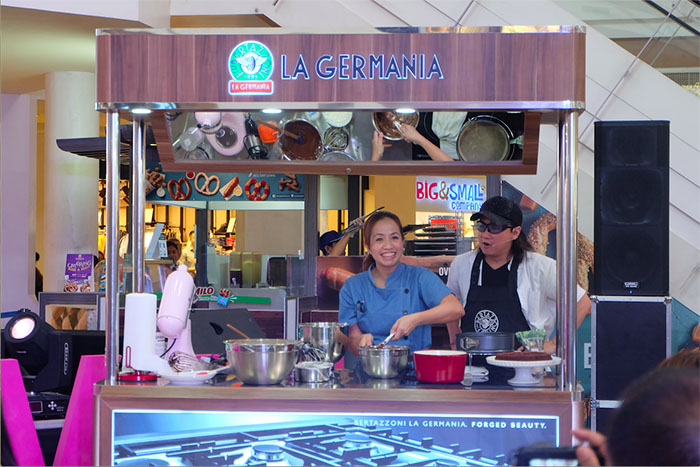 La Germania understands that every woman has different needs, especially when it comes to preparing meals for herself and her loved ones. Some ladies like to take their time, while others like to whip something up in twenty minutes or less. Some love to entertain friends, family, and business associates, while others prefer to keep mealtimes intimate.
Through decades of unwavering dedication to excellence, the leading kitchen appliance manufacturer has provided every lady of the household with a perfectly matched partner in the kitchen. There's some peace of mind in knowing that no matter what culinary style a modern woman has, there's a La Germania range suited to her and her needs: reliable, durable, and ready for action whenever she is.
To further demonstrate how having a great partner in the kitchen can help you achieve great things, brand advocates and husband and wife culinary team Chefs Rolando and Jac Laudico conducted a cooking demo during The Chic Driven Expo, an annual event that advocates helping women become even better versions of themselves.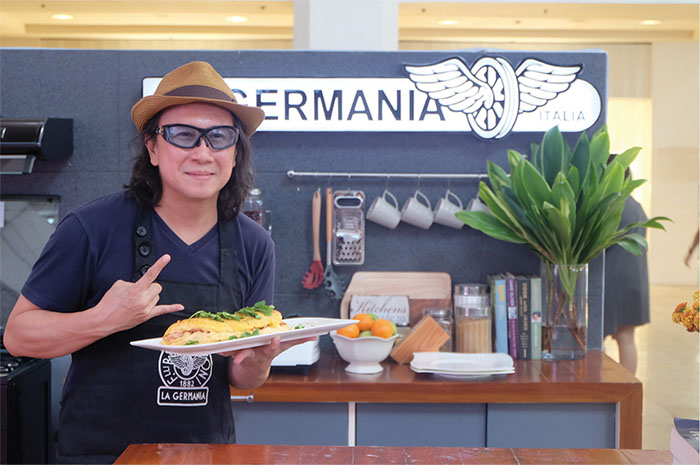 Kitchen adventures
The Chic Driven Expo, originally conceived as a motoring event for empowering women on the road, has evolved to feature more aspects of a modern woman's life, and La Germania aspire to be at the forefront of every woman's kitchen adventure.
During the Expo's two-day run, La Germania launched new products and hosted demonstrations that showed the ladies just what a great range can do for her and her family.
Chef Rolando and Chef Jac Laudico introduced two new stylish models that are workhorses in the kitchen: the G702EF and the FS521 00BG.
The former is a gas stove with a white porcelain enamel-coated body and large double gas burners, while the latter is a free standing range with an elegant black porcelain enamel-coated body that houses two gas burners, an electric hot plate, and a gray porcelain enamel coated oven cavity with a manual oven.
After showcasing the two new models, both Chefs also demonstrated the brand's reliability and performance with on-the-spot cooking demonstrations where they whipped up delicious quick-fire dishes using different La Germania products. Each dish took less than half an hour to prepare, a perfect nod to today's modern lifestyle where every minute counts, and a complement to the way most women need to manage their schedules: a delicate balance of time spent preparing dinner and then relaxing and enjoying it.
La Germania, the leading kitchen appliance brand that's been loved and relied on by Filipino cooks for generations, keeps things fresh and vibrant by supporting every woman's challenging role in modern times.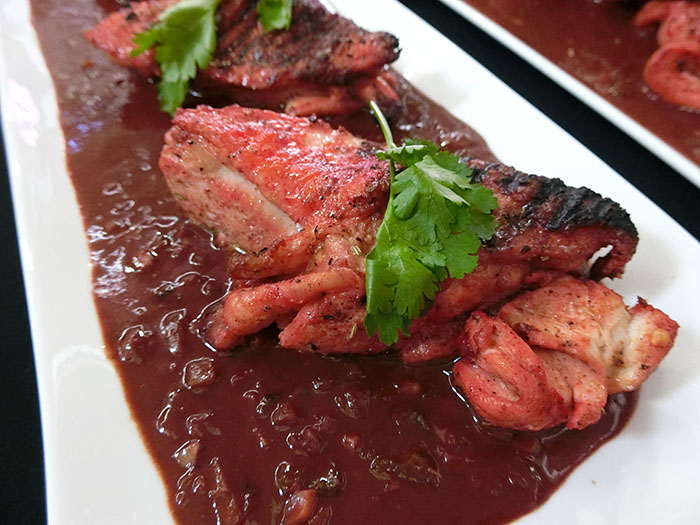 Grilled Chicken with Spicy Chocolate Sauce
FOR THE CHICKEN
500g Chicken Breast (Butterfly Cut)
1/4 tsp Cinnamon
1/2 tsp Oregano
1/2 tsp Cumin
1/2 tsp Paprika
1/2 tsp Coriander
3 tbsp Corn Oil
Saĺt & Pepper to taste
Marinate aĺl ingredients together… grill or bake until cooked around 10-12 minutes each side.
FOR THE SAUCE
3 tbsp Butter
2 tbsp Garlic
1/2 cup Onions 
1/4 cup Celery
1/4 cup Carrots
1/2 tsp Dried Chili Flakes
1/4 tsp Chili Powder/Cayenne 
1/4 tsp Cinnamon Powder
1/2 tsp Oregano
1/2 tsp Cumin Powder
1/2 tsp Paprika Powder
1/2 tsp Rosemary Powder
1/2 tsp Celery Powder
100g Dark Chocolate
100g Orange Marmalade
4 cups Chicken Stock
Saĺt & Pepper to taste
Melt butter then saute onions, garlic, carrots and celery until soft.
Add dried chili flakes and all the other spices and cook for 2 minutes to release aroma.
Add stock and simmer, then add chocolate and orange marmalade and simmer until sauce becomes a bit thick. You can finish in a blender for a thicker type sauce.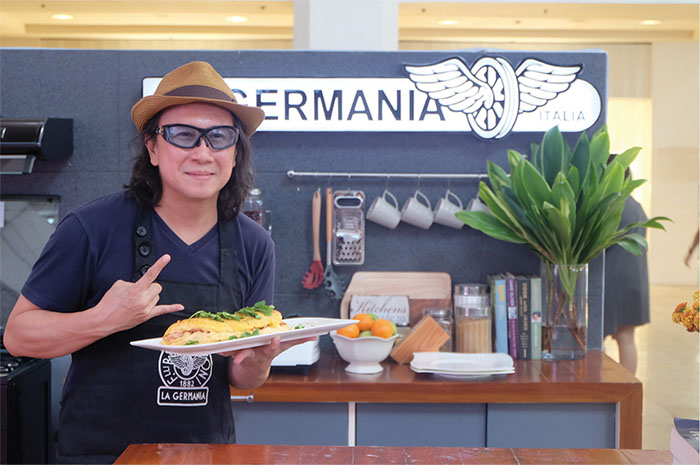 Ham & Cheese Omelette Souffle
3 Eggs (Separate yolks from whites)
50g Quickmelt Cheese (Grated)
50g Ham (Shredded Thin)
1 tbsp Extra Virgin Olive Oil
2 tbsp Butter
Salt & Pepper to taste
Fresh Herbs (chopped for garnish)
Beat egg whites until medium peaks. Beat egg yolks until double in volume. Fold half egg yolks with the whites.
Heat non-stick pan with olive oil and add the souffle mixture. Season with salt & pepper topped with grated cheese and ham. After 2 minutes lift each side of omelette and add butter. Cook for another 2 minutes or until cheese has melted. Serve with chopped fresh herbs like parsley, green onions or basil.
Hits: 68