Canadian wine and beef sear its way into Philippine cuisine
Dinner hosted by the Embassy of Canada, Canada Beef and Pillitteri Estates Winery has taken wine pairing to a new level with sumptuous beef fares.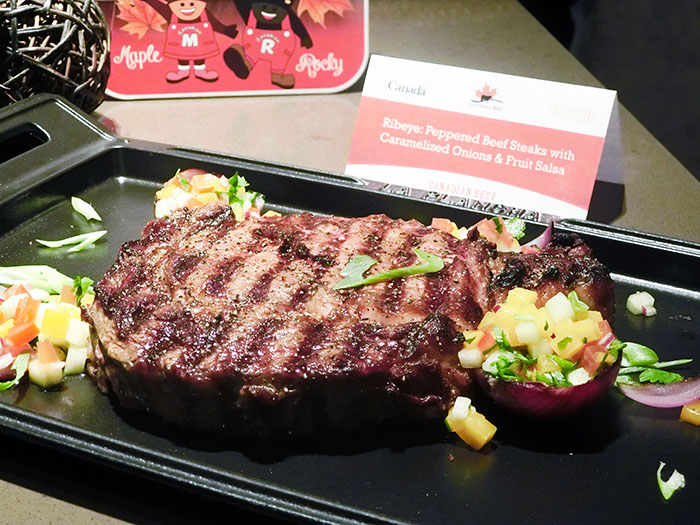 The Embassy of Canada in the Philippines, in partnership with Canada Beef International Institute (CBII) and Pillitteri Estates Winery, hosted a mouth-watering buffet dinner featuring Canadian beef paired with wines from one of Canada's popular wine regions, Niagara-on-the-Lake. Food service institutional buyers, social media bloggers, TV and print media were in awe of the cooking demonstration that showcased a fusion of Canadian and Philippine cuisine.
The culinary expertise of Chef Mathieu Paré, Executive Director of Canada Beef Center of Excellence (CBCE) and Chef Sandy Daza, Metro Channel's Host on FoodPrints and Casa Daza, prepared two dishes, Beef Steak (Bistek) Tagalog and Peppered Rib Eye Steaks with Caramelized Onions and Fruit Salsa, both of which highlighted not only the applicability of Canadian Beef in Philippine cuisine, but also the multicultural gastronomy in Canada that has embraced a multitude of cuisines worldwide from new immigrants, including those from the Philippines. Both chefs succeeded in winning the gastronomic hearts of the guests by demonstrating how to bring together the taste and experience between Canadian Beef and Canada's terroir.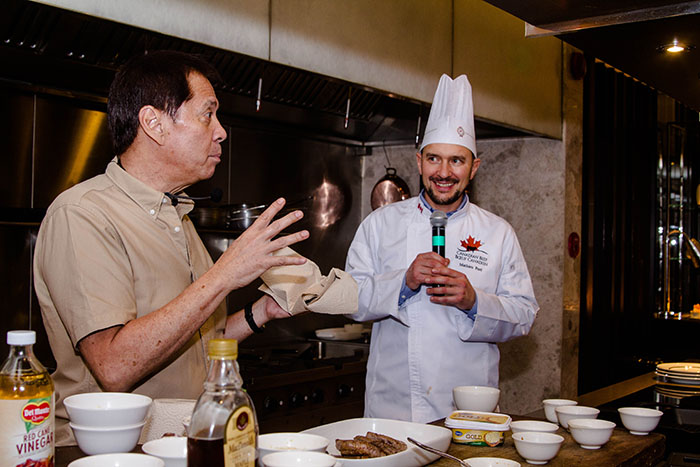 "The Philippines has shown tremendous potential for Canadian beef in the recent years and we believe that our beef is a healthier option to consumers that are looking for quality meats," said Ambassador Holmes. "Canada is proud of its long-standing tradition of producing high quality, grain-fed beef that consumers around the world have enjoyed. We look forward to giving the same gastronomic experience to Filipino consumers that are looking for new, high-protein diet staples."
Francis Andres, President of Canada Beef, said "Asia is a major growth hub for the Canadian Beef industry over the next five years. We are very pleased to see the increasing consumer demand for Canadian Beef in the Philippine market, which has contributed significantly to Southeast Asia. Canada Beef as an organization is committed to collaborate and support our brand partners, with our branding efforts focused on high-end supermarkets and the foodservice sectors. We are confident that we will meet the Filipino consumers' preference for premium, great tasting tender beef with excellent marbling that was raised in a clean and safe environment."
Canadian Beef ribeye, chuck eye, and striploin cuts are available in all Rustan's, Marketplace and Shopwise stores. For the Christmas season, Rustan's will run a Canadian Beef promotion for the whole month of December which will include three sumptuous dishes with Canadian beef at their food service stations in Rustan's Glorietta, Marketplace by Rustan's BGC, Marketplace by Rustan's Shangri-La Mall, and Marketplace by Rustan's Powerplant Mall: Beer-soaked Ribeye Roast with Skillet Corn and Kale Salad, Peppered Striploin Beef Steaks with Caramelized Onions and Fruit Salsa, and Sheperd's Pie made from chuck eye beef.
Guests savoured Canadian beef which was perfectly paired with Pillitteri Estates Wines, an award-winning, family-owned winery in one of Canada's popular wine region, Niagara Peninsula. "One thing that sets Pillitteri apart is the fusion between old world and new world production styles. Gary Pillitteri moved from Sicily to Canada in 1948 and brought multiple generations of winemaking knowledge with him. Currently there are three generations activists in the day to day operations of our winery," said Jared Goerz, Export Manager of Pillitteri Estates Winery.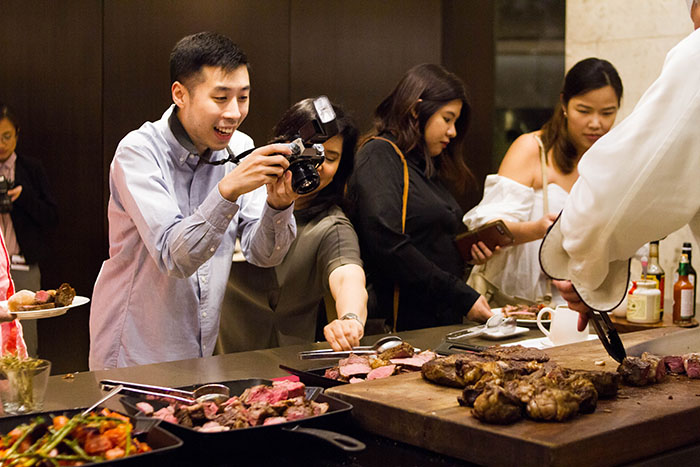 Both Canada Beef and Pillitteri Estates Winery are committed to ensuring that Filipino consumers are able to enjoy Canadian beef and Pillitteri wines through selected brand partners in the Philippines. CBII puts a special focus on the high-end and foodservice segment, collaborating with retailers such as Rustan's Supermarket to increase consumer awareness of Canadian beef. Pillitteri Estates Wines is distributed by Global Noble International Corporation to a growing number of retailers such as Unimart, Landmark and Landers.
About Canada Beef
Canada Beef is the cattle producer-funded and run organization responsible for domestic and international beef and veal market development. It has offices in Canada, Mexico, Japan, China, and Taiwan. Canada Beef works to enable and sustain loyalty to the Canadian beef brand and build strong relationships with trade customers and partners around the world. These efforts increase demand for Canadian beef and the value producers receive for their cattle.
About Canadian Beef Centre of Excellence
The Canadian Beef Centre of Excellence (CBCE), located in Calgary, Alberta, is the jewel of the Canadian beef brand and one of Canada Beef's richest resources. The CBCE strives to be a global leader in beef communication, culinary training, education and business development around Canada's beef industry through a state-of-the-art facility including a full commercial kitchen line, consumer kitchen and beef fabrication room. Through the focus of Connect, Innovate and Inspire, the CBCE brings the Canadian beef brand and story to life.
Pillitteri Estates Winery
Pillitteri Estates Winery is a family-owned and operated producer of premium VQA red and white wines.
Pillitteri is also the world's largest estate producer of icewine and have won over 1,000 international wine awards. In addition to being the world's largest estate producer of Icewine and one of Canada's most internationally acclaimed wineries, Pillitteri is always experimenting with new and unique production methods, including their innovative approach in the production of their collection of Family Reserve Appassimento wines. Pillitteri Wines may also be purchased online at www.gurkka.com through their local distributor, Global Noble International Corporation.
Hits: 106