Wolfgang's Steakhouse Presents Jazz Nights
Enjoy an evening of tasteful jazz music best paired with an extensive drink selection and delectable bites at Wolfgang's Steakhouse, Resorts World Manila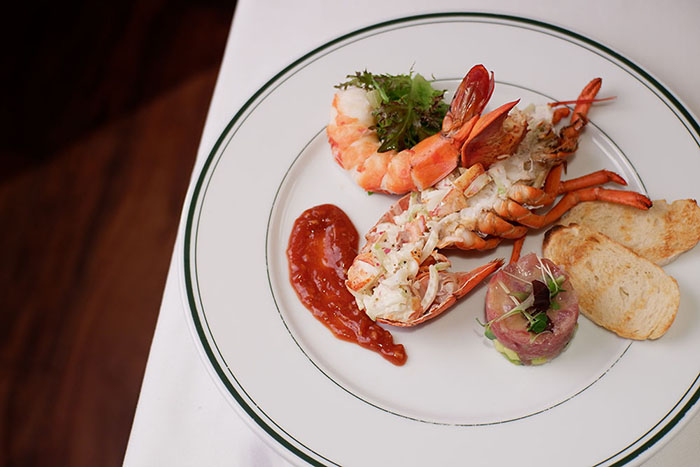 Following the opening of its third location in the Philippines, Wolfgang's Steakhouse by Wolfgang Zwiener brings yet another feat to the dining table. Say hello to Jazz Nights, a weekly musical escapade right in the heart of Manila.
The first event of its kind for the premier steakhouse, Jazz Nights puts the best aspects of the Wolfgang's Steakhouse experience front and center: delectable dishes, an extensive drink selection, and superior service within a masterfully designed space. Coupled with the Filipino's unshakeable love for music and live performances, the occasion is bound to be a treat for those who love to relax to the sound of smooth, jazz music.
Taking patrons on a gastronomic globe-trot, the menu spotlights two travel and dining hotspots as inspiration: New York and Tokyo. Attendees will get to experience Wolfgang's Steakhouse's exclusive Jazz Nights menu including their newest addition, The Taste of Tokyo which features a Japanese-style Katsu Steak Sandwich with perfectly cooked USDA Prime filet mignon cutlets, served with either a glass of Iwai blended whiskey (P1,588) or Sapporo, a cult favorite beer (P1,488). On the other hand, The Taste of New York (P2,750) features a set meal consisting of a 400g serving of the steakhouse's signature USDA Prime dry-aged sirloin, mashed potatoes, creamed spinach, and finishes off on a sweet note with a slice of New York-style cheesecake. Also on the menu is an assortment of seafood options––a hefty serving of fresh oysters, and the must-have Seafood Taster (Tuna Tartar, Lobster Salad and Jumbo Shrimp Cocktail)––and Wolfgang's steaks and sliders. Those looking for lighter options may opt for a parmesan-topped dish of Truffle Fries, or take their pick from Wolfgang's selection of crostinis––available in steak, crabmeat, salmon and tuna tartar variations.
What is a night out on the town without good drinks? Topping off the Jazz Nights dining experience, Wolfgang's Steakhouse presents diners with a line-up of specialty cocktails. Keep things light and zesty with the rum-based Lemongrass Mojito, Wolfgang's Steakhouse's take on the classic gin pomelo with the Downtown Manila, the Jalisco Spike for the spice-seeking drinker, or opt for the distinct flavor complexity of ginger beer and calamansi liqueur with Mezcal Mule. Also on the specialty cocktail roster only found in the Resorts World Manila location: a cinnamon spiced apple cider margarita and the gin-based Newport Silk. People may also opt to order from Wolfgang's Steakhouse's classic cocktail list, imported draft beers, and a choice from the award winning cellar which has consistently won the Wine Spectator award since they first opened in 2016!
Block off your Saturday nights to dine, drink and cap off a hectic workweek at Wolfgang's Steakhouse Resorts World Manila with more topnotch Jazz performers that will set you through the night including
April 6, 9 p.m. – Emcy Jazz Trio with Dix and Colby
April 13, 9 p.m. – Cooky Chua
April 20, 9 p.m. – Cruzin' featuring Glenda
April 27, 9 p.m. – Cooky Chua
***
You can find Wolfgang's Steakhouse by Wolfgang Zwiener at Resorts World Manila, Newport Mall, Newport City, Pasay
For inquiries and reservations, please contact:
(02) 511 7009
(0995) 610 2361
www.wolfgangssteakhouse.ph
Hits: 119