CCA Manila highlights baking programs with book launch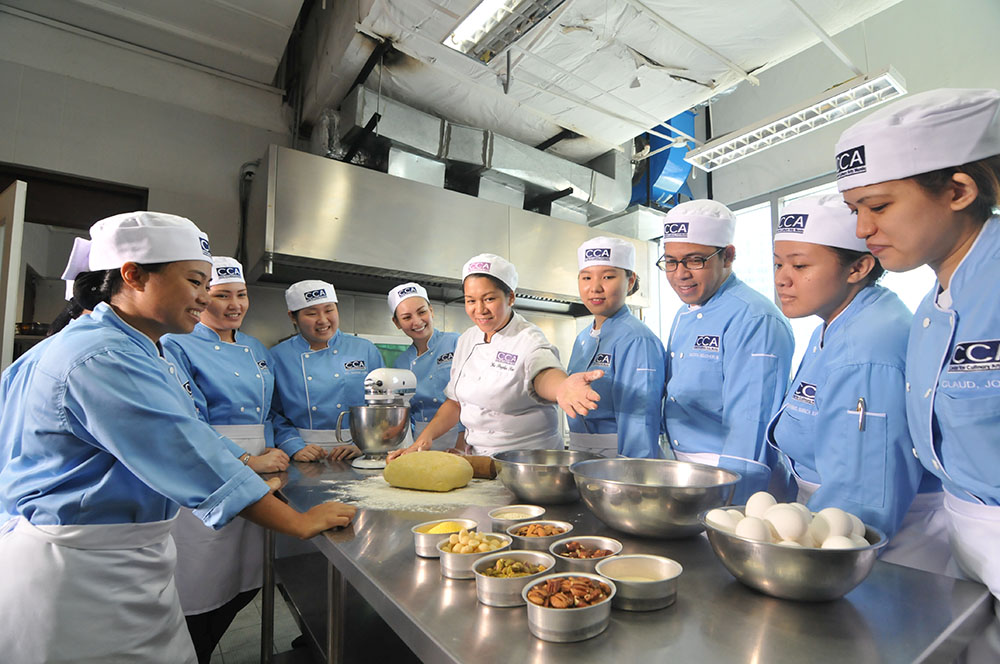 The country's top culinary school, the Center for Culinary Arts (CCA Manila) is maintaining its reputation as a pioneer and innovator in the culinary academic field. To highlight its baking programs and short courses, CCA Manila invited Chefs Miko Aspiras and Aileen Atanacio for the secondary launch of their much sought-after book 'A Piece of Cake.'
Formally launched last April, the secondary launch last May 21 introduced CCA Manila students and guests to the sweet creations of the two innovative pastry chefs. They collaborated on this book project which took them two years to finish, which featured dozens of pastry and cake recipes that can be recreated in one's own home.
During the event at CCA Manila's USDA Theater, Chef Aileen prepared her own take on the New York Cheesecake. The special cake is featured in the left side of the 'A Piece of Cake' cover. Starting from scratch, she showed the audience why she deserved all the accolades that the book is getting. On the other hand, Chef Miko created his decadent New York Cheesecake Entremet. Although seemingly tedious to prepare at first, the cookbook guides bakers on the step-by-step process. It is a truly indulgent cake created by a pastry chef at the height of his creativity.
With a heightened awareness on how businesses and careers in baking and pastry arts are booming all over the world, CCA Manila is offering the "Certificate in Baking and Pastry Arts Course", a program designed to provide students with a strong foundation on baking and pastry arts, supplemented by management competencies.
The program includes food safety, knife skills, baking math, green chefmanship, nutrition, preparation and serving of coffee, among others. In the one-year program, students will also be introduced to the operations of a bakeshop, patisserie, and cafe.
For those who are really interested to enter the baking and pastry field but do not have much time in their hands, they can choose instead to enroll in CCA Manila's "Fundamentals in Baking and Pastry Arts Course (FBPAC)."
The FBPAC is a 13-day comprehensive hands-on program (total of 84 hours) which will introduce students to the essential skills and give them knowledge on food safety, baking math, green chefmanship, baking techniques and methods.
There is also an intensive application of principles and techniques allowing students to become knowledgeable to produce various baked and patisserie products including breads, cakes and cake decoration and chocolate confectionaries. Advantage of this short course includes sessions concluding with a group tasting and a critique of the day's work by the chef-instructor.
For inquiries on CCA Manila and its various programs and short courses, call 02 218-8566 or 0917-5059370, e-mail: talktoccamanila@gmail.com or visit website: cca-manila.edu.ph.
Hits: 108