From origin to innovation: Discovering an unforgettable coffee journey at Starbucks Reserve®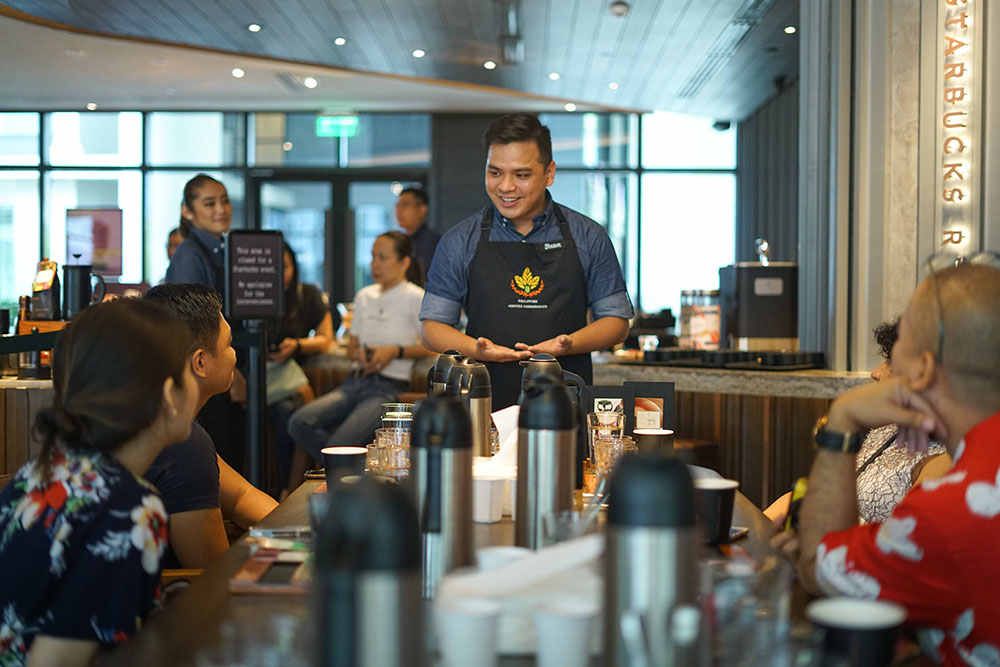 At Starbucks Reserve, each cup in hand holds rich stories of a fascinating journey. Ethically-sourced from all over the world, Starbucks Reserve serves the rarest and most extraordinary coffees that Starbucks has to offer.
With an immense passion for coffee, Starbucks ensures the quality of its coffee in each step of this journey – from the sourcing of the beans to its roasting. Also dedicated to coffee craftsmanship, the journey does not stop there for Starbucks as they create bold and inventive concoctions with new methods and technologies.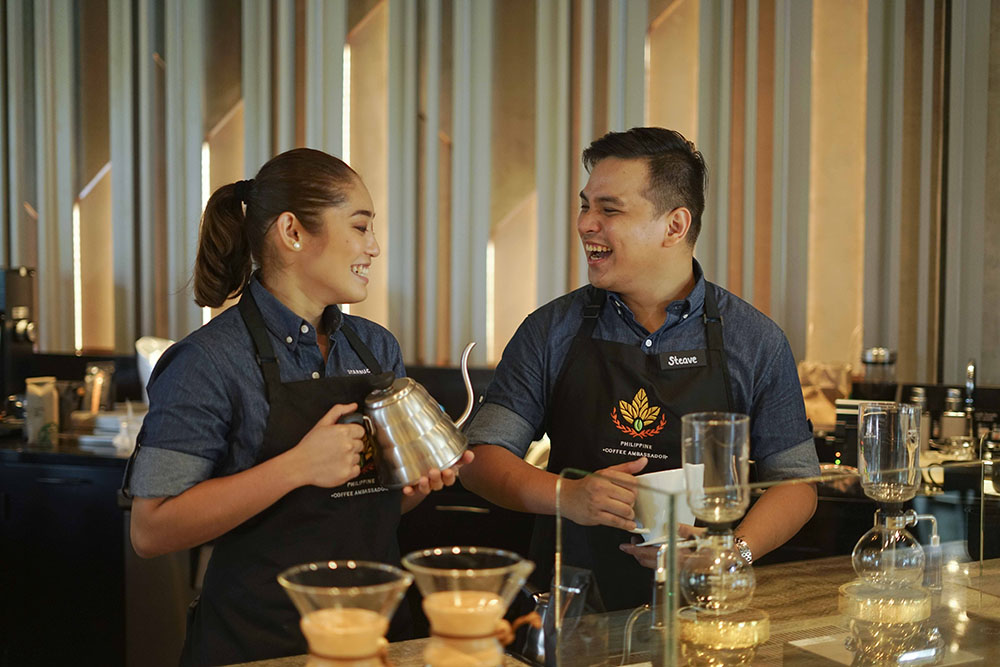 From origin to innovation
At a special Starbucks Reserve Master Class held recently, media partners were taken on a unique coffee journey, tracing the origins of select Starbucks Reserve coffees –- including three new varieties, the Starbucks Reserve® Rwanda Hingakawa, Starbucks Reserve® Guatemala Santa Cecilia Estate, and the Starbucks Reserve® Microblend No. 21 — while showcasing how they transform into innovative and delicious new creations. The Master Class was led by 2018 Starbucks Philippines Barista Champion, Steaven Bueno and 2019 Starbucks Philippines Coffee Ambassador, Kara Evangelista.
The first stop was a multi-sensory cupping session. Before each of Starbucks coffee is roasted, a special group of coffee tasters tests its quality and flavor through cupping. During this process, the coffee is kept in its purest form by simply immersing it in hot water before taking in its aromas and discovering its characteristics.
With the guidance of their Starbucks Coffee Masters, they were able to take in the aromas of all three coffees, slurping each cup to discern its body, flavor, and acidity. Here, they discovered the smooth and fruity flavor of the Rwanda Hingakawa, the roasty and nutty hints of the Guatemala Santa Cecilia Estate, and the citrus dark chocolate undertones of the Microblend No.21.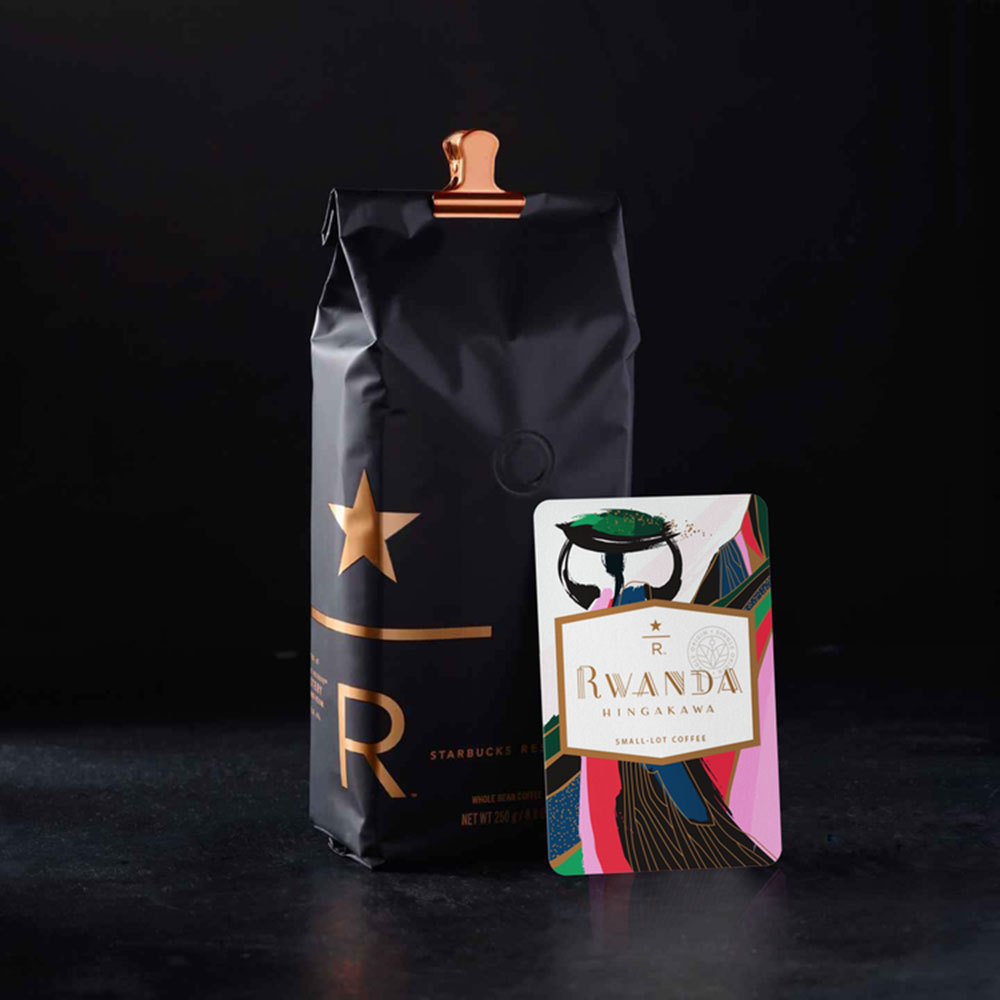 From a full immersion brew, the class moved on to Single Origin Flight wherein the coffee was brewed using the Pour Over method to further highlight its profile and flavor. The coffee flight was inspired by the 'wine flight' where different types of wines are served in one tray so guests can better appreciate the nuances in the flavors of each. During the coffee flight, the three coffees that were prepared during the cupping session were also served and the Starbucks Coffee Masters further explained the differences between each.
Taking into account espresso coffee fanatics, the Starbucks Coffee Ambassadors also featured Guatemala Santa Cecilia Estate as an espresso beverage with the Smoked Butterscotch Latte which showed indulgent caramel flavors expressing the coffee's versatility.
Ending the master class on a sweet note, the Starbucks Coffee Masters whipped out one of the most exciting innovations of the Starbucks Reserve – their coffee-based line of ice cream offerings.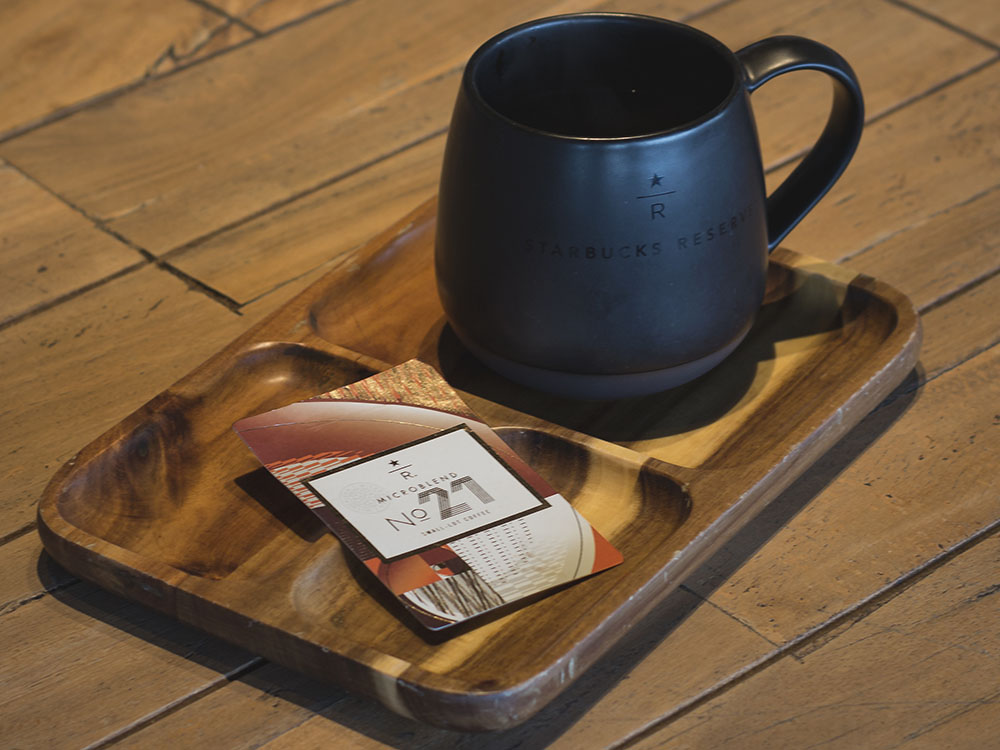 Attendees were served the Classic Affogato, a delightful treat made with vanilla ice cream poured over with a shot of espresso, this time, with the Starbucks Reserve Microblend No.21 which is a staple in Reserve stores with a Black Eagle espresso machine.
You, too, can embark on the same journey, exploring a myriad of flavors and discovering ground-breaking coffee craftsmanship, whenever you visit the Starbucks Reserve.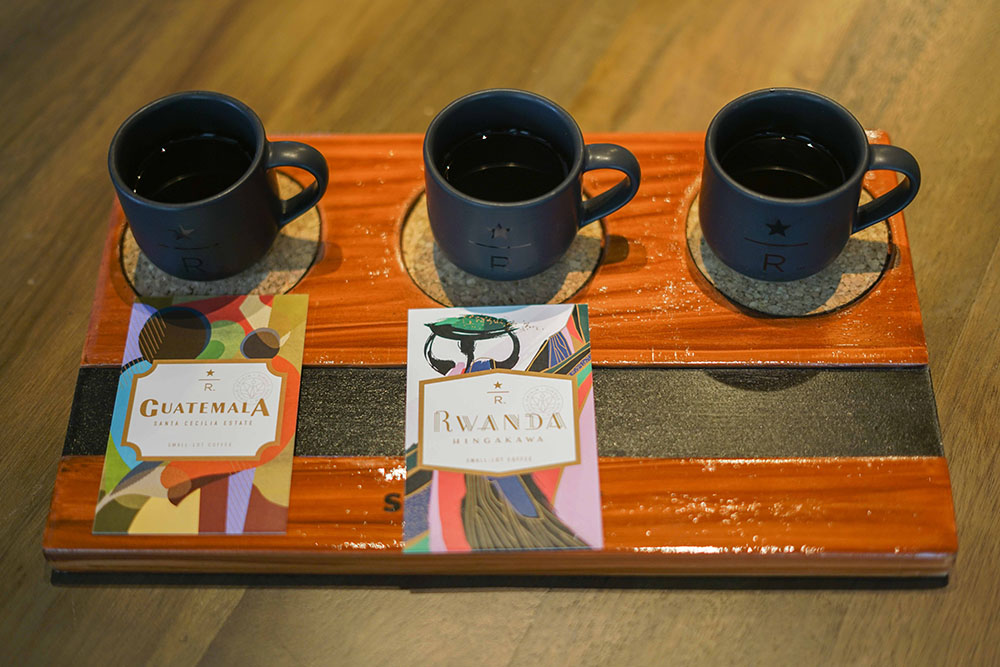 What is Starbucks Reserve?
Starbucks Reserve is a selection of the rarest, most extraordinary coffees Starbucks has to offer. It's where we push our own boundaries of craft, developing a unique roast for each individual lot before experimenting with coffee as an art form—brewing, aging, infusing and blending it into imaginative and often surprising creations. Through our Roasteries and bars, we share our discoveries and the enjoyment of exceptional coffee with the world.
Starbucks began its journey over forty years ago to make premium arabica coffee accessible to all while fostering a culture of human connection. Starbucks Reserve is our commitment to push even further, scouring the world for its most exceptional beans while evolving the coffeehouse experience to something surprising and multi-sensory.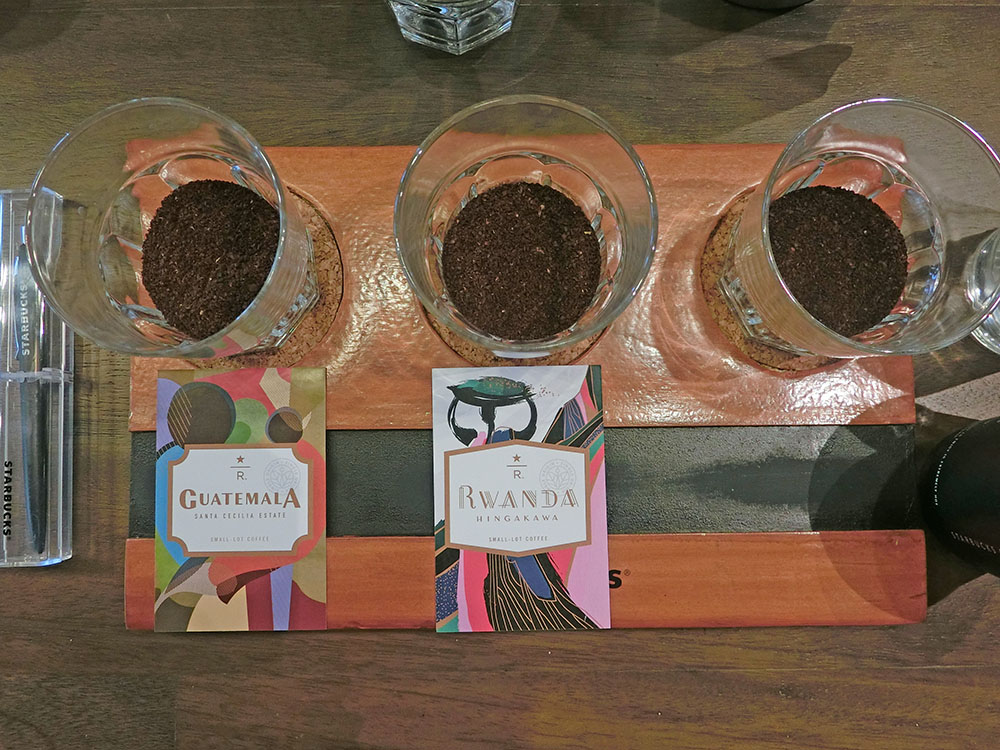 CRAFT
For us, craft is about fearless innovation, driven by our boundless curiosity and passion for all things coffee. We coax it to its fullest expression through meticulous roasting and brewing, then experiment with aging, infusing, distilling and nitrogenating it—resulting in creations ranging from timeless classics to those we haven't dreamed of yet. If innovation is an art, then coffee is our medium.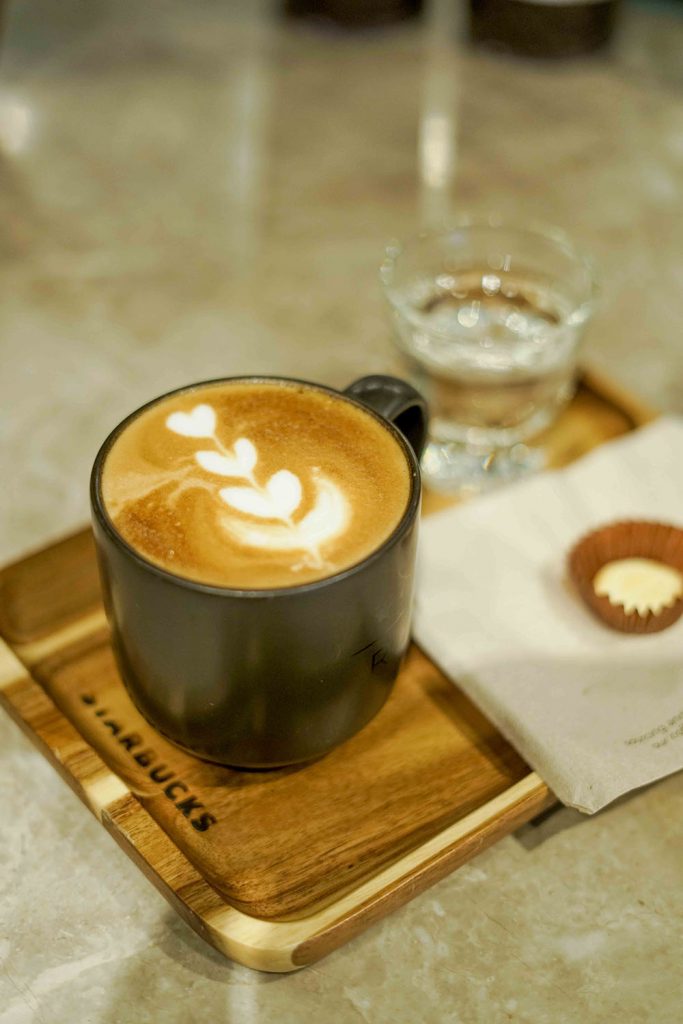 BREWING
The finest brewing methods hold artistry, science and skill in perfect balance. In the cup, each technique produces a distinct flavor profile. We make it our task to find new ways to coax out a complexity of taste, body and aroma.
SOURCING
We travel the world in search of extraordinary beans. We partner with small, family-run farms, historic estates and pioneering cooperatives, helping growers and communities improve the health and productivity of their crops and livelihoods. What we inherit at the end of the process are rare beans with enormous potential.
Black Eagle Espresso Machine and the Reserve Experience Bar
Elevated Coffee Experience
The store entrance opens to two coffee bars: a familiar counter where customers redeem their favourite handcrafted beverages and another—much longer one—dubbed the "Reserve Bar" that is dedicated to showcasing different brewing methods.
Similar to other Reserve® stores, the Power Plant Mall store is led and managed by highly-trained Global Coffee Masters donning elegant gray Reserve aprons. They belong to the Global Coffee Masters network which is composed of Starbucks partners who have taken intensive courses on coffee appreciation. These baristas gladly share their passion for coffee by recommending brewing methods and the best way to enjoy coffee.
"The Reserve® store is designed to put coffee craft at the center of the conversation, where the coffee bars are interactive and customers can immerse and engage with our partners (employees) about how coffee is prepared on a Siphon or on a Black Eagle (espresso machine)," said Keith Cole, head of marketing for Starbucks Philippines.
The experience bar also puts on display the technologies seamlessly woven into coffee science. This is where you'll see Coffee Masters thinker with a tablet that will display and guide customers with the different stages of the brewing process.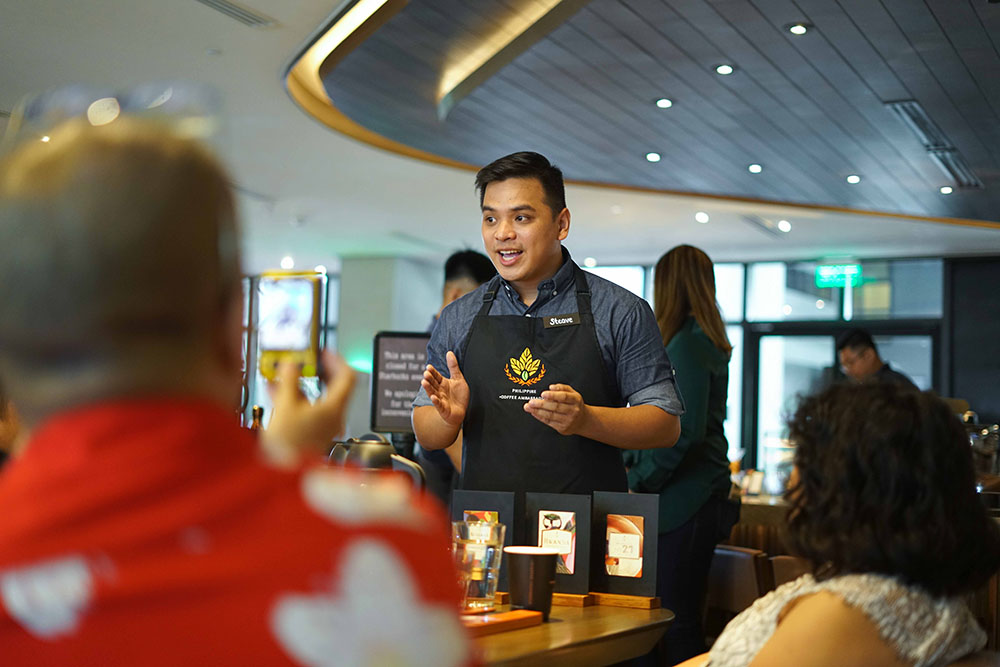 Espresso shots perfected by the Black Eagle
Coffee lovers have the luxury to choose from four brewing methods for their beverages: Siphon, Chemex, Pour Over, and the newest at the bar, the Black Eagle.
They can look on as the chambers of Siphon extracts full-bodied taste; as Chemex and Pour Over let out the aroma and clarity of the ground coffee with hot water poured by hand; and as the Black Eagle brings out the enhanced espresso flavors with its on-point technology.
The Black Eagle offers four renditions of espresso-based beverages which are exclusively brewed from a featured Reserve® whole bean, differing in levels of sweetness, and flavors. Customers can choose from Shakerato, Shakerato Bianco, Shakerato Bianco deconstructed, and Vanilla Bean Latte, available hot and iced.
The decidedly frothy Shakerato is a recommended coffee option, with demerara syrup infusing just a touch of sweetness to the beverage. There's also the Shakerato Bianco deconstructed, which gives its drinkers greater control over the intensity of their coffee by having sweet cream on the side with their Shakerato shaken in ice. Its namesake Shakerato Bianco gives a float-like slurp, from a mixture of espresso, ice, and house-made sweet cream.
The Reserve® store also has good news for latte lovers: There's the Vanilla Bean Latte available hot or iced. The beverage gives added texture in the smooth micro foam milk of the beverage mixed with espresso and decorated with latte art.
All four beverages are exclusively prepared using the Black Eagle espresso machine at Starbucks. "The theater of coffee is the first thing you see when you walk through the door and it says, 'Welcome, let's experience coffee together," shared Cole.
Visit the Starbucks Reserve® store at the Power Plant Mall today to enjoy the sip of great coffee and walk in to an immersive coffee journey at the bar.