Team Kramer celebrates Kendra's 10th birthday with their favorite tradition, Red Ribbon's Chocolate Dedication Cake!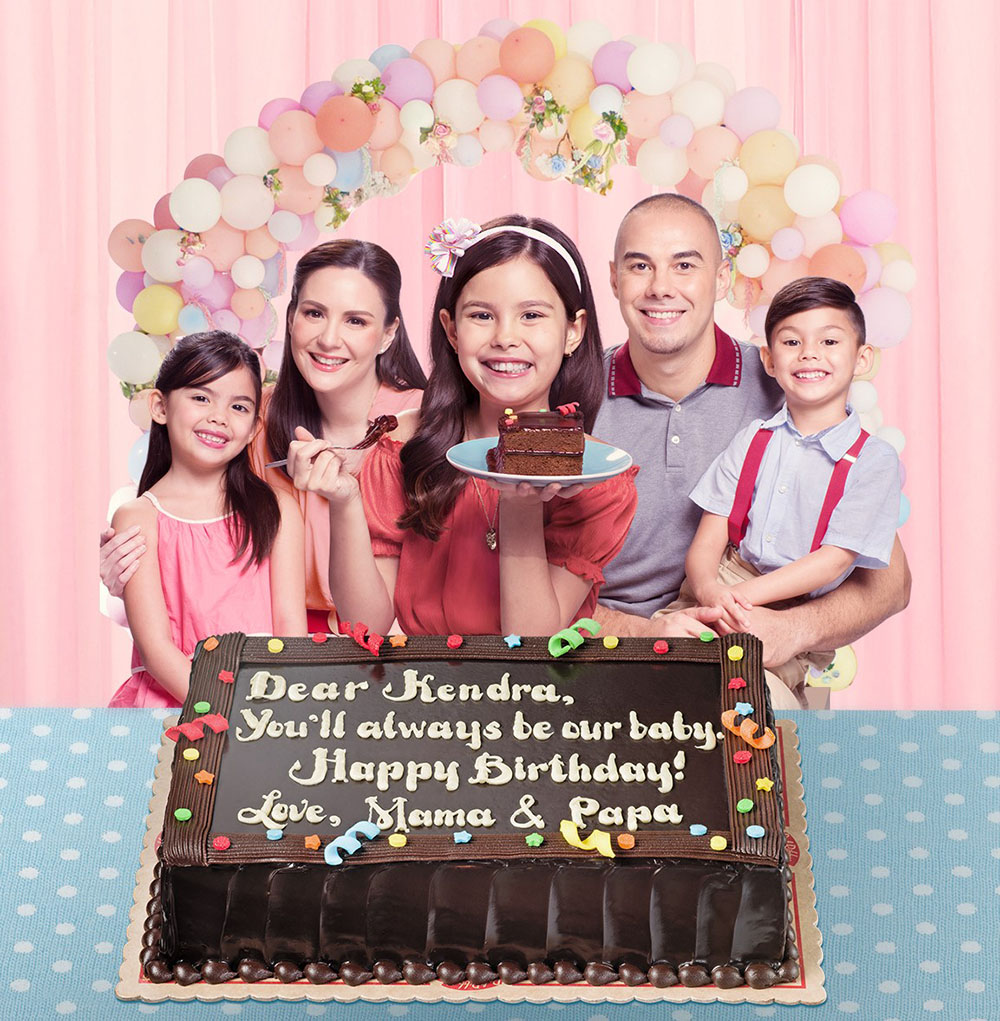 Red Ribbon's returning family brand ambassadors, Team Kramer, celebrated the 10th birthday of the family's eldest child, Kendra. In preparation for her special day, Kramer parents Doug and Cheska, gave Kendra two gifts she won't ever forget – one is their move to their brand-new home, and the other is the renewal of their family's partnership with the brand that's closest to their hearts, Red Ribbon.
Team Kramer's long history with Red Ribbon started back in 2014 when they shot Kendra's first TV commercial. The man of the house, Doug, recounts his vivid memories of this moment in a Team Kramer's Facebook post. "We still can't believe this was almost five years ago! Kendra was so small back then. So much has changed, but some things remained the same."
With the blessing of their new home and the 10th birthday celebration of their first princess, Team Kramer expressed their love and gratitude with no other than their family's all-time favorite birthday tradition, the Red Ribbon Chocolate Dedication Cake.
With its soft chocolate chiffon cake veiled with fudgy icing and rich chocolate filling, this bestselling birthday cake spawns a chocolatey flavor like no other. Topped with the most eye-popping sugar confetti, dots, and stars, the Red Ribbon Chocolate Dedication Cake remains to be Team Kramer's go-to birthday cake for every member of the family. "This has been around since we've been celebrating the kids' birthdays to my birthday and Cheska's – it's our favorite and it won't change!" said Doug.
Red Ribbon's Chocolate Dedication cake comes in three different sizes — Junior, Regular, and Large — each designed to allow the giver to express his/her most heartfelt birthday message.
To parents Doug and Cheska, they wish for nothing more than their kids to grow as kind, loving, and faithful individuals, while making it known to them that their parents' love and support will always be with them no matter how old they grow. So their message on Kendra's cake reads, "Dear Kendra, You will always be our baby! Happy birthday! Love, Mama & Papa"
To the Kramer family, no birthday celebration is complete without Red Ribbon's Chocolate Dedication Cake. As for the birthday celebrant Kendra, she calls her Red Ribbon Chocolate Dedication Cake as her "birthday wish, made chocolatey special."
Pair your sweet birthday message for the ones you love with the chocolatiest cake in town! Get your Red Ribbon Chocolate Dedication Cake at P350 for the Junior size (8x8in), P500 for the Regular size (8x12in), P775 for the Large size (12x12in) — available in all Red Ribbon branches nationwide.
Hits: 148