Manila Welcomes Earl of Sandwich The World's Greatest Hot Sandwich®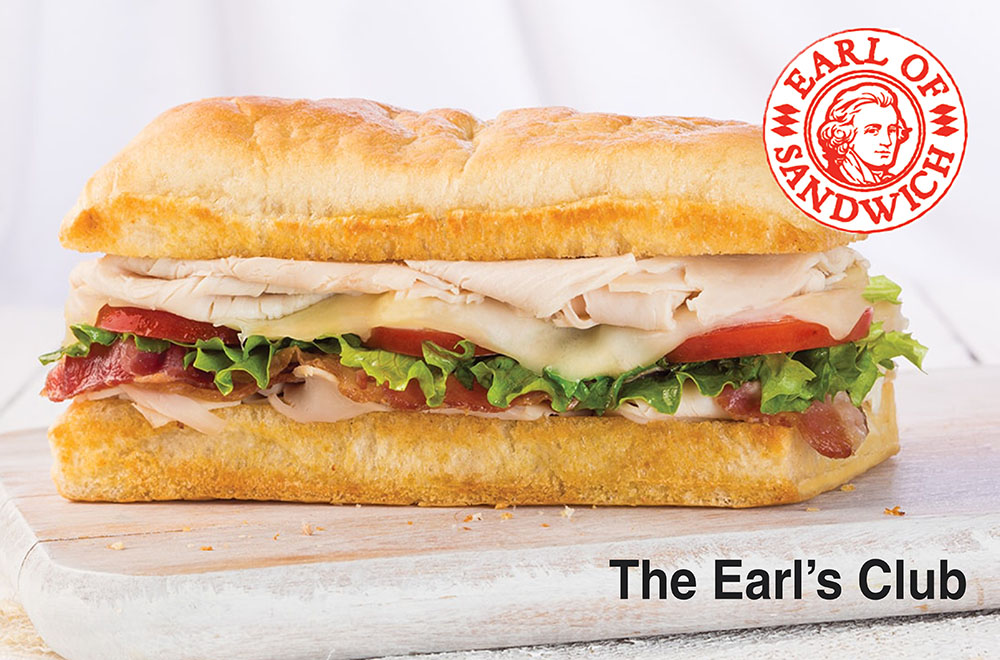 These days, people are really so busy that they can't even take the time to eat a full course meal. The struggle is real. Deadlines vs work. And for many, work wins.
But busyness getting in the way of meals is not unique to modern-day individuals. In fact, one man in the 16th century was so engrossed with his card game that he did not want to leave the gaming table. Perhaps he was on a winning streak? Or maybe he needed to recoup some losses? No matter the reason, he was not about to let hunger pangs get in the way.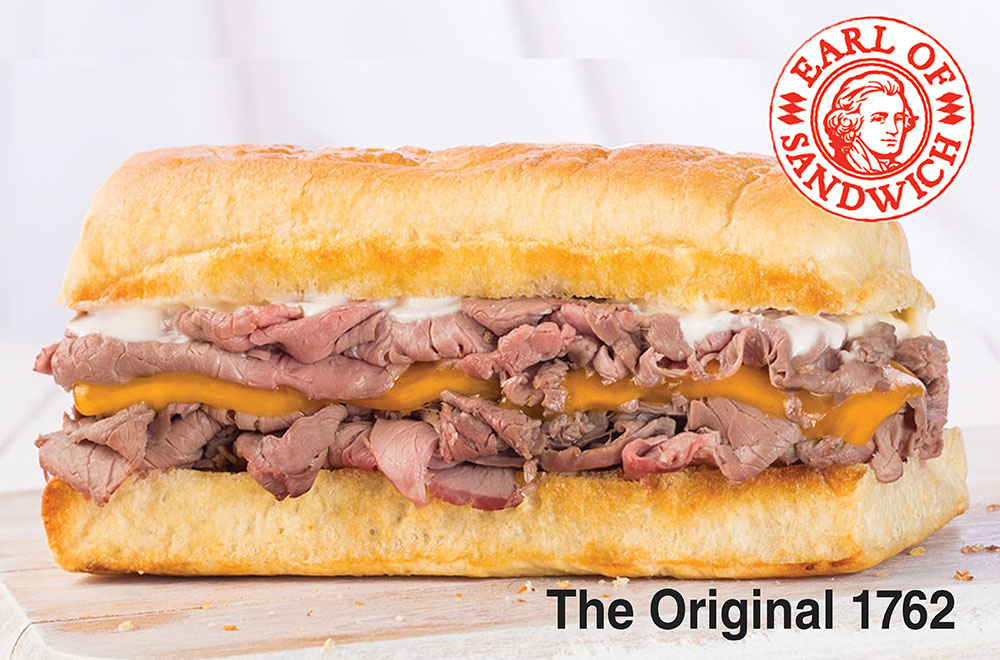 This was in 1762, and the man who could not be disturbed was John Montagu, the 4th Earl of Sandwich. Instead of going to the dining table, he asked that some roast beef be placed between two slices of bread, which he then could easily eat with his hands. And in honor of his brilliant dining concept, bread served this way was named the Sandwich.
Some 250 years later, the legacy of the Earl of Sandwich lives on with sandwich restaurants serving quick and easy meals on the go. In 2004, Lord John Montagu, the 11th Earl of Sandwich, and his son, the Honorable Orlando Montagu, direct descendants of the inventor of the sandwich, partnered with Robert Earl, founder and CEO of Planet Hollywood®, to launch the Earl of Sandwich® restaurants.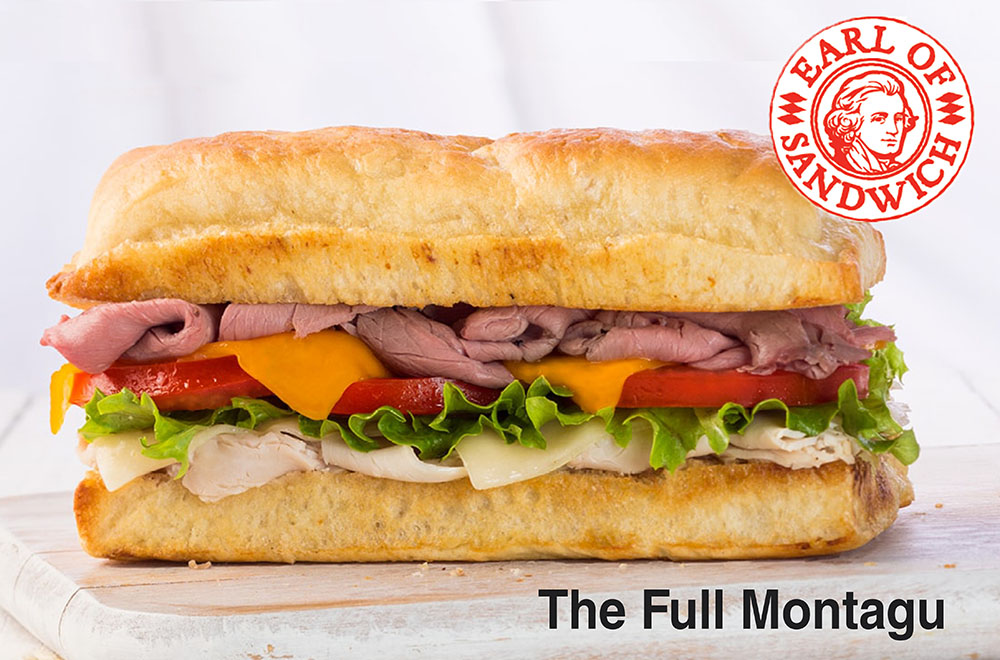 Today, the Earl of Sandwich® can be found in 35 locations across USA, one in Paris and one in Manila, Philippines located at the 4th level, Bridgeway, SM Megamall.
This thriving success attests to its reputation as the expert makers of The World's Greatest Hot Sandwich®. And after all, the company has over 250 years of experience to perfect the sandwich.
Through the centuries, the Earl's sandwich selection has grown and evolved into its signature sandwiches, which are all built to order with unique compositions of flavors.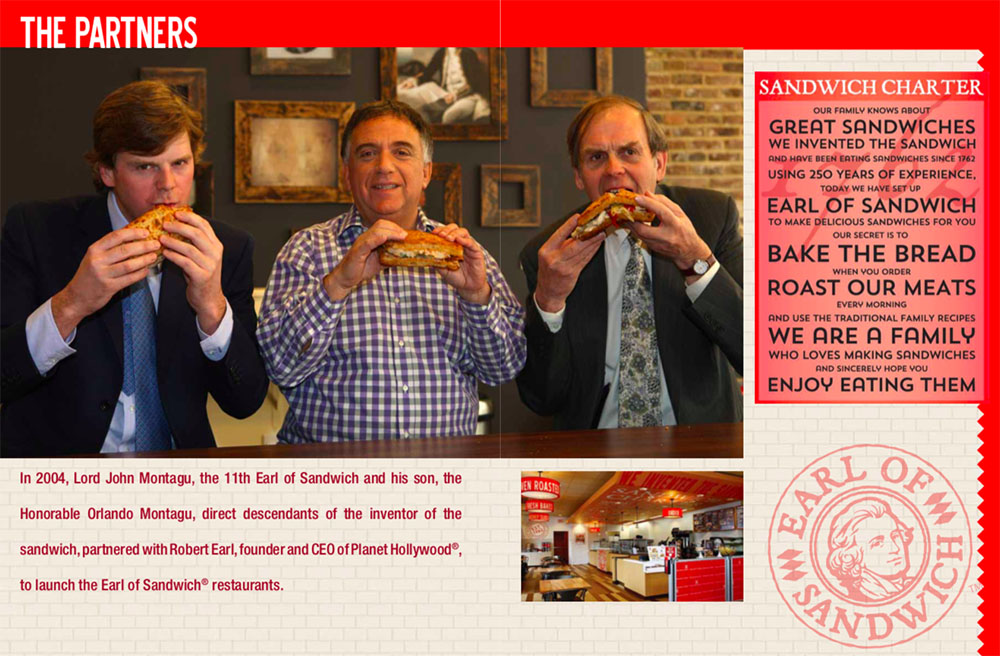 Leading the pack is, of course, : THE EARL'S CLUB, turkey, bacon, Swiss, lettuce, tomato, and sandwich sauce. Following closely are: THE ORIGINAL 1762®, roasted beef, cheddar, and horseradish sauce; THE FULL MONTAGU®, roasted beef, turkey, Swiss, cheddar, lettuce, tomato, and mustard sauce; TUNA MELT, tuna salad, Swiss & mayonnaise; ; CAPRESE, fresh
mozzarella, tomato, basil, and balsamic; HOLIDAY TURKEY, turkey, cornbread stuffing, gravy, cranberry sauce & mayonnaise; HAWAIIAN BBQ, grilled chicken, ham, Swiss, pineapple & BBQ sauce; ITALIAN, salami, ham, mortadella, mozzarella, tomato, Italian seasoning and Italian dressing;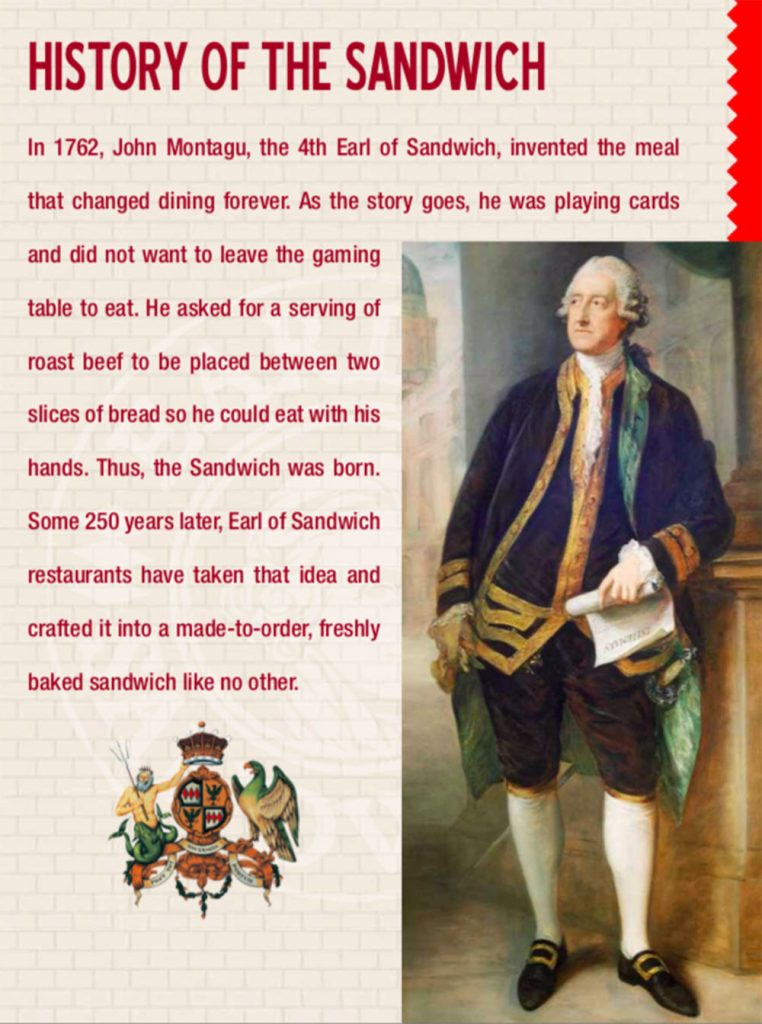 VEGGIE, Feta, cucumber, red peppers, red onions, lettuce, tomato & creamy Mediterranean dressing; HAM & SWISS, ham, Swiss &mustard sauce; ALL AMERICAN, turkey, cheddar, cranberry sauce, lettuce, tomato & ranch dressing; GRILLED CHEESE, cheddar, Swiss, mozzarella & BEST BLT, with bacon, lettuce, tomato & seasoned mayonnaise.
To complement these hot sandwiches are freshly tossed salad greens, topped with fresh ingredients and innovative flavor combinations, as embodied in the Earl's Cobb, Chicken Caesar and Apple Cranberry.
Hand-crafted wraps with flavors like Buffalo Chicken, Thai Chicken, Chicken Caesar, Spicy Tuna and Turkey & Cheddar are also palate pleasers.
Earl of Sandwich also serve an assortment of freshly-made PASTAS ( Spaghetti with Meat Sauce, Chicken Pasta, Baked Ziti & Spicy Shrimp Pasta ) , PIZZA BREADS ( Cheese Pizza Bread, Pepperoni &Pizza Bread ) RICE PLATES ( Roasted Chicken, Asian Pork, Squid Calamari & Beef Tapa ) Artisan Soup and DESSERTS ( Cakes & Brownies )
And for those who really cannot stay, there is the Grab 'n Go, a full line of products always ready for take-out. This menu includes hot sandwiches freshly baked on white or wheat artisan bread, hand-crafted wraps, fresh green salads, pizza breads, rice plates, pastas, soup, drinks & desserts.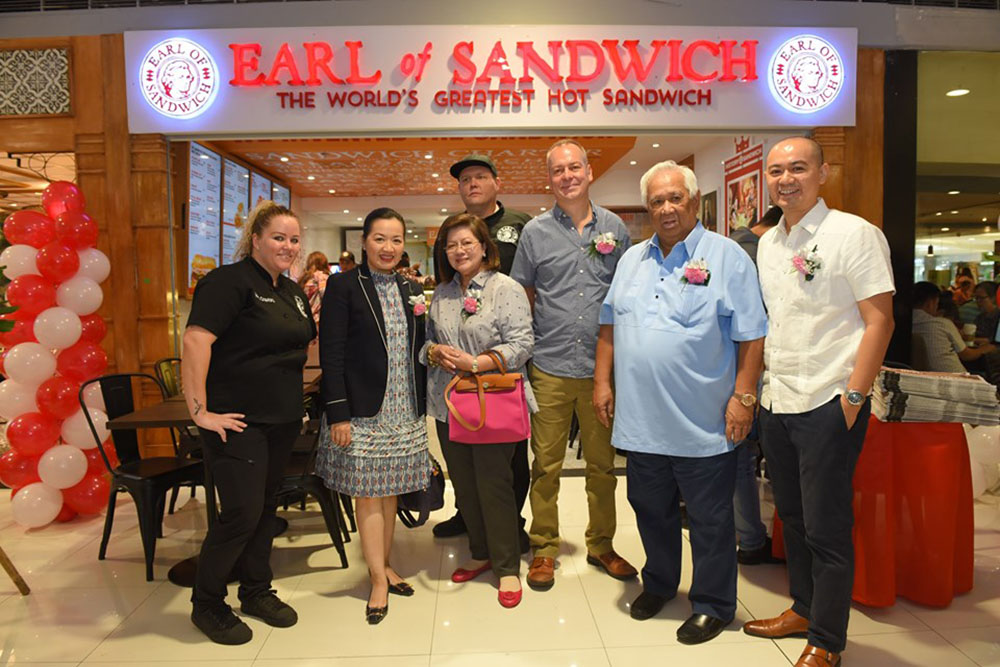 Now, there's no reason to say you're too busy for food, enjoy The Earl of Sandwich at the 4th level, Bridgeway, SM Mega Mall, Ortigas Center, Mandaluyong City. Check out /EarlofSandwichPH on Facebook, IG and Twitter.
Hits: 272