Level up your holiday flights with Delta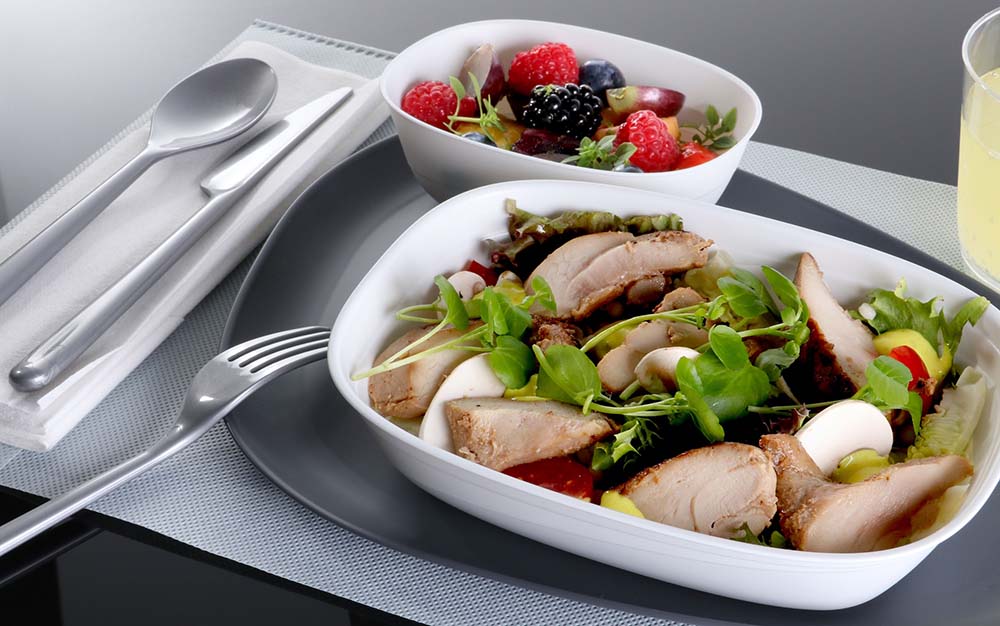 It's been quite a long 2019, filled with challenges overcome, goals met, promises fulfilled, and a whole lot of blood, sweat, and tears. It's finally time to think of yourself. And there is no better reward for a productive year than a relaxing trip.
Delta knows how much you are looking forward to that long holiday vacation. That's why it's making sure that each moment you spend with them is a comfortable and happy experience.
Get a wholly reinvented international Main Cabin Service
Starting November 5, the airline debuts its industry-leading Main Cabin experience. Passengers get free "Welcome Aboard" cocktails featuring Bellini, hot towel service, and mix-and-match options for premium appetizers and larger entrees.
These enhancements were borne out of rigorous reviews of the service through nearly 14,000 hours of flight time from over 1,800 customer surveys and crew feedback. A design team made up of 24 flight attendants also gave their input to perfect the innovative service of Delta's international flights.
Apart from these, Delta has provided specialized training to its team of more than 3,000 Pursers, who are the lead flight attendants on international flights. Responsible for the customer experience from nose to tail, the Purser has been elevated to include pre-flight introductions in the gate house and personal greetings at the boarding door. This shows just how important connections between crew and customers are important to the airline.
In addition to the recently upgraded amenity kits, more international onboard enhancements are coming soon including refreshed earbuds and headsets. This is in line with Delta's commitment to creating a best-in-class experience all customers can look forward to.
Simplify your travel with the upgraded Fly Delta app
With its many convenient features, customers can worry less about checking in, securing luggage, or even satisfying cravings while onboard.
Later this year, Delta will expand its auto-check-in feature, which is already popular with its domestic customers, to include international flights.
Confirmed Delta passengers will be checked in automatically 24 hours prior to their scheduled departure. Customers will receive an alert via email or push notification, open the app, input or confirm passport information, and their boarding pass will be there along with everything they need for their flight.
Once inside the app, customers can access the "Today" mode to easily add checked bags, change seats and purchase upgrades.
Popular pre-select meal program
By browsing through the Fly Delta app, Delta One customers will be able to select their preferred meal 21 days prior to their trip. Customers will also be able to select meals for others travelling under the same reservation.
As the trip gets closer, Delta One passengers who haven't yet made a meal selection will receive an email, reminding them to select an entrée. From there, they'll be driven to the "Trip Overview" screen in the Fly Delta app to browse their entrée options and pick their favorite plate. You can make changes to your selection up to 24 hours prior to your trip.
Secure your luggage with Delta's RFID bag tag technology
First deployed in 2016, Delta's Radio Frequency Identification (RFID) baggage tracking technology provides customers with improved real-time tracking of luggage throughout the travel experience. This is a first for US carriers.
With RFID, customers will get to track their bags on and off the aircraft during their journey via push notifications to the Fly Delta mobile app.
———
The holidays shouldn't be a time for stress and frustration. With all these enhancements, Delta is giving you the means to have the best holiday experience possible.
---
Delta Air Lines (NYSE: DAL) is the U.S. global airline leader in products, services, innovation, reliability and customer experience. Powered by its 80,000 people around the world, Delta continues to invest billions in its people, delivering a world-class travel experience and generating industry-leading shareholder returns. With its constant drive to invest, innovate and expand, Delta today is the world's No. 1 airline by total revenues.
Delta serves nearly 200 million people every year, taking customers across its industry-leading global network to more than 300 destinations in over 50 countries.
Headquartered in Atlanta, Delta offers more than 5,000 daily departures and as many as 15,000 affiliated departures including the premier SkyTeam alliance, of which Delta is a founding member.
Through its innovative alliances with Aeromexico, Air France-KLM, Alitalia, China Eastern, GOL, Korean Air, Virgin Atlantic, Virgin Australia and WestJet, Delta is bringing more choice and competition to customers worldwide.
Delta operates significant hubs and key markets at airports in Amsterdam, Atlanta, Boston, Detroit, London-Heathrow, Los Angeles, Mexico City, Minneapolis/St. Paul, New York-JFK and LaGuardia, Paris- Charles de Gaulle, Salt Lake City, São Paulo, Seattle, Seoul-Incheon and Tokyo.
Delta has been recognized as a Fortune's top 50 Most Admired Companies in addition to being named the most admired airline for the eighth time in nine years. Additionally, Delta has ranked No.1 in the Business Travel News Annual Airline survey for an unprecedented eight consecutive years and named one of Fast Company's Most Innovative Companies Worldwide for two consecutive years.
As an employer, Delta has been regularly awarded top honors from organizations like Glassdoor and recognized as a top workplace for women and members of the military. Delta CEO Ed Bastian was named among the "World's Greatest Leaders" by Fortune magazine in 2018.
Delta believes that its social responsibility lies at the intersection of its core values and corecompetencies, making a difference where Delta people live, work and fly by giving time, talents and one percent of the company's annual profits.
Diversity and Inclusion is core to Delta's culture and Delta believes it should be reflected in its people, the companies with which it does business, the way it treats customers and the manner in which it serves the world.
More about Delta can be found on the Delta News Hub as well as delta.com, via @DeltaNewsHub on Twitter and Facebook.com/delta.