Alas Ponce: Cap off a long 8 to 5 over amazing tapas and wine.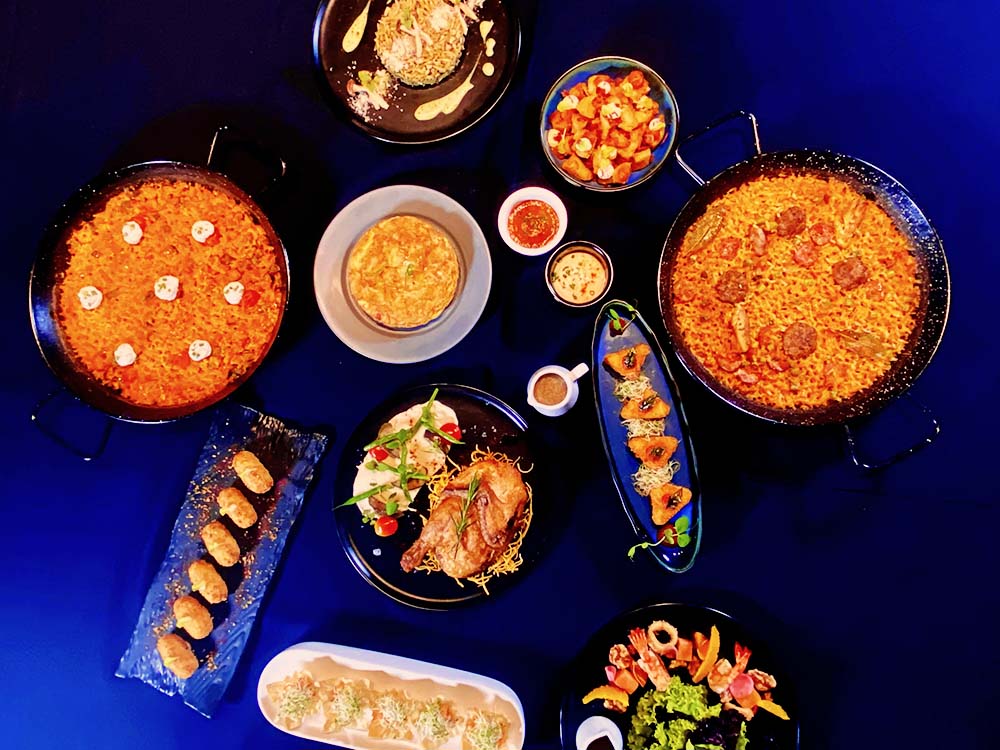 Some days can be longer than others. Good thing there's finally a great place north of the metro that you can visit for a night of unwinding over good tapas and wine. Bienvenido a Ponce!
Ponce is on a pursuit to bring good Spanish fare, opulent wine, and amazing experiences closer to people. Because Ponce believes that good food and good stories make life great.
The restaurant is named after Maximo Ponce, a man who grew up with an inspiring appetite for life. He spent his childhood basking under the warm sun; running across the plains of Tarlac to look after farm animals, pick fresh produce, inhale the refreshing breeze, and create timeless memories.
One person who particularly got enthralled by Maximo's wondersome spirit is his son, Dick Balajadia.
Taking after his father's great love for adventures, Dick traveled the world hand-in-hand with the love of his life, Mars. Together, they relished some of the world's best gastronomic experiences and even took them back home with them here in the Philippines.
Their magnificent journeys in Europe, particularly in Spain, inspired them to build Ponce the way they did.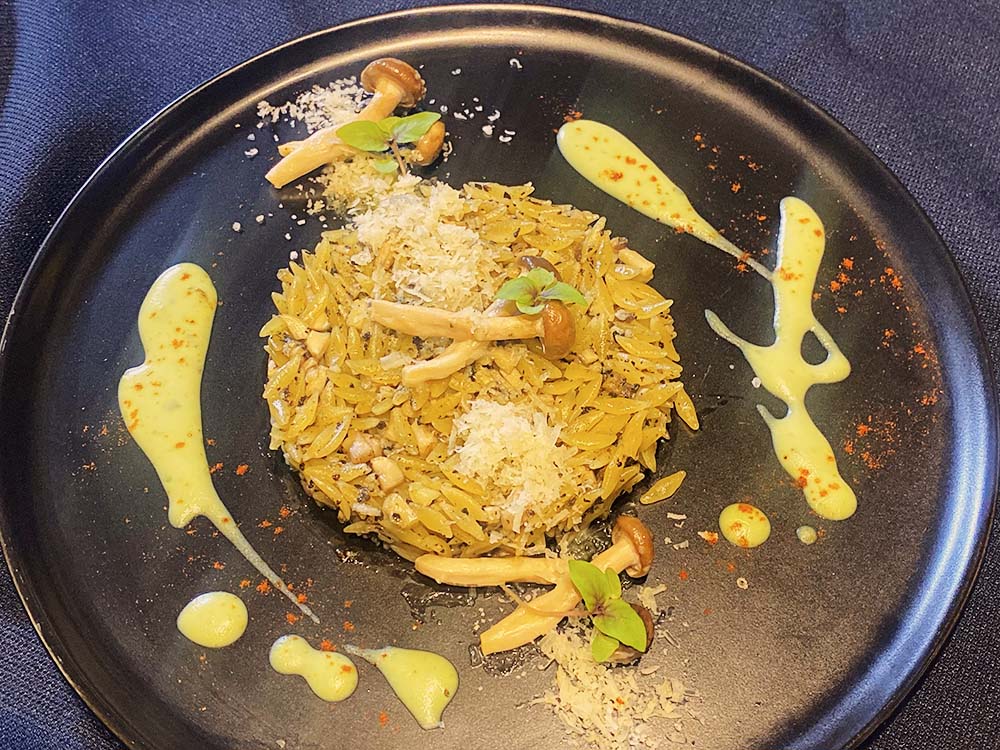 When you first step inside Ponce, you will instantly feel an inspiriting vibe. The breezy interior and verdant accents will easily give you an al fresco ambience that perfectly emulates what it's like to enjoy a meal in Spain.
As your eyes scan the place, a cleverly written neon sign will definitely catch your eye and leave a lingering question: Sangria? Wine not?
And with just a bit more perusing, you will spot a speakeasy bar seated just above the dining area. Its perfectly dim and chill set up will entice you to cap the night off with handcrafted drinks and good jazz music.
But before toasting the night away, you will surely want to indulge in Ponce's exquisite offerings first.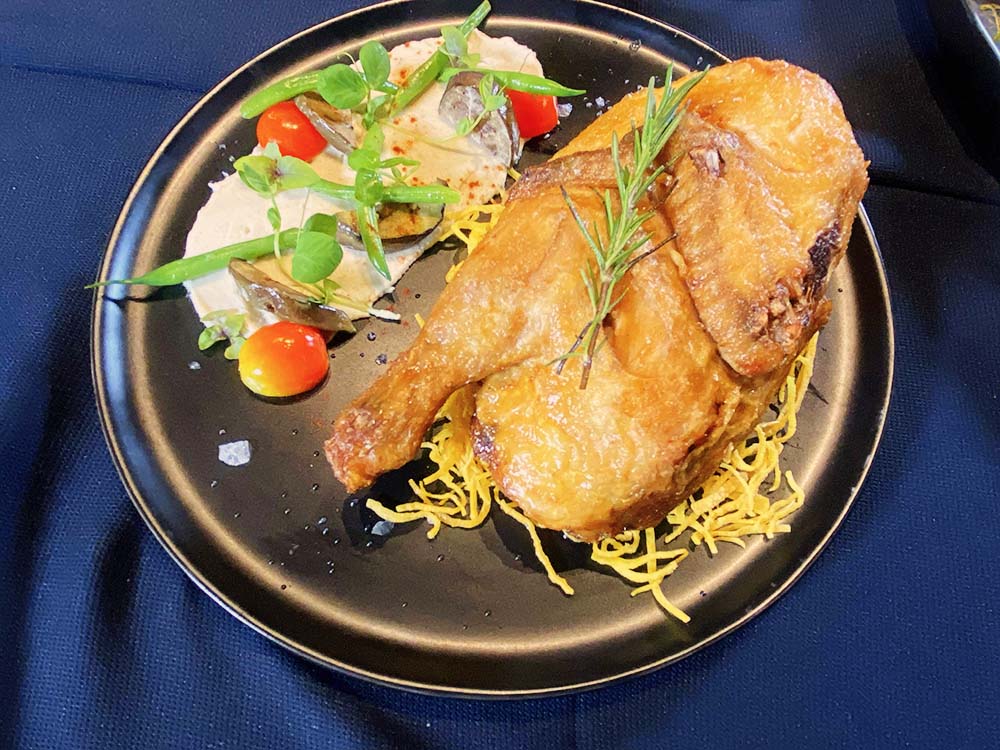 The place's amiable crew will warmly welcome you to a relaxing night of great eats and good wine. Once you're seated, the sight of Ponce's iconic blue plates will excite you to savor the great things coming to your table.
Ponce's menu, thoroughly curated by the owners together with Chef Angelo Santicruz, offers an exquisite selection of Spanish specialties. Classic picks such as the Paella Mars y Montaña gives an apt nod to the flavors of Spain.
Just seeing the Paella's pan being ushered into your table will already excite your tastebuds. Let alone taking a hefty spoonful of the Paella's perfectly-crusted rice, pork meatballs, clams, and prawns. It's a glorious burst of flavors that will have you wanting more.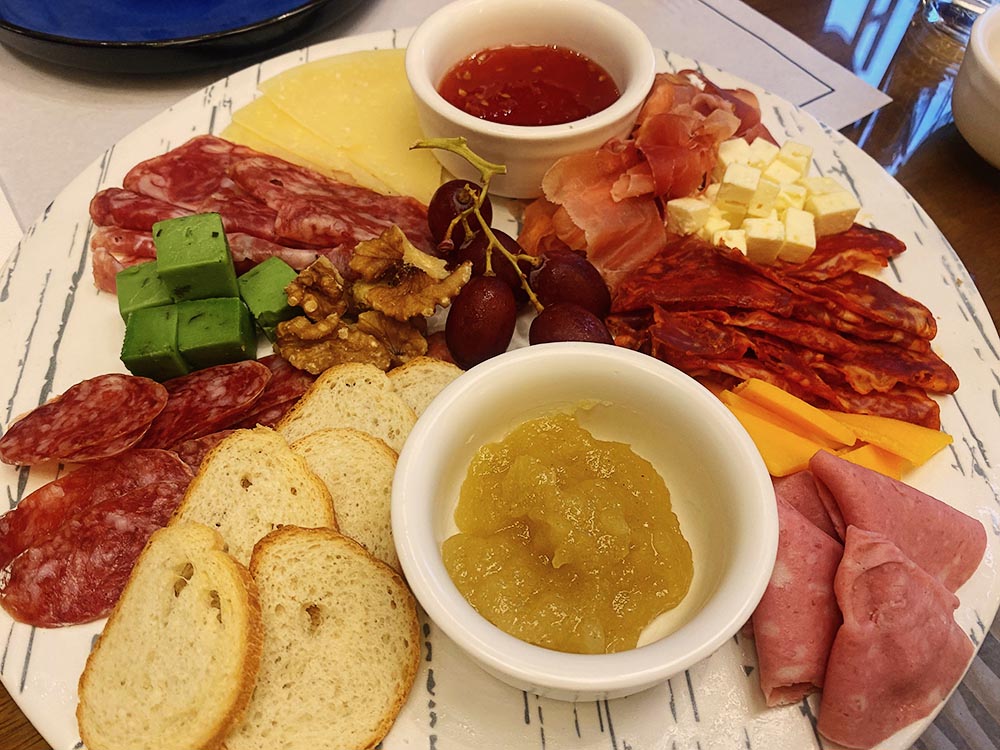 Other essential picks in the menu include the Calamar a la Andaluza, a Tapas y Entradas offering of Andalusian squid fried to crisp golden perfection served with a side of garlic aioli.
If these dishes are already stirring up your appetite, wait 'til you hear about Ponce's house special–the Cochinillo Asado del Chef.
Famed for being so unbelievably tender that a saucer could cut through it, Ponce's De Cochinillo Asado del Chef is a Spanish specialty that finds its way back to Segovia, a city in Madrid.
The Cochinillo's deliciously crisp skin crackles as it effortlessly breaks over the slightest squeeze. Glossed over by aromatic and flavorsome spices, this Ponce house special brings a flare of flavor you won't find in the usual lechon.
Imagine savoring all of these dishes after a long day, followed by swig after swig of Ponce's refreshing Sangria. White or red, Ponce's perfectly concocted Sangrias will immediately send you to full unwinding mode. The medley of bright and fruity flavors is a nice finish to Ponce's tasty dishes.
Ponce was made to be perfect for all kinds of get togethers. Be it a nice dinner of Paella and Sangria, a jazzy nightcap at the speakeasy bar, or maybe even a dinner meeting at one of its intimate conference areas.
Ponce wants to welcome and inspire great stories, vibrant laughter, and warm memories. The same way Maximo Ponce has all his life.
And despite being situated in one of the metro's busiest districts, Ponce can be your quiet and relaxing escape after a long day.
Cap off your bustling 8 to 5 with us. Enjoy Alas Ponce with some Cochinillo, Paella, and overflowing Sangria! Visita Ponce en 124 Sct. Dr. Lazcano St., Brgy. Sacred Heart, Tomas Morato, Quezon City. ¡Hasta luego!
Hits: 140