Festive Flavors to Discover at Diamond Hotel Philippines
Get your taste buds into the holiday mood with Diamond Hotel Philippines' catalogue of delightfully sweet and savory Christmas Goodies.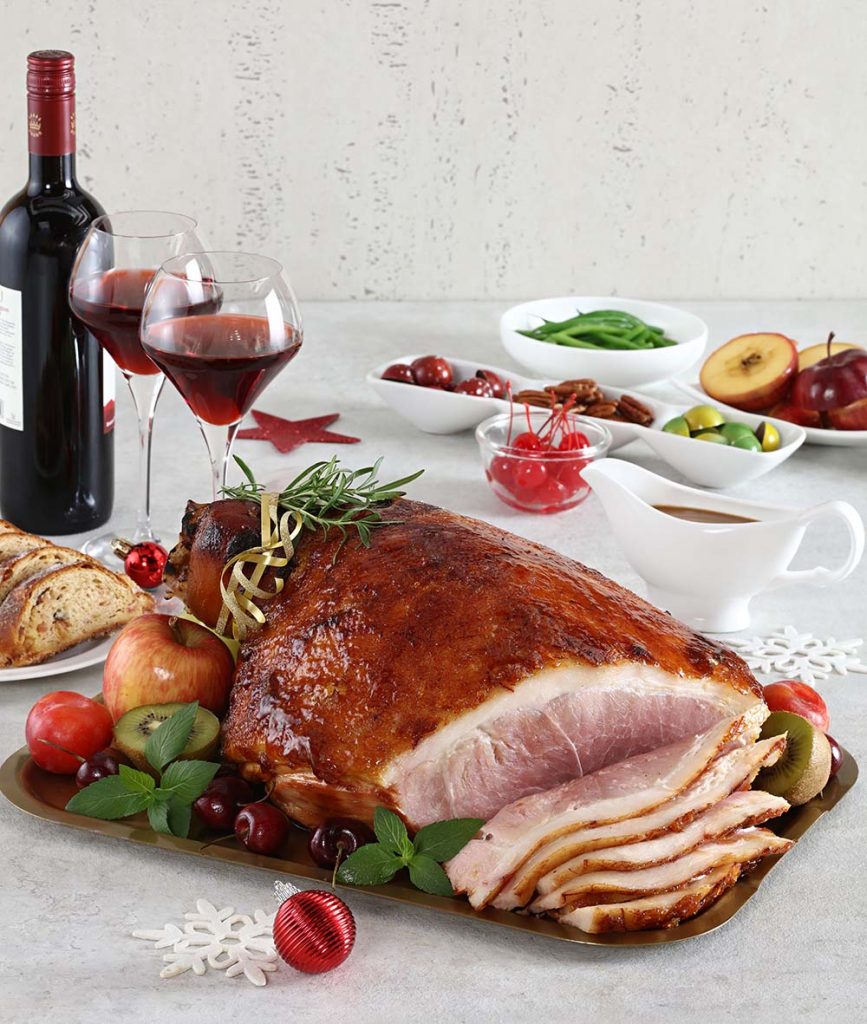 Mouthwatering and undeniably delicious, Diamond Hotel's savory Christmas selection showcases one show-stopper after another, boasting aromas and a zest that mark a memorable occasion. For a go-to staple, the Honey Glazed Leg of Ham is a crowd-pleaser that glistens with caramelized honey that, when coupled with the cut of meat's natural saltiness, offers a complementary combination. If you opt for a Filipino favorite, Chicken Relleno is hearty and rich with ingredients that are well-known and much-loved. When the clan is craving an indulgent dish, a juicy Porchetta or a traditional Turkey with Cranberry Sauce and Giblet Gravy will do just the trick.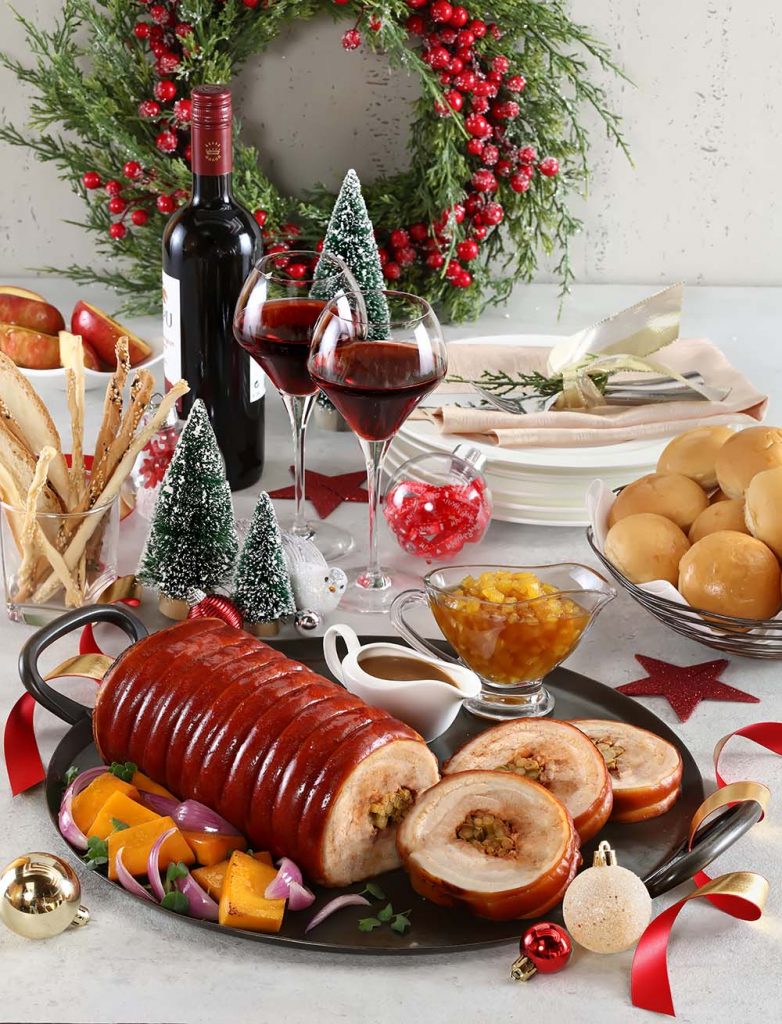 Let yuletide sweets add a twinkle in everyone's eye at your holiday table. Pastries and baked treats with enchanting details will leave you nostalgic and wanting seconds. Diamond Hotel's Homemade Panettone is made fresh on-site, making this lighter-than-air, fruity loaf a gem that is few and far between. To inspire the spirit of the season, a Christmas Log Cake is a great centerpiece trimmed with decorative, sweet toppings that folks young and old will enjoy gazing at and snacking on. For a take-home present, drop by the Lobby Lounge to pick up a box of seasonal delicacies, like the quintessential French Macaron, decadent Sea Salt Chocolate Bonbons and Artisanal Pralines, or Christmas Muffins.
Christmas is all about giving, but with Diamond Hotel's Holiday Hampers, the joy of receiving a special bundle of goodies is twice as exciting. With gourmet food selections and choice gift items, these elegantly wrapped baskets are surefire presents designed to please.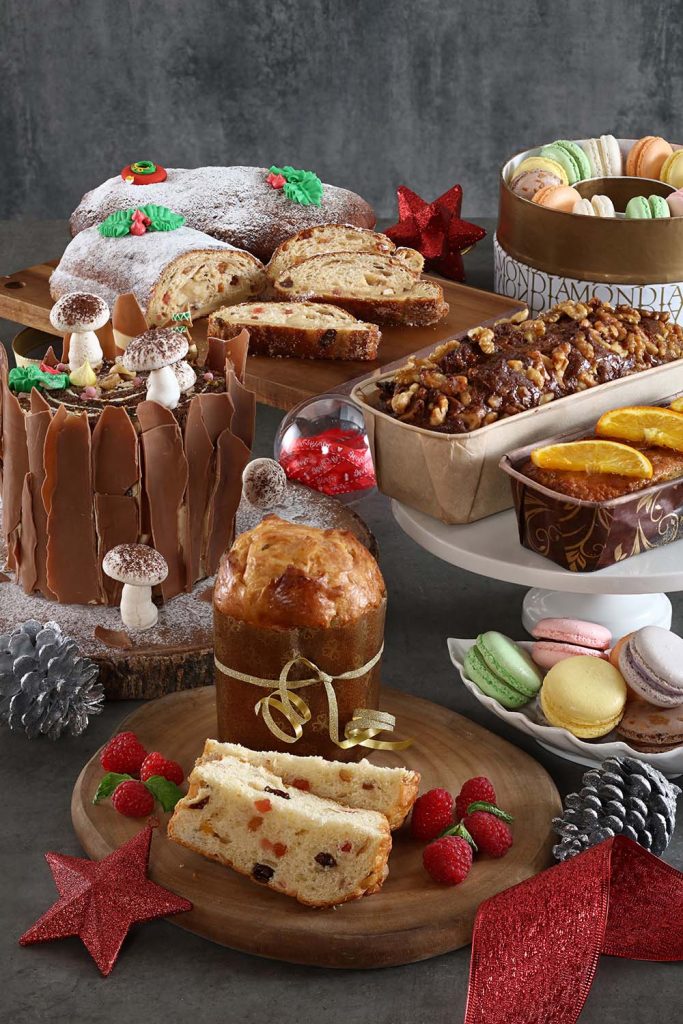 Be in the heart of the merriment without missing a beat by ordering specially curated Holiday Takeaway Set Menus for your home or office parties. Featuring remarkable, savory mains and complimenting side dishes, these delicious preparations shine with flavors reminiscent of the holidays that bring one and all together. The Oriental Party Set Menu comes with a Cold Cuts Platter, Stir Fried Noodles, Shanghai Spring Rolls, and other Chinese favorites fit for up to 8 persons. The Divine Set Menu is a spread suitable for up to 20 persons which includes Lechon de Leche, Ham Mousse Profiteroles and a Christmas Black Forest Log Cake, among other delectable items.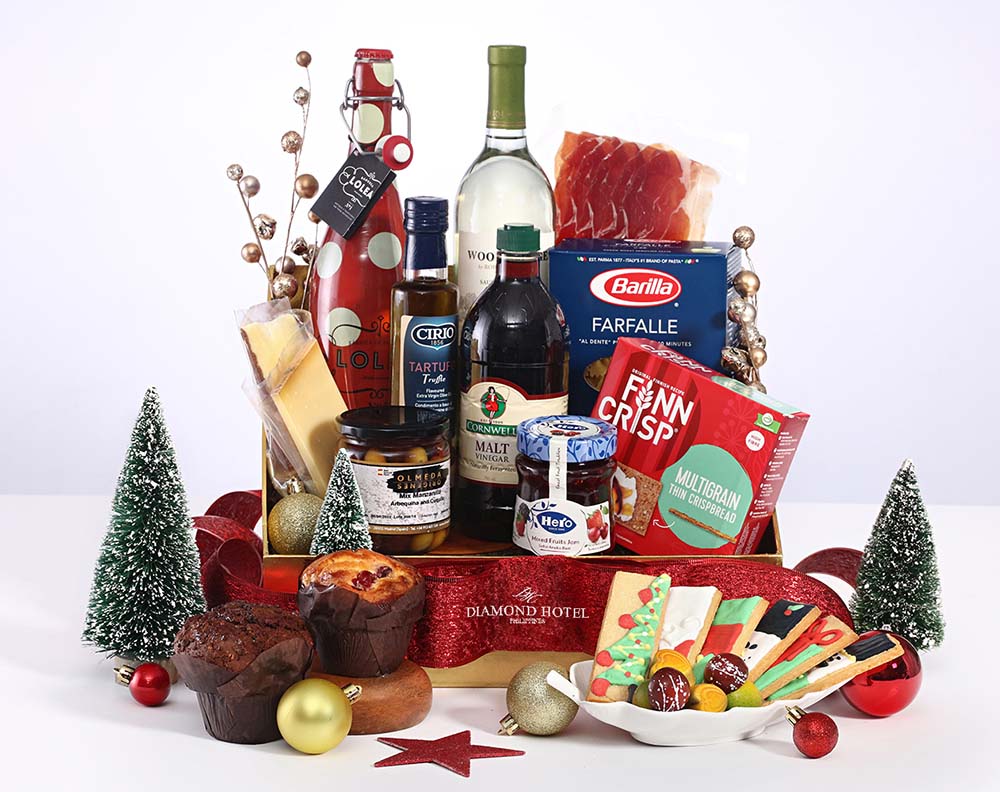 Grander events call for lavish spreads, and Diamond Hotel's Catering Service will make your next Christmas party an unforgettable one. With a banquet to fill the eyes and the appetite, coupled with excellent service that feels like VIP treatment all the way, it will be no wonder that everyone will be talking about your event 'til the year ends.
Make it meaningful with a present that goes beyond words. Spark the season's spirit of sharing with exclusive room stay or dining Gift Certificates of your choice, or surprise your family with a holiday staycation when you book the A Holly, Jolly Holiday room package online at www.diamondhotel.com.
To place an order for Christmas Goodies, Party Platters or Gift Certificates, call Diamond Hotel at 8528-3000 from 9am to 8pm, Mondays to Fridays; or email restaurant_rsvn@diamondhotel.com.
You may also visit onlineshopping.diamondhotel.com to purchase. Orders may also be picked up at the Christmas Goodie Counter at the Lobby Lounge.
Diamond Hotel Philippines is located at Roxas Boulevard corner Dr. J. Quintos Street, Manila. For inquiries, please call (632) 8528-3000 or email guestservices@diamondhotel.com. For more information on Diamond Hotel Philippines, please visit www.diamondhotel.com. For hotel updates and special offers, follow the hotel on Facebook, Instagram and Twitter @DiamondHotelPh