Lung Hin Showcases Blissful Blessings for the Lunar New Year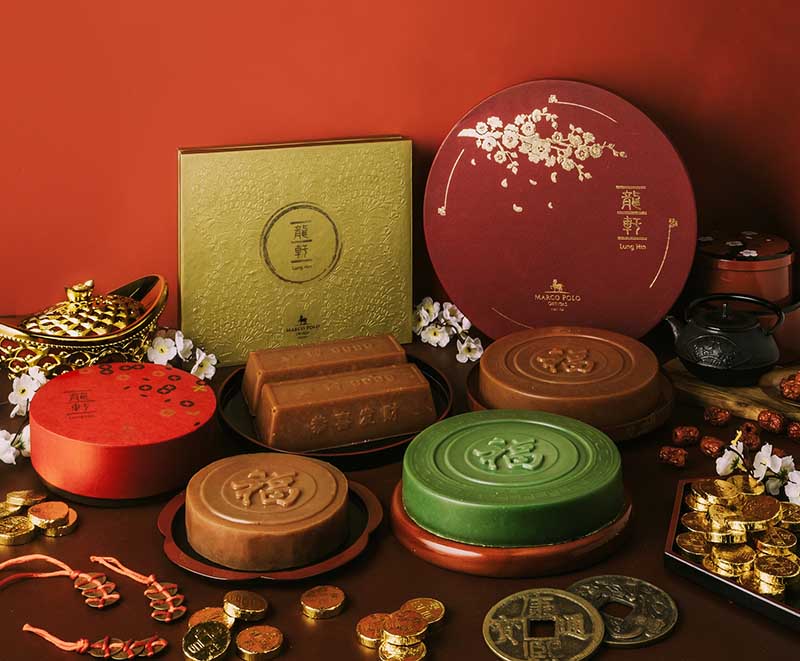 An auspicious, joyous celebration of the coming Lunar New Year awaits with Marco Polo Ortigas Manila's annual traditions in 2020. To welcome the Metal Rat, the Hotel is proud to announce that its famed Nian Gao (Tikoy) will be available for pre-orders as early as 27 December 2019.
The Nian Gao (Tikoy) is a traditional symbol of prosperity and good luck at the beginning of the Lunar New Year. These glutinous rice cakes are best enjoyed with friends and loved ones as part of an abundant feast.
This 2020, Lung Hin offers the Nian Gao in different variants that guests may purchase ahead of the special occasion. The Double Gold Bar Nian Gao is available in Brown Sugar flavour for PHP 1,888 per box, while the Single Round Nian Gao in Red Dates Sugar flavour may be enjoyed at PHP 798 per box. The classic Large Round Nian Gao is available in two flavours: Pandan and Coconut, and Red Dates Sugar. Each variant in this size may be purchased for PHP 1,388 per box. All prices indicated are subject to relevant taxes.
For more information about Lung Hin's nian gao offers, as well as to place orders, please call (+632) 7720 7720 or email restaurant.mnl@marcopolohotels.com. Please log-on to marcopolohotels.com for more details on the Hotel's ongoing promotions. Subscribe to updates via social media through the Hotel's official social media accounts: facebook.com/MarcoPoloOrtigasManila and @MarcoPoloManila on Twitter and Instagram.
Hits: 92