It's A Choco Love Affair at Marriott this Valentine's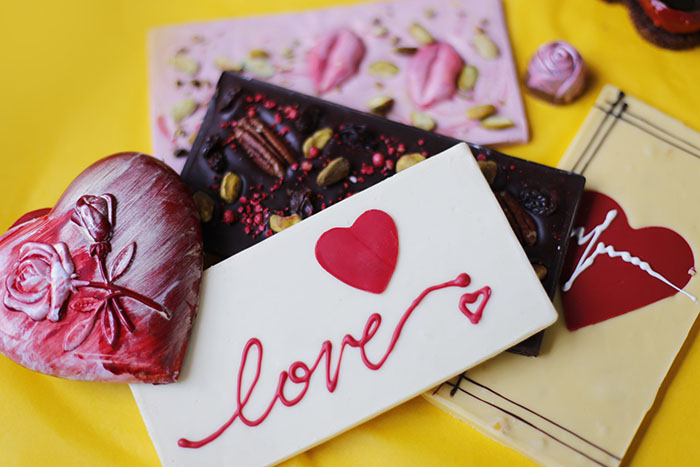 It's the season of love and everyone is getting busy looking for ways on how to celebrate. Here are cakes, chocolates, and a romantic staycation package to sweeten the love month.
Valentine's Treats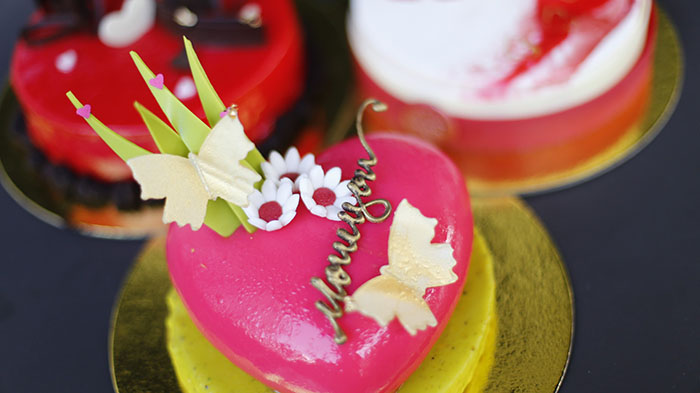 Valentine's is not just a celebration of love in a romantic aspect; it is also about showing your appreciation to people who actually matter. It's a day where you can thank those closest to you—your family, and what better way to express your gratitude to them is by sharing a scrumptious meal together. At Marriott Café, be welcomed by a table filled with literally all things made of chocolates, from those in the shape of bags, lipsticks, screwdrivers to a chocolate macaron tree and the classic chocolate hearts and blocks. Marriott Café is the perfect bonding place for your family this season of love. Aside from the wide range of choices from the buffet spread, it's a Choco Love Affair at Marriott Café with a table filled with handcrafted chocolates, sweets, and colorful treats will make the kids and kids at heart, delighted! Treat your family to a buffet (Php 3,300 nett) on February 13 (lunch) and February 14 (lunch and dinner).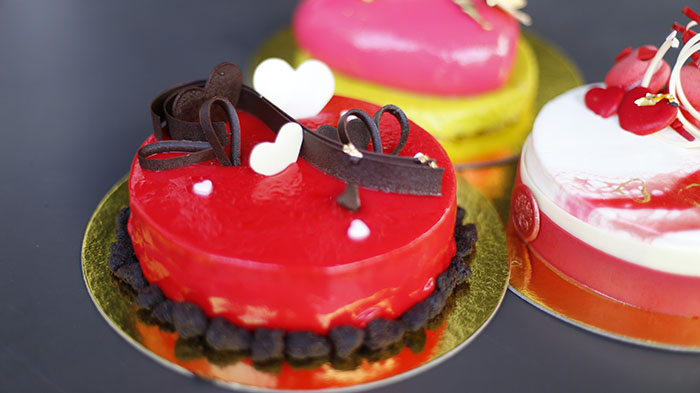 It's a sweet spectrum of desserts with Marriott Café Bakery's Valentine Round Cakes (Php 950 nett) available in Strawberry Heart made of strawberry cremeux, almond pistachio sponge, lemon cream cheese mousse, strawberry confit, and pink glaze. There's also a cake inspired from the iconic literary lovers Romeo and Juliet made with mango sable, lemon dacquoise, mango jelly, lychee mousse, and mango cream. The "Mi Amor" Chocolate Brownies is a treat to the sweet tooth, with its almond brownie, vanilla cream, raspberry vanilla jelly, salted caramel, and ivory glaze combination. There are also Cakes in Can with choices from the Chilli Peanut Brownies (Php 650 nett) with dark and white chocolate chips, salted spicy nuts, chilli powder and chocolate heart, the classic Red Velvet Cake (Php 650 nett) with cream cheese frosting, and the Strawberry Cheesecake (Php 750 nett) made of baked signature Marriott cheesecake, graham crackers, fresh driscoll strawberry, and harmony neutral glaze. Mini cakes (Php 305 nett) also grace the shelves of Marriott Café Bakery. From the light Chocolate Cotton Cheesecake with caramel croquant, Red Orange Gianduja with gianduja orange cream, orange confit, chocolate croquantine biscuit, and chocolate brilliant glaze, Maracaibo Love Slipper with milk praline intenso, hazelnut dacquoise, praline croquantine, Maracaibo cremeux, and couverture heart, and Passion Coconut Lips with Malibu coconut gianduja, almond sponge, passion mango cream, sesame sable, and red fruit glaze. There are also Valentine's Pralines in box of 9 that includes dark chocolate with milk chocolate ganache, fleur de sel caramel and 70% dark couverture, red chocolate with matcha green tea ganache coated with white couverture, and milk chocolate with crispy praline hazelnuts and coated with milk couverture. More treats like the Valentine's Chocolate Blocks in 120 g (Php 350 nett), Vegan Valentine's Chocolate Bar in 120 g (Php 450 nett), Heart Molding filled with Gianduja in 7-8 pcs (Php 550 nett), and Valentine's Cookies in 6 pcs dipped in white chocolate (Php 350)—these tempting treats available until February 15 will definitely make your special ones love you even more!
Valentine's Room Package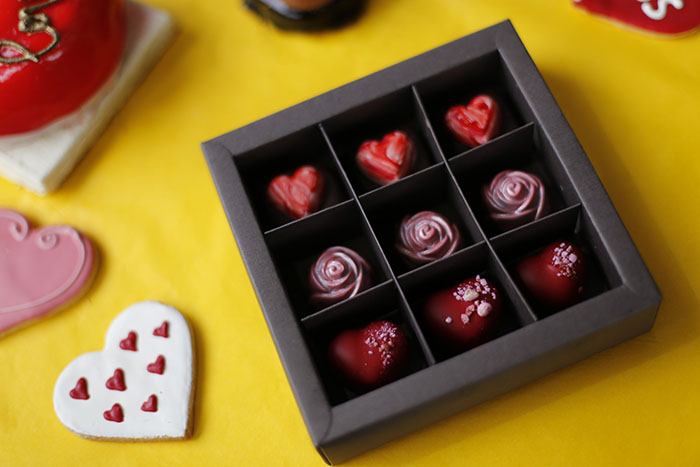 Complete your Valentine's escape with a Room Package exclusively from February 9 to 16 with a special rate of Php 18,888++ for an overnight stay in a Premium Room for 2 or an overnight stay at the Executive Room for 2 with Executive Lounge Access for Php 25,888++. To make it extra special, both stays include a welcome amenity of fresh roses and box of chocolate pralines with daily F&B credits worth Php 5,000++ valid at any F&B Outlet including IRD (prior reservations required). 
For reservations and more information on Manila Marriott's latest offers please call (02) 8988 9999 or visit www.manilamarriott.com. To join ongoing conversations, follow @manilamarriott at Facebook, Twitter, and Instagram.

Hits: 118