Delight Your Valentine With TWG Tea Valentine Day's Set Menu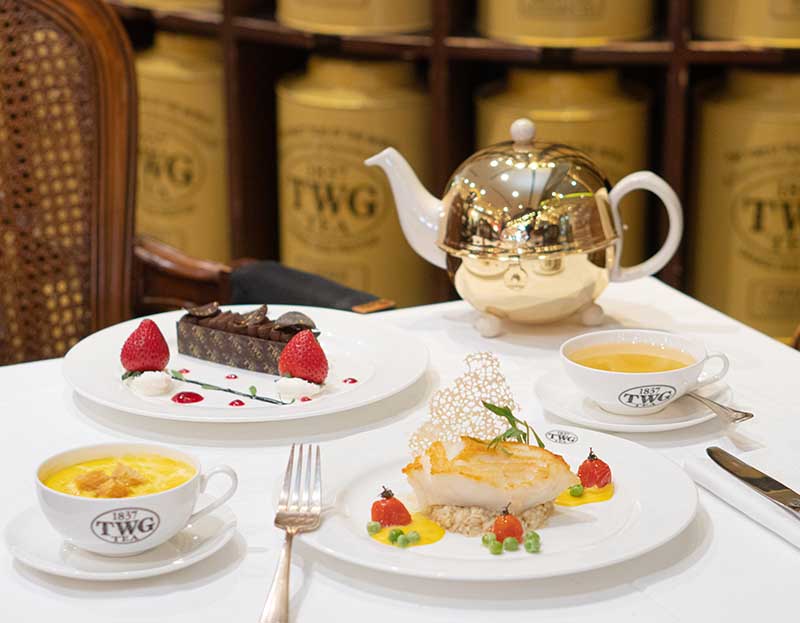 Enthrall your senses with TWG Tea's Valentine's Day special, an exquisite tea-infused set menu that will certainly impress and delight your Valentine on this special day. There is no better way of expressing tender love than with a romantic gastronomy journey.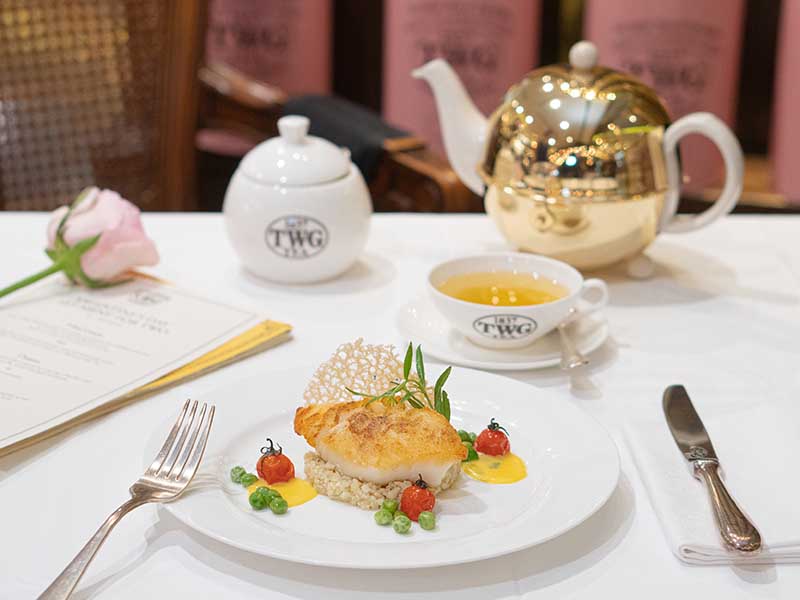 The intimate evening for two begins with an appetizing soup of the day. It continues with two delightful main courses, specially curated for this season of love – an Ocean Voyage Tea infused pan-fried seabass accompanied by cauliflower couscous, served with a tarragon hollandaise sauce; and lamb chops accompanied by potato mash and Greek salad, served with a demi-glace sauce infused with Moroccan Mint Tea.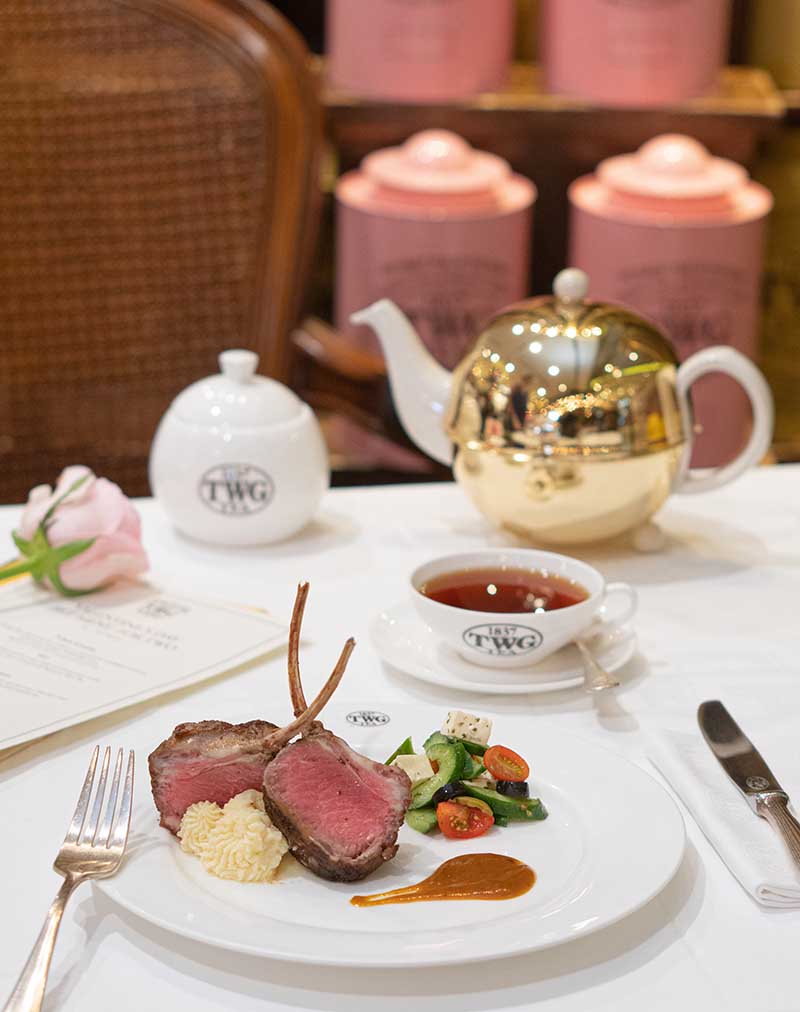 A beautiful accompaniment to this delightful meal is the aromatic Mon Amour Tea, an alluring black tea blended with yellow blossoms and sweet notes of quince, the sacred fruit of the goddess of love, Aphrodite.
For an unforgettable celebration, sweeten up the day with a hazelnut chocolate cake layered with a smooth rich chocolate Chantilly cream infused with Chocolate Tea, served with fresh strawberries – a dessert bound to delight any valentine.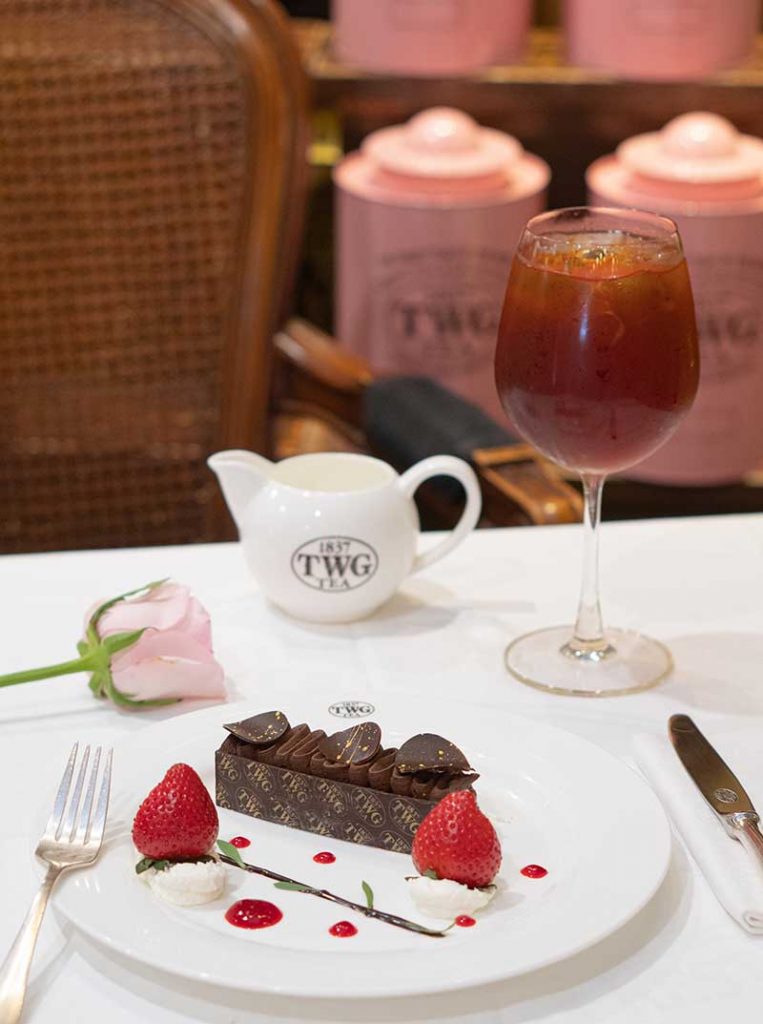 TWG Tea's Valentine's Day Set Menu with two soups of the day, two main courses, dessert and a choice of two TWG Teas is priced at PhP2,875 for two persons. Available at all TWG Tea Salons & Boutiques in the Philippines from 9 to 29 February 2020.
TWG Tea Salons & Boutiques are located in Greenbelt 5 and Shangri-La Plaza.
VALENTINE'S DAY GIFT IDEAS
TWG Tea invites you to embrace the season of flowers and romance with TWG Tea's collection inspired by the hues of the delicate rose.
Mon Amour Tea, Caviar Tin Tea Collection
 
An elixir, a perfume, a savour which perfectly expresses the beauty of a fleeting moment, an expression of the beyond. This black tea is carefully blended with sweet notes of caramel and rose to create a cup of eternity.

PhP1,895
Firefly Tea Bowl & Saucer in Candy Pink

Crafted from hand-blown glass with natural pigments to create each of the unique colours, every Firefly Tea Bowl & Saucer is a work of art, reminiscent of summer evenings and blossoming water lilies.

PhP2,495
Bain de Roses Tea Scented Candle

Perfuming the air with rare and precious essences, the Bain de Roses Tea Scented Candle perfectly accompanies evenings of sweet romance. The dusky roses of Grasse envelops you in an intoxicating perfume combined with a secret bouquet of black tea, heady notes of white sandalwood, warm vanilla and fresh grapefruit.
 
PhP3,895
Design Orchid Teapot in Pink

The TWG Tea Design Orchid Collection adds a dash of modernity to the classic beauty of an exclusive TWG Tea design. Make a statement with this collection's bold hues, delicate shades of pastel and sleek metallic tones.
 
Starts at PhP6,895
Hits: 125