Yellow Cab's Pizza Perfect Pair Feeds Your Passion This Valentine's Day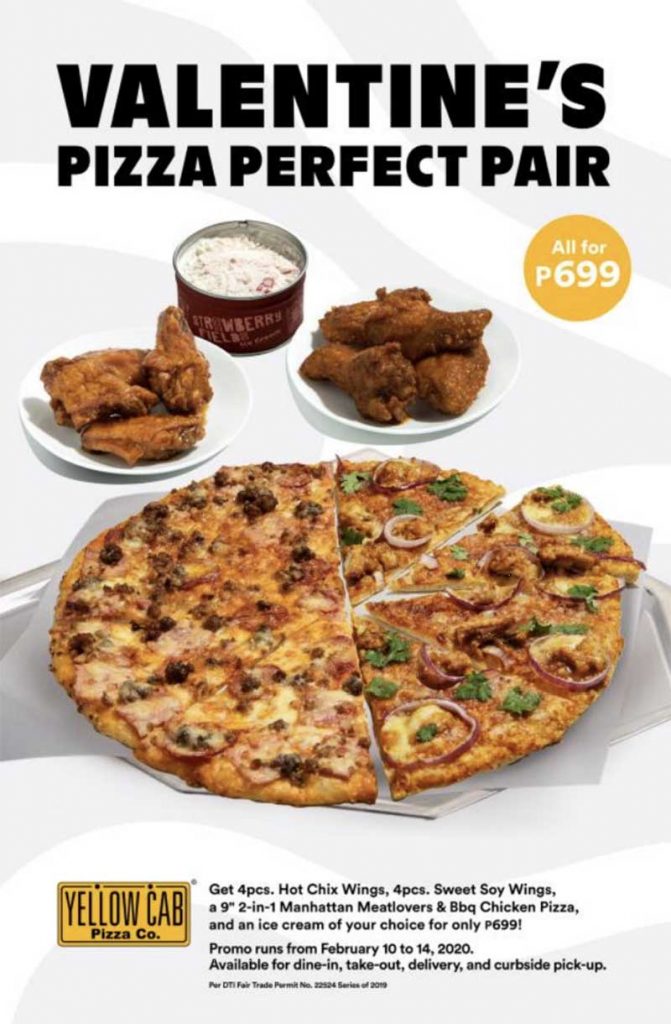 Sprinkle a dash of excitement this season of hearts with a match made in pizza heaven! Whether you're celebrating singlehood with your friends, looking to spoil your S.O., or treating your family out to dinner, you do you this Valentine's week with Yellow Cab's Valentine's Pizza Perfect Pair promo!
Spread the love with this hearty bundle made especially for you and your loved ones. For only PHP 699, save up to PHP 246 and enjoy this deal packed with four original Hot Chix Wings, four lip-smacking Sweet Soy Wings, and a protein-packed 9-inch 2-in-1 Manhattan Meatlovers and BBQ Chicken Pizza. Then, finish it all off with a creamy ice cream of your choice, adding more sweetness to the satisfaction that only Yellow Cab can bring.
"Valentine's Day is a celebration of all kinds of love and we want our customers to feed their passion with our edge-to-edge pizzas, expertly fried chicken, and delectable ice cream," says Charlene Sapina, Marketing Head for Yellow Cab Pizza Co. "Eat to your heart's content with our Valentine's Pizza Perfect Pair promo that will definitely make any date so worth it, no matter how or who you spend it with."
This promo is available for dine in, take-out, curbside pick-up, and delivery in all Yellow Cab stores nationwide from February 10 to February 14, 2020.
Valentine's Day is a perfect excuse for a cozy yet exciting rendezvous. Make it so worth it with this special deal! Drop by your nearest Yellow Cab store, or order online at delivery.yellowcabpizza.com. For more information, visit https://www.facebook.com/YellowCabPizzaOfficial/.