Veterans Bank Continues Serve Customers Amidst Health Crisis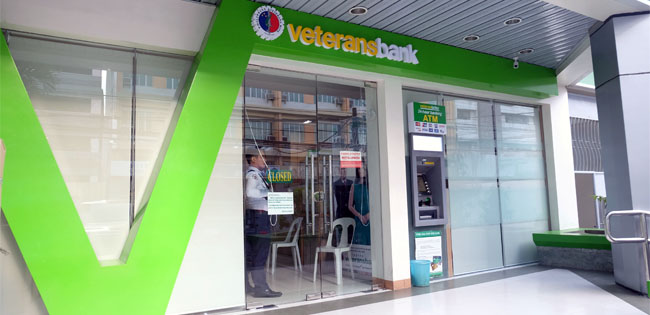 Even with the Enhanced Community Quarantine (ECQ) being implemented in Luzon and in many parts of the country to combat the spread of COVID19, Philippine Veterans Bank (PVB) has remained committed to serve its customers while keeping the balance of providing needed banking services and ensuring the health & safety of its customers and its own employees.
To begin with, Veterans Bank branches nationwide remain operational although on a reduced work week schedule. Most branches are operating 3 or 4 days a week on a rotating schedule on shortened their banking hours to support the cash needs of government, private and individual clients. Likewise, the Bank continues to service clients for their cash delivery and deposit pick-ups (DPUs). PVB branch schedules are updated regularly at the official Veterans Bank Facebook page at www.facebook.com/VeteransBank.
The Bank's ATM network nationwide remains online for payroll clients and veteran pensioners of the AFP and Philippine Veterans Affairs Office (PVAO). On non-operating days, Veterans Bank branches and ATMs are disinfected thoroughly for everyone's safety and peace of mind.
Due to the prevailing ECQ, the Bank's door-to-door pension delivery service is temporarily suspended. However, Veterans Bank is now allowing AFP & PVAO pensioners or their representatives to get their monthly pension by allowing over-the-counter withdrawals at any open Veterans Bank branch. Given that almost all pensioners are senior citizens and are not allowed to travel, they can send their authorized representatives to any PVB branch to withdraw their pensions or reactivate their ATM for the duration of the ECQ. To do so, the representative must present his/her own valid IDs, the pensioner's IDs, the ATM card/passbook and a Letter of Authority signed by the pensioner. For Pensioners who can travel, they simply have to visit the nearest Veterans Bank branch and bring their valid IDs and passbook or ATM card.
On the lending side, loan clients of Veterans Bank who are currently affected by the ECQ were also given a respite. With Republic Act 11469, Veterans Bank is implementing a 30-day grace period for loan payments falling due on March 17 to April 12, 2020 for its loan clients who have corporate/LGU loans, housing loans, and salary loans. For AFP/PVAO pension loan clients, their amortization for April 2020 will not be deducted, allowing them to receive their monthly pensions without any PVB loan deductions.
In these challenging times where the Bank is operating under extraordinary circumstances, Philippine Veterans Bank is thankful for the commitment and dedication of its employees, especially its branch officers and staff. They are the Bank's frontliners who ensure that business continues and the services to clients are delivered at the utmost notwithstanding the danger posed by the current pandemic. The Bank also gives its thanks to the men and women who work behind the scenes to make sure the Bank's systems and ATM network, as well as its branches remain open, running and operational.
To know more about how Veterans Bank is serving its customers amidst the COVID19 crisis and to find out the operating schedules of our branches, please regularly visit our official Veterans Bank Facebook page at www.facebook.com/VeteransBank .