PEPSICO SUPPORTS COVID-19 RELIEF EFFORTS IN THE PHILIPPINES BY GIVING MEALS, HOPE AND MUSIC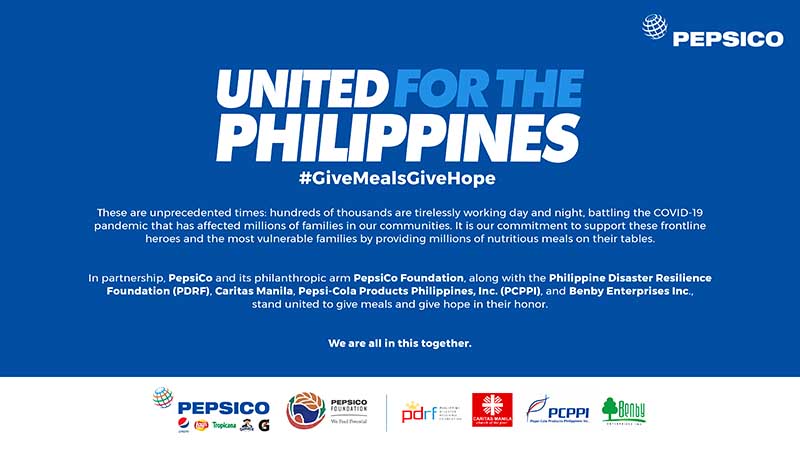 These are unprecedented times: millions of people are working around the clock battling the COVID-19 pandemic that has affected families across the Philippines. To help get through this crisis, PepsiCo is committed to supporting these frontline heroes and the most vulnerable communities by providing millions of nutritious meals to at-risk populations and investing heavily in partnerships to increase access to nutrition in response to COVID-19-related impacts.
PepsiCo and its philanthropic arm, PepsiCo Foundation, have contributed USD$500,000 (Php 25.4 million) along with top business groups to raise more than USD$30 million (Php1.6 billion) towards Project Ugnayan. The Philippine Disaster Resilience Foundation (PDRF), Caritas Manila and its partners are implementing Project Ugnayan to reach over 12.5 million individuals and deliver assistance to Metro Manila's vulnerable communities, with approximately 100 million meals by April 30, 2020. This is in line with PepsiCo's "Give Meals Give Hope" and "Millions of Meals" initiatives that were recently rolled out in Vietnam, Thailand, India, and Pakistan.
Ms. Wei Wei Yao, PepsiCo Senior Vice President & General Manager Asia stated, "The coronavirus pandemic has affected the lives of millions of people worldwide. But, this impact has been acutely felt by those most vulnerable in society and those on the very front lines of this crisis – in our health and social care services. At PepsiCo, we want to use our expertise in food to make sure we're playing a part in the national relief effort. I do hope that by joining hands with communities and Project Ugnayan in the Philippines, this 'Give Meals Give Hope' program will grow stronger and then together, we will combat the effects of COVID-19."
Mr. Nitin Bhandari, the new General Manager of PepsiCo, Food & Beverages, South East Asia, Philippines, Indonesia, Malaysia, Singapore – looks forward to living in the Philippines after Enhanced Community Quarantine ends, and reminds us, "We are all in this together. United for the Philippines by giving millions of nutritious meals to help alleviate hunger among the most vulnerable communities, to give hope and to honor our frontline heroes."
PepsiCo's business partners Pepsi-Cola Products Philippines, Inc. (PCPPI), and distributor Benby Enterprises Inc., also donated various in-kind products and tents to checkpoints and hospitals.
PepsiCo's relief efforts in the Philippines are part of its global commitment to invest USD$45 million globally to bring food and other vital resources to the most affected communities. As COVID-19 reduces access to food and other essential goods for communities around the world, PepsiCo is providing funding for protective gear for healthcare workers, testing and screening services, and is in the process of distributing more than 50 million nutritious meals to at-risk populations.
In addition, PepsiCo is proud to support "One World: Together At Home" a historic, global broadcast and digital special organized by Global Citizen to unite the world and honor COVID-19 frontline workers.
Hits: 98