Mrs. Garcia's: The Meat of the Matter for the New Normal
It has been said that "mothers know best." These remarkable women seem to know the answer to everything. Their so-called mother's instinct can tell who is sad, who is mad, who has a problem, or who just needs a loving hug. Their skills at home management have also been honed from years of keeping the house clean and orderly.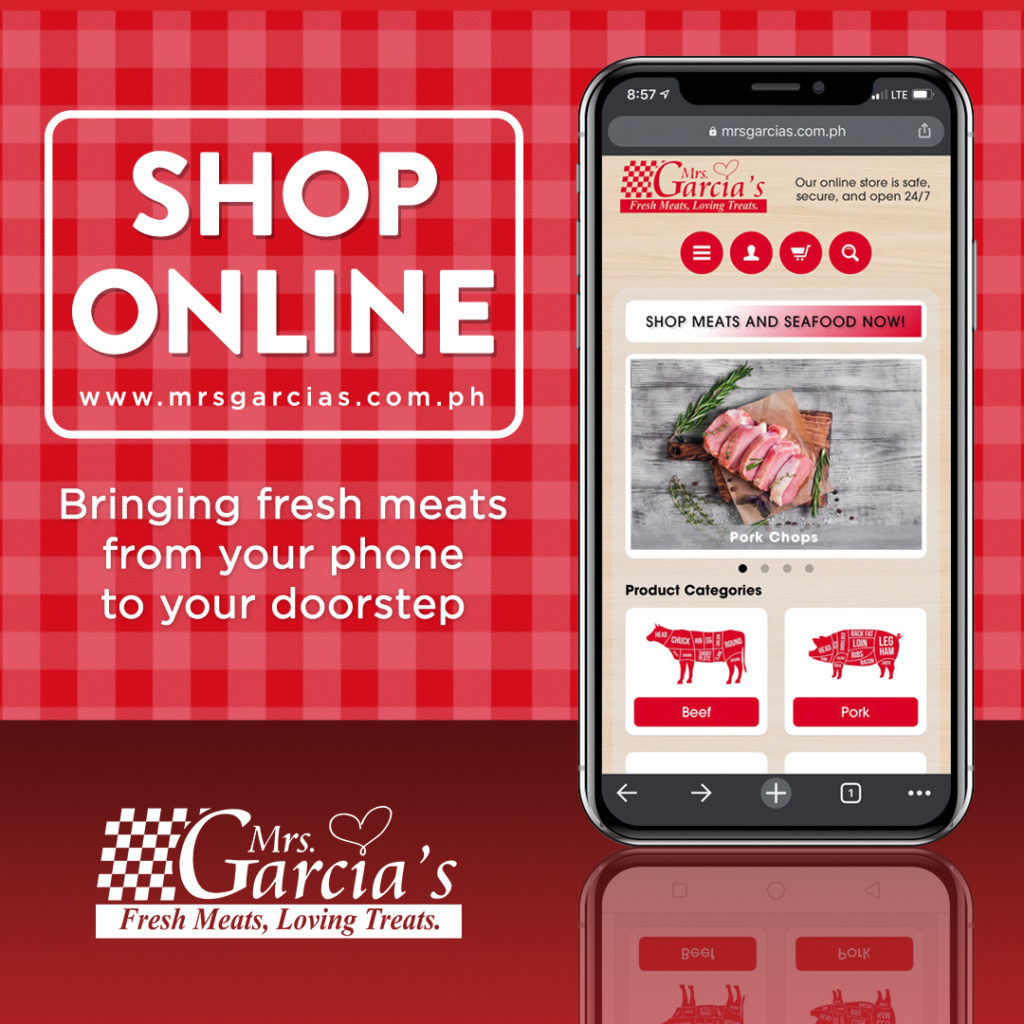 For over 25 years, Meatworld International Inc. has been a formidable player in the country's meat market. As one of the largest meat retailers in the country, it has brought us Mrs. Garcia's, a"mother" that's been the epitome of a mother's loving care expressed through her "fresh meats and loving treats." Those who have experienced the top-notch service of Mrs. Garcia's Meats have remained extremely satisfied with the quality of her meat and meat products.
Today, Mrs. Garcia's meat products include ground pork, menudo cut, adobo cut, pork liempo, pork chop sliced, pork ribs, sinigang cut, pork cubes, pork mask, beef brisket, beef shank sliced, beef sirloin, beef caldereta cut, breakfast steak, ground beef, Korean steak bulgogi, Japanese pork tonkatsu – just about every cut of meat for every dish a mother can cook.
But Mrs. Garcia's is beyond a successful brand name; she represents every mother and wife who strives to give the best to her family. That is why she understands how the challenges of the COVID-19 pandemic have brought about great anxiety among them. So, she encourages them on several levels.
First, she assures them that her products continue to be fresh and quality meats at affordable prices.
Second, she cares about their safety, making sure that they do not need to go very far to buy their favorite meat cuts. She makes them accessible, especially now that they are available in leading supermarkets nationwide. In some areas, the meats can also be delivered right to the customer's doorstep. In that way, she adds more ease and convenience, too, through online ordering. Just visit her online store athttps://mrsgarcias.com.ph. Online orders are delivered free within Metro Manila.
And third, she wants to help them earn additional income to help their husbands with the household budget. At this time of COVID when people have lost jobs and stretching resources is extremely difficult due to diminishing funds and an uncertain future, Mrs. Garcia's wants to give them a fighting chance. So, she has invited wives and mothers to partner with the company as resellers, all the more to bring good meat closer to the community. To inquire about reselling, contact 0917-837-4898.
Like the woman of faith that she is, Mrs. Garcia's is ever hopeful that there is a silver lining amidst this challenging period that the country is experiencing. Thus, she is optimistic that new doors will open and new business opportunities will be available for her growing family of customers and resellers.
Mrs. Garcia's by Meatworld International Inc. has been bringing quality farm-fresh meats closer to families since 1996. With wide variety of meat categories and cuts, Mrs. Garcia's assures to get the right meat you need available for your family's favorite recipe. Mrs. Garcia's is available in over 440 major supermarkets (and still growing) or order online at https://mrsgarcias.com.ph/.
For more information about our products, latest news, promos, and how to become a reseller, you may check us out at https://mrsgarcias.com.ph/ and on Facebook: https://www.facebook.com/MrsGarciasMeats.
Hits: 390