Zucchini Tots
We all tend to crave something crunchy, quick to prepare, and delicious post-lunch! The joy of eating healthy yet sinfully addictive in the evening is as appealing as the apple pie… Instead of seeking solace in commercially available (and preservative-rich) crisps, cookies, and cakes, how about exploring your cooking skills and enjoying a healthy feast? To top it all, there are several snack recipes that can also accompany main meals and make them even more interesting, particularly when freshly prepared at home.
In short, the appetizing aroma of freshly baked goodies, crunchy coating, and filling snacks is undoubtedly a delight to have in the evening hours of the day.
Here we have an equally amazing snack recipe and a healthy side dish that will make you fall in love with it. We are talking about a crunchier, healthier, and tastier version of the regular zucchini tots. It is so addictive that you'll find it difficult to stop even after a couple of serves. This one, my friends, is a very easy-to-prepare dish that almost takes no time to assemble, provided you have the required basic ingredients readily available at home.
To make these tots healthier, use multi-grain, brown bread, or whole wheat bread crumbs that will also give these tots a better crunch than the regular ones. The trick to making these savories crunchier is by double coating the mixture with the bread crumbs.
Regarding the seasonings, there is certainly no restriction on it. In this recipe, we have used dried mixed herbs and a few other seasonings, but you can add any spice or seasoning to suit your taste buds. Adding cheese will make it so much gooey and taste so-addictive. You will be happily surprised with this vegetarian version of zucchini tots, and we are sure that you just can't wait to try them yourself!
You would need a good blender to cook zucchini tots. I do prefer to use my immersion blender from Mueller but you can use any other blender you have. In case you're looking for a new one, this review should help you to choose.
Zucchini Tots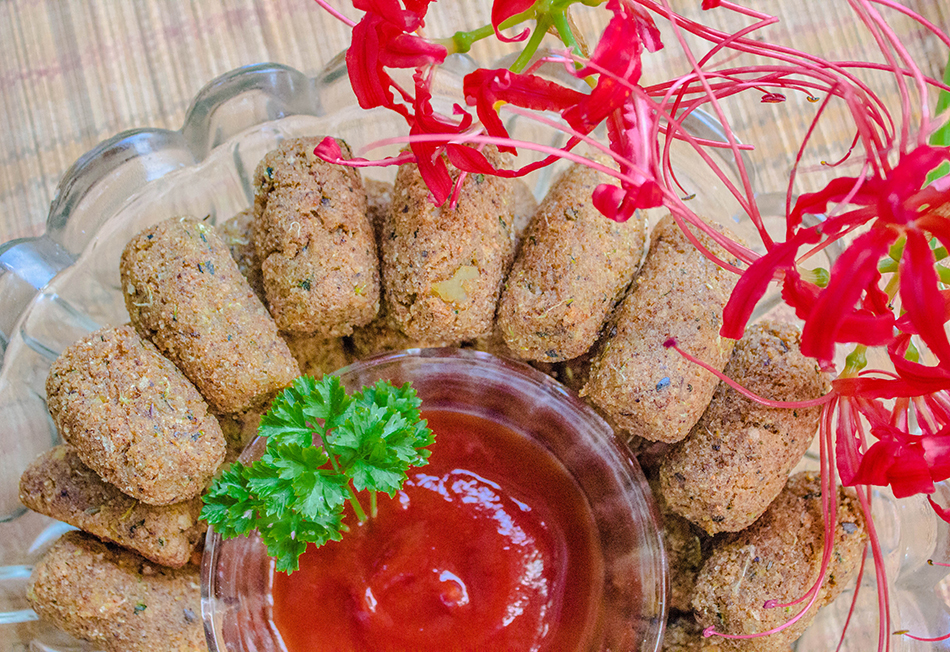 INGREDIENTS
1 cup zucchini, grated
1 medium potato, boiled, peeled, and mashed
½ cup cheddar cheese, shredded
1 cup multi-grain/ brown bread/ whole-wheat bread crumbs
½ teaspoon salt
¼ teaspoon black pepper powder
1 teaspoon dried mixed herbs
1 teaspoon olive oil
½ teaspoon garlic powder, onion powder, grated ginger (optional)
DIRECTIONS
1. Preheat the oven to 400 degrees F and grease a baking tray with olive oil. Keep it aside.
2. Squeeze grated zucchini to take out excess water and transfer it into another bowl.
3. Add mashed potatoes, cheese, half of the bread crumbs, salt, black pepper powder, dried herbs, and any other seasoning of your preference to it.
4. Mix all the ingredients well until the mixture is homogenous and smooth in texture.
5. Make small balls of the zucchini mixture and then slightly elongate it to get little cylindrical tots. Repeat it with the remaining mixture until all of it is used up.
6. Coat the tots with the remaining bread crumbs and then nicely press it again to firm up the tots a bit.
7. Now, place them carefully over the greased baking tray. Repeat this process with the remaining tots and bread crumbs.
8. Bake zucchini tots for about 20-25 minutes or until they are beautifully brown on the outside.
9. Immediately serve crispy zucchini tots and enjoy!
Hits: 221