Culinary Travelogue: Bratislava, Slovakia
---

---
Bratislava is known for many things but these days, it is especially known for romantic terraces in the historical center, amazing chill out places, beautiful night walks, its street artists and street food, tons of hipster cafés and numerous shopping malls! "Mama Mary, please help me not to shop until I drop" is my usual prayer when I travel.
Bratislava, the capital of Slovakia is set along the Danube River by the border with Austria and Hungary. It's surrounded by vineyards and the Little Carpathian Mountains, crisscrossed with forested hiking and cycling trails. The pedestrian-only 18th century old town is known for its lively bars and cafés. Perched atop a hill, the reconstructed Bratislava Castle overlooks old town and the Danube.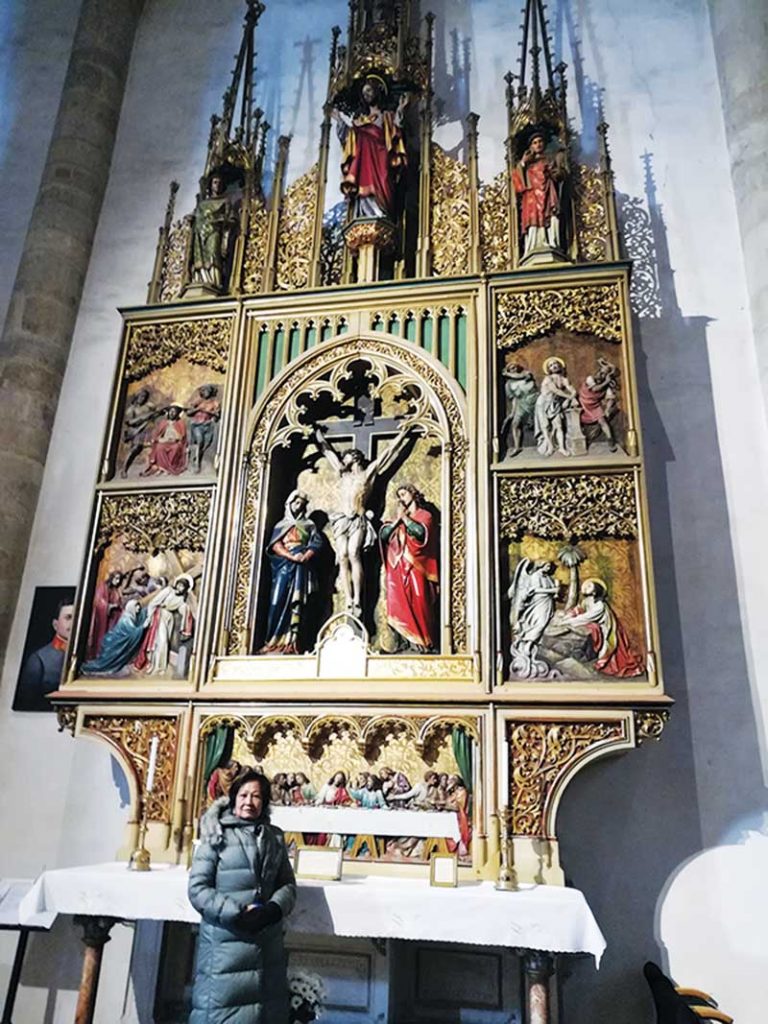 Pork, beef and poultry are the main meats consumed in Slovakia, with pork being the most popular. Among poultry, chicken is most common, although duck, goose and turkey are also consumed. Game meats especially boar, rabbit and venison are also available throughout the year. Slovakia's/Slovak's national cuisine is closely entwined with its rural, down-to-earth origins. The farmers and peasants of old rural Slovakia built diets made from ingredients hailing from the countryside. Typical Slovak dishes are simple, filling, comforting and homey—and they pair well with beer. Potatoes, bread, dumpling sand noodles are staples, as are vegetables like cabbage in the form of sauerkraut, onions and garlic. Beef Goulash is a Slovak soul food. From Poland, to Prague, to Hungary and Slovakia, we have been trying the Beef Goulash.
With Slovakia's territory located in the heart of Europe and the lands historically ruled by outside powers, traditional Slovak cuisine is heavily influenced by Hungarian, Austrian and Czech cuisines, with some Turkish influences. Despite the limited variety of traditional ingredients, Slovak dishes provide quite a range of flavors. The Slovak national dish, bryndzové halušky, is potato-dough gnocchi smothered in salty sheep bryndza cheese, topped with smoked bacon bits.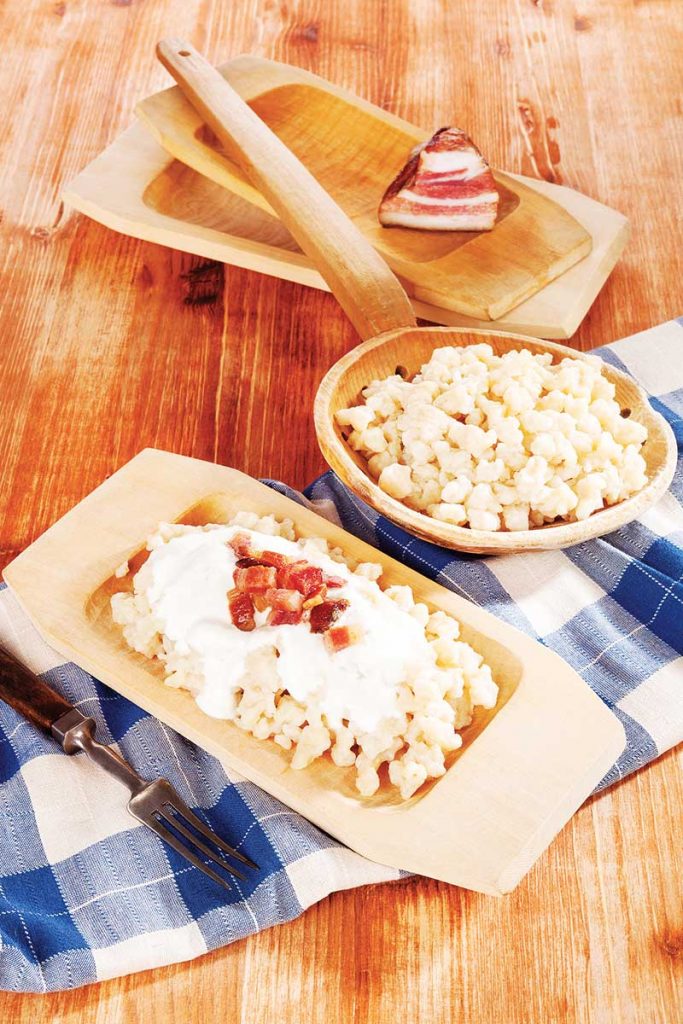 Bryndzové halušky
Ingredients:
1 pc medium-sized potato
1 cup all-purpose flour
1 pc large egg
1/2 tsp salt
1/3 cup water
1/2 cup bryndza or sheep feta mashed with 1/4 cup heavy cream
6 to 7 slices thick bacon, rendered and cubed
salt to taste
Procedure:
Finely grate the potato into a bowl, keeping the juice. Add flour, egg and salt, and stir with a wooden spoon. Add water and stir until lumps are smoothed out. If the dough is too runny, add flour and if too thick, add water.
In a pot, bring water to a boil with salt. Cook potato dough into the boiling seasoned water by cutting off small chunks with a spoon or using a spaetzle maker. Gently boil all halušky for 7 to 8 minutes, until they all float to the top.
Strain the halušky and mix with bryndza. Sprinkle the bacon on top and pour the bacon fat all over. Season to taste and serve immediately.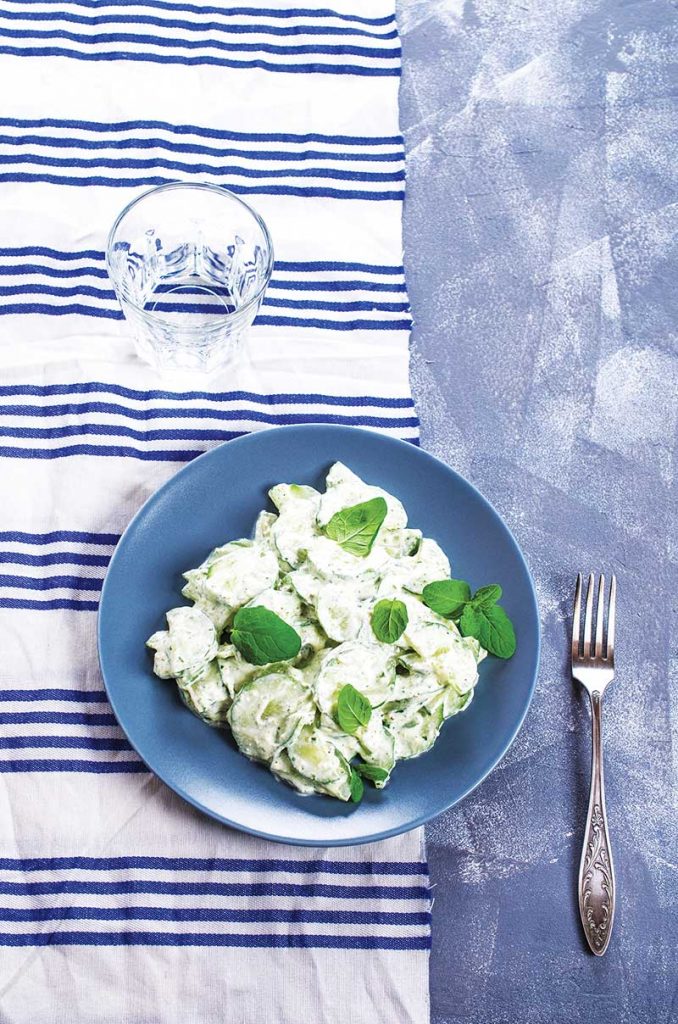 Cream Cucumber Salad
Ingredients:
500g cucumbers, chilled
1/2 tsp salt
2 tsp vinegar
1/3 to 1/2 cup whipping cream or sour cream
minced garlic
fresh dill weed (optional)
Procedure:
Slice cucumbers very thinly, preferably with a mandolin slicer. Combine all ingredients in a bowl and mix. The cucumbers will release a fair amount of water, thinning out the cream. Season to taste.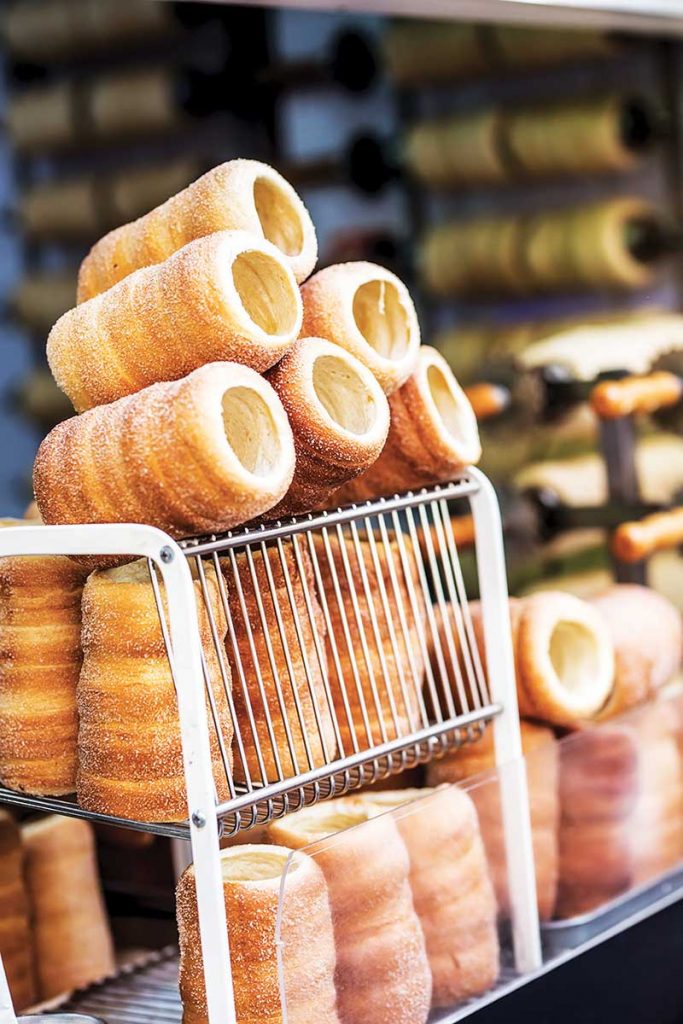 Trdelník
Tradelník originated from Slovakia and it is a popular street food in Prague, Czech Republic. It is a spit cake made from rolled dough that is wrapped around a stick, then grilled and topped with sugar and walnut mix.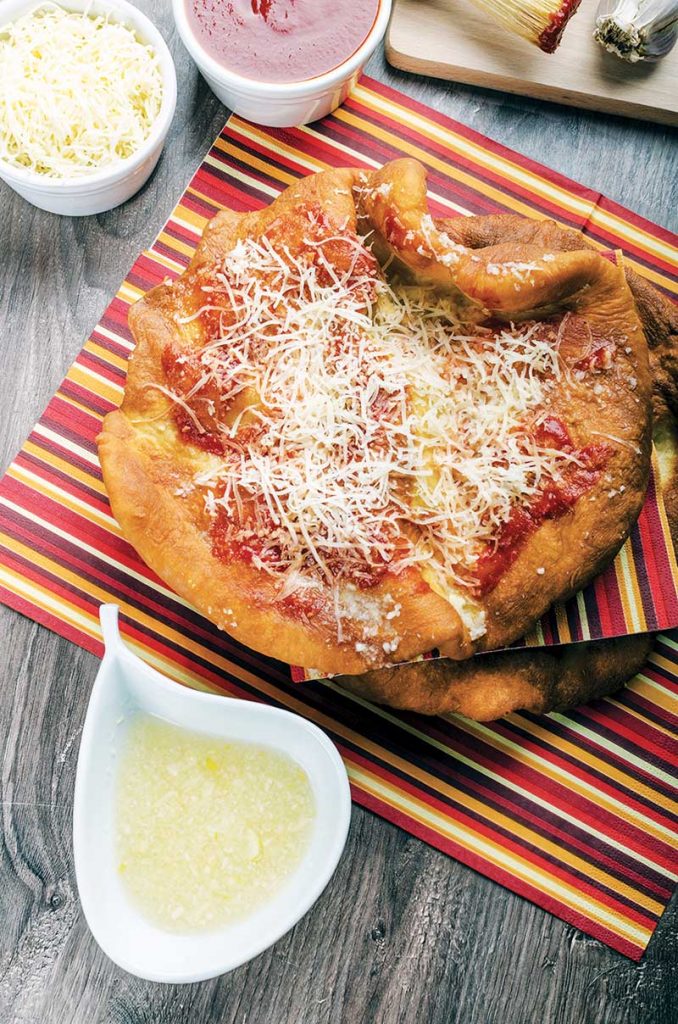 Lángos
Central Europe's answer to Pizza, Langoš is originally a Hungarian specialty. But it is also popular in Slovakia, Austria, Czech Republic, Serbia, Croatia and Romania. In Slovakia, Langoš is street food for an easy and delicious snack. The Flat bread is the highlight of Langoš. It's lightly fried, crispy and chewy, and it can be pulled apart or folded and eaten like a taco. Garlic, ketchup, cheese and tartar sauce are the typical choices of condiments in Slovakia, and in some places also offer sour cream and chocolate.
Hits: 158