Philippine Hot Sauce Club's FIERY CUP 2020
The Philippine Hot Sauce Club (PHSC) is the first-ever and the most celebrated club in the chili and the hot sauce scene in the Philippines. The group is established in 2016, comprising of hot sauce makers, and processors of various chili related products (i.e., hot sauce, chili garlic, spiced vinegars, hot pickles, dry spicy condiments, infused chili oils, and the like), consumers and enthusiasts. PHSC is part of the various chili groups in the country under the non-profit aggrupation, Philippine Chili Federation, founded by Ponchit Ponce Enrile in 2014. PHSC boasts of over 8,000 members from all over the country to date.
In spite of everything that has happened this year, PHSC believes that we can still reignite the fire in our lives together. And as one with the desire to further help our community in showcasing our local hot sauces and spicy products. This year, they respectfully bring you Philippine Hot Sauce Club's FIERY CUP 2020.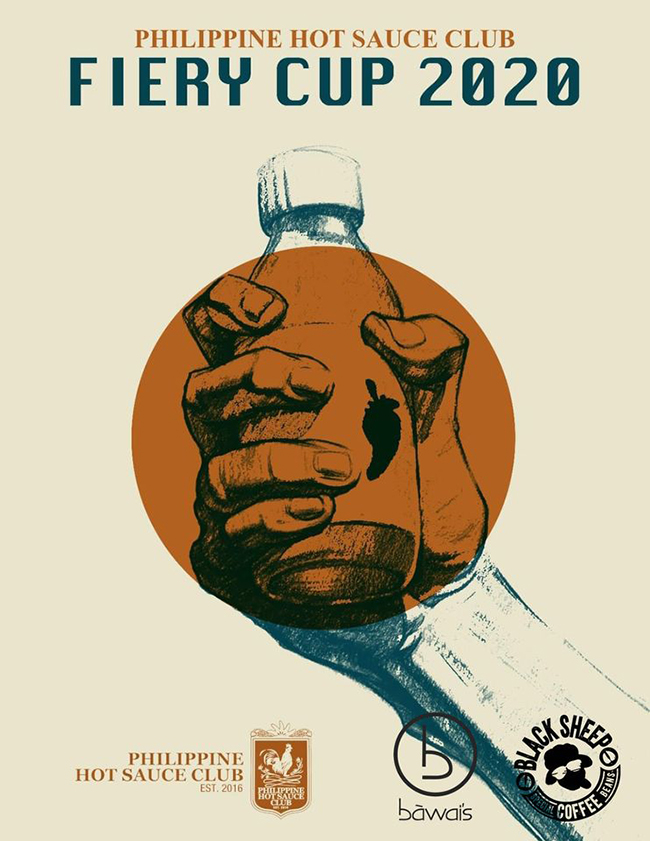 FIERY CUP is the first, biggest, and hottest chili product competition in the country. PHSC's aim is to promote the HOT SAUCE Culture by encouraging local hot sauce makers in promoting their own unique & specialty brands through creative, intense, and healthy competition.
The competition is well-curated in different categories such as:
Hot Sauce – mild heat, medium heat, super hot, extremely hot, native labuyo, fruit, dessert, Pinoy, and a new additional category to celebrate this holiday season, a Taste of Christmas hot sauce
Chili Garlic – mild to medium heat, hot to extra hot.
Other Condiments – spicy vinegar, hot & thick, hot pickles, dry seasoning, spicy oil-based
Hot & Spicy Food – spicy snacks, baked in the fire, fiery & sweet
PHSC's FIERY CUP is going from a venue to a live streaming event! This means it will bring us the same thrill & fun, just socially distanced. A pool of top hot sauce connoisseurs in the country and selected VIPs will judge the 21 categories for this year's competition. Ideally, the event is shown live in a venue with a LIMITED number of guests and a full-blown live stream that will surely stimulate our spicy hot taste buds FOMO.

This marks the 4th year of the FIERY CUP so PHSC is blazing in ending the year with a bang!
This event is in partnership with Black Sheep Coffee and Bawai's Vietnamese Kitchen.

EVENT DETAILS:
Philippine Hot Sauce Club's FIERY CUP 2020
Date: 13 December 2020 (Sunday)
Time: 3:00 PM
Location: Black Sheep Coffee and Bawai's Vietnamese Kitchen North Towers & Greenhills, San Juan
Capacity: 60 pax Online Streaming: Online Streaming via PHSC Fan Page and PHSC Community with 8300++ members/followers
Mabuhay Tayong Lahat!
https://www.facebook.com/groups/PhilippineHotSauceClub/?ref=bookmarks
Hits: 398