CLIOC: Center of hope and excellence in cancer care
That is approximately the number of cancer cases recorded worldwide, with breast cancer leading all cancer types all over the globe with around 2.261M cases. Lung cancer, on the other hand, is the top cause of death accounting for 1.79M deaths globally in 2020.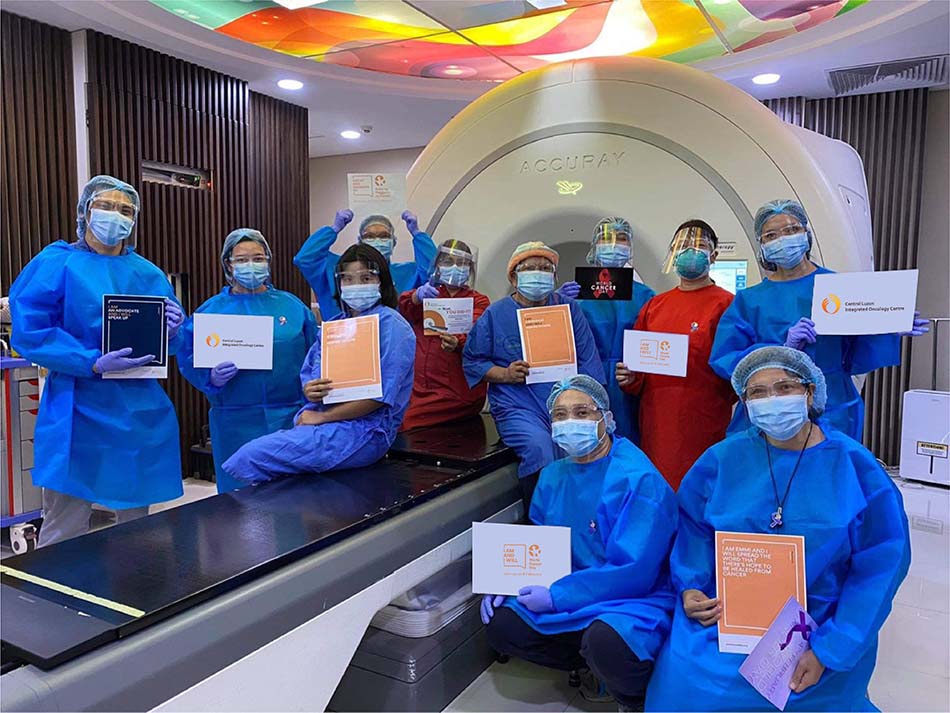 With the rising cases of cancer in the country, there is a great demand for modern, effective treatment. More often than not, Filipinos fly to other countries to look for cure. Now, patients have the option to receive quality cancer care more conveniently as Central Luzon Integrated Oncology Centre (CLIOC), previously known as The Cancer Center of Mother Teresa of Calcutta Medical Center, opened its doors almost four years ago.
Located in San Fernando, Pampanga, CLIOCis the only cancer centre offering Tomotherapy in Central Luzon- one of the most integrated, advanced systems for comprehensive cancer treatment, and a chemotherapy ambulatory setup that provides a pleasant ambience for those undergoing the treatment.
"CLIOC provides one-stop cancer care that is integrated and patient-oriented and we are committed to deliver the excellent care to the ever-evolving oncology field through the empowerment of our doctors and patients," said Mr. Jerome Paule, CLIOC'sGeneral Manager who has extensive experience in the healthcare industry.
Mr. Pauleadded that CLIOC created a home for different specialties in oncology (medical, radiation, surgical, pediatric, hematology, gynecology) along with their allied medical health team of radiotherapist, oncology nurses, and pharmacist to address and provide modern, up-to-date oncology management and healthcare services in Central Luzon.
He further shared that"with the aim to be the Centre of Excellence for cancer treatment in Pampanga, CLIOC's clinical practice very much adheres to international standards such as ASCO/ESMO and ASTRO/ESTRO."
"Being part of IOC gives CLIOC the opportunity to have access to the latest update on cancer care. It also gives CLIOC's healthcare professionals, the doctors and staff, the opportunity to discuss, learn, and share best practices with the other centres within IOC," said Mr. Paule.
This year's World Cancer Day, an initiative by the Union for International Cancer Control (UICC) with the theme of 'I Am and I Will', is all about taking action to support and care for cancer patients around the world.And from the standards set by the IOC, CLIOC aims to empower cancer survivors to inspire other people who are also in the same fight as they are, and overcome the challenges that cancer brings, together.
Mr. Paule said that all patients at CLIOC are not considered as patients but as family.
"[At CLIOC], we go beyond just making our patients feel that they are taken care of. We do take care of them throughout the course of their treatment. That is our unwavering commitment. We always assure them that we are with them,every step of their journey," Mr. Paule stated.
CLIOC also established a social service platform to address and support the needs of patients who are having financial challenges for treatment. It is also collaborating with support groups to help the patients cope with cancer and make sure they will get the treatment they need.
The IOC connection
CLIOC became part of IOC's region-wide network in 2017 and under the stewardship of IOC, steadily rose to become one of the premier cancer centres in Asia alongside Hong Kong, Indonesia, Vietnam, and Malaysia. With over 300 top oncology specialists and healthcare professionals, IOC provides its network the capability to deliver top-notch quality service that the network is known for, as it aims to empower patients and doctors to co-create their treatment journey.
Founded in 2015, IOC marked a great stride in the treatment of cancer across Asia as it set out to create a regional medical community with the sole goal of providing personalized treatment plans and support.
Phoebe Ho, IOC's Chief Executive Officer shared, "IOC was born out of the passion of doctors, healthcare professionals and investors who wanted to pave the way for delivering integrated cancer care in the region." Right now, there are seven high-quality cancer centres under the IOC network.
As World Cancer Day constitutes recognizing the journey of the cancer patient, IOC doesn't only recognize that journey but aims to improve it, providing people with seamless cancer treatment and saving patients from the hassles of seeking specific treatments from multiple institutions and healthcare providers.
"Trying to seek treatment from different doctors and institutions can be confusing, difficult, increases health care costs and potentiates cancer care disparities. Hence, at IOC, we aim to provide seamless cancer treatment, where all treatment modalities are available under one roof – integrated cancer care. We want to minimize delays in diagnosis and treatment and variations in access to and quality of treatment," she said.
"I Am and I Will"
"The theme of World Cancer Day for 2019-2021 is 'I Am and I Will – together our actions matter.' Across our centres in the region, we are standing in unison to echo this theme,"Ms. Ho said.
To commemorate World Cancer Day, CLIOC, along with IOC, organized a series of webinars and online activities anchored on educating people about the disease and reinforcing the message that we all play an important role in taking care of our health and preventing cancer. There were also offline events that included healthy cooking demonstrations. Aside from the Philippines, the activities also ran in Hong Kong, Vietnam, and Indonesia.
Moreover, CLIOC is also looking into expanding especially in countries where patients lack access to integrated cancer care.
"We hope to continue to build our regional network of single-specialty oncology centresin countries where public healthcare is heavily burdened.We believe in providing faster access to cancer diagnostics and treatment and minimizing hassles and fragmented treatment for cancer patients in Asia," Ms. Ho said.
Center of Hope, Excellence in Cancer Care
With Dr. Misael Cruz, whose more than two decades of combined experience in the field of radiation oncology and internal medicine, as its Medical Director, CLIOC has shown its unwavering dedication towards redefining healthcare to better facilitate cancer treatment.
Cancer, for the past couple of decades, is seen as a death sentence. These days, however, things are turning around. New medical discoveries that help in early detection, prevention, and cure of cancer are changing the way we view this disease. And CLIOC is at the forefront of initiating improvements in cancer management, continuously and consistently upholding its commitment to provide equal care to those who suffer from cancer.
Currently, CLIOC doctors and staff are guided by protocols that are based on relevant scientific evidence and perform research activities to ensure that the international procedures are appropriate for the needs of Filipino patients.
Cancer is a tough hurdle to overcome but thanks to CLIOC and the entire IOC network, the road to recovery will be a lot brighter as the IOC banner stands tall for all cancer survivors, providing hope for everyone as it pushes for greater awareness through World Cancer Day's initiatives – this year and for many more years to come.