GoodAh!!!'s Baked and Fried Herbed Chicken is About to Become Your New Favorite
If you ask any group of Pinoys which food joint serves the best chicken, you are sure to spark a heated debate. If there's one thing Pinoys love – and we love a lot things – it's good chicken. You can bet everyone has a favorite restaurant, or rotisserie shop, or even a homemade recipe that they will swear is their foolproof choice whenever a craving for chicken strikes.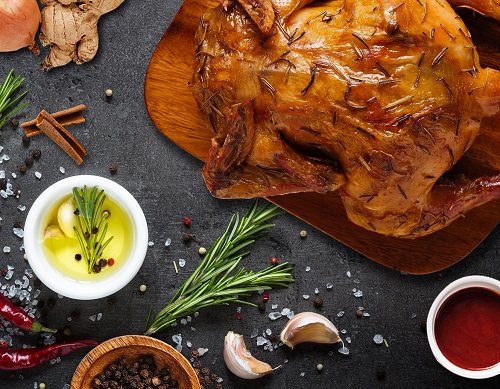 The thing is we love our chicken so much that it's difficult to get everyone to settle on what truly makes the 'best'. Some might say the crispier the skin the better, while others who want it juicy prefer the bird baked whole. Then there's the question of taste: how well is it spiced? In the end it boils down to personal preference… but what if you can have all that in just one dish?
GoodAh!!!'s Baked and Fried Herbed Chicken totally nails everything you'd want from your favorite chicken. Being one of the key recipes from a food chain that specializes in bringing classic comfort food to homes, this mouthwatering dish encapsulates the signature goodness that everyone has come to love from this iconic place.
"It's a very competitive market because Filipinos know their chicken and they've already developed high standards, not to mention there are so many options," explains Tim Yang, GoodAh!!!'s President. "We asked ourselves, what's the anatomy of a signature chicken dish? For us it's a combination of three remarkable things, like the three exclamation points in our name: intelligent process, good ingredients, and inspiration – just seeing Filipinos' love affair with chicken, and taking that tradition, taking these ideas and insights and getting to the heart of what for us makes chicken such a great comfort food."
GoodAh!!!'s Herbed Chicken delivers on all points. The food chain, which is also known for Pinoy favorites like Silogs and Goto, made it a point to infuse timeless Pinoy flavors while adding signature twists to their chicken recipe. Each Herbed Chicken is marinated and massaged with lots of fresh rosemary and other spices that give it a savory yet fresh 'malinamnam' taste that stands out, classic but complex. The dish is baked to cook the meat evenly and preserve its juicy moistness, then deep-fried to get crispy golden-brown skin and crunchy wingtips.
It's no wonder that GoodAh!!!'s Herbed Chicken has proven to be a favorite, enjoyable on its own but also going well with Goodah!!!'s other bestsellers. And if your family is feeling especially famished, you can get the Herbed Chicken together with a set meal that includes Pancit Canton, Pinakbet, Rice, Sisig, and drinks.
"We're always aiming to give our customers great food experience — something appealing and memorable," says Mr. Yang. "We wanted to create a great signature dish as a point of pride, but what's important to us is how it will resonate with the food-loving public. We think, like many of our recipes, this one's destined to become a beloved classic."
Aside from dine-in services, GoodAh!!! also brings delicious comfort food to homes via round-the-clock delivery through the most popular delivery app services. Customers can also call local store branches in Bicutan, Timog, Granada, and Sucat which offer their own delivery services. However, you choose to get your food, you can expect the safety protocols, friendly customer interaction, and smooth delivery experience that are the hallmarks of a GoodAh!!! experience.
Even better, this March Goodah!!! is also running a huge promo that's sure to get every chicken lover crowing. For the whole month of March, you can get the Herbed Chicken for a special introductory price of Php 377.50 and save Php200. That is a huge deal for anyone who loves their chicken. https://www.facebook.com/GoodahPh/posts/10157670284881856
Don't want to miss a GoodAh!!! deal? Make sure to follow their Facebook (https://www.facebook.com/GoodahPh/) for updates.
Hits: 355