Enjoy Savings With the Subway Savers!
For a limited-time offer up to Jun. 30, Subway Savers will surely satisfy your fresh cravings that are budget-friendly. Choose from three options that shall perfectly fit the size of your group and enjoy the ultimate snack time with your family and friends at the safety and comfort of your homes.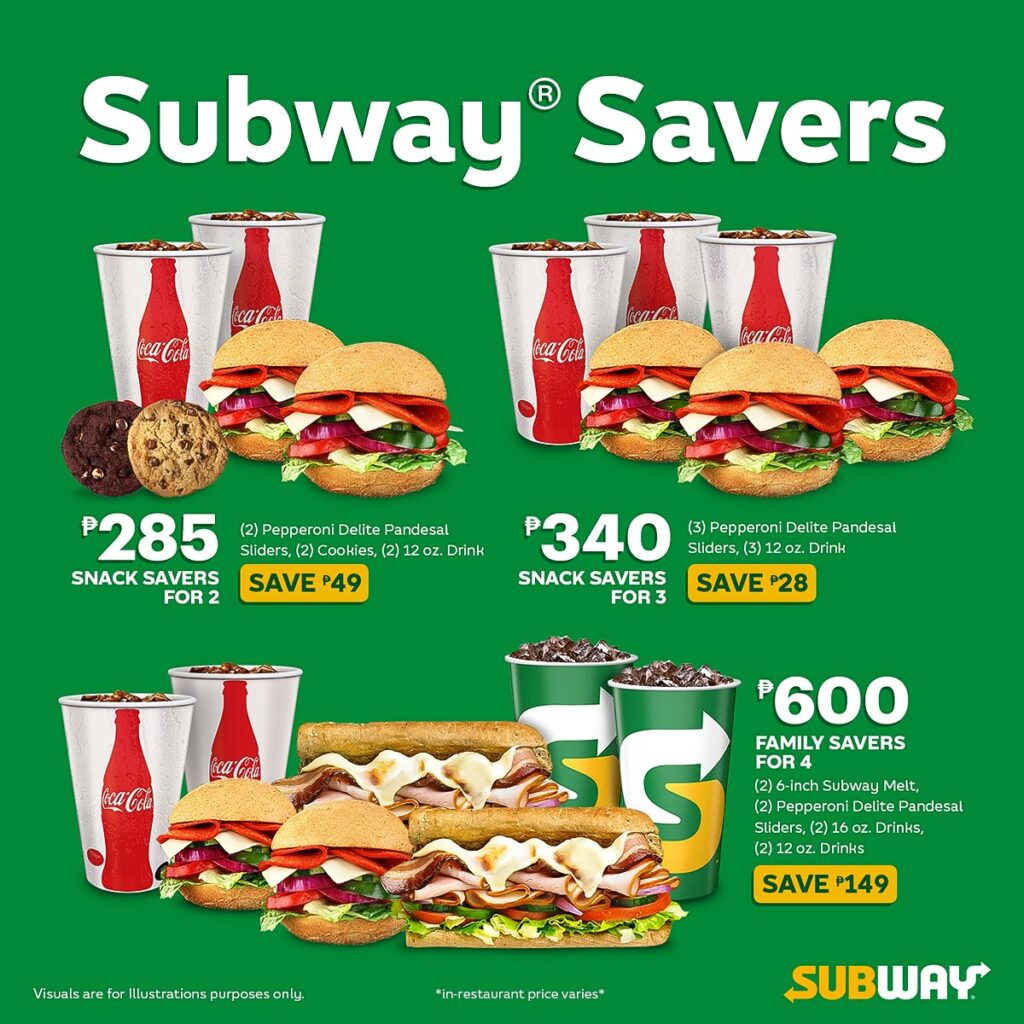 SAVERS FOR 2
For only Php 285, enjoy a delightful (2) Pepperoni Delite Pandesal Sliders along with (2) Cookies and (2) 12 oz. Drink. Save as much as Php49 with this combo meal for you and your special other.
SAVERS FOR 3
– Advertisement –
For only Php 340, grab a bite of (3) Pepperoni Delite Pandesal Sliders and (3) 12 oz. Drink! Save as much as Php28 when you order a merienda fit for a group of three or when two pandesal sliders just isn't enough to satisfy your cravings.
SAVERS FOR 4
For only Php 600, you get the ultimate deal of enjoying (2) 6-inch Subway Melt, (2) Pepperoni Delite Pandesal Sliders, (2) 16 oz. Drinks and (2) 12 oz. Drinks. Save as much as Php 148, with these deliciously loaded choices that's also a great summer snack.
ENJOY SAVERS AT HOME BY ORDERING THROUGH MESSENGER "BOTTY"
Subway continues to offer safe and affordable snack choices for the perfect merienda experience to those working from home.
Merienda in the Philippines is usually enjoyed around 3 p.m. to 5 p.m. or between lunch and dinner. And is usually seen as a break to re-energize and as a reward for a job well done.
To inform customers of our safety protocols, Subway is strictly following the IATF approved guidelines in proper food management and packaging hygiene.
All of this is to ensure that you are safely enjoying your favorite subs and choices in the comfort of your homes.
Delight yourself and your friends & family with Subway's delicious and freshly made subs by ordering through GRAB, FOODPANDA or through delivery via FB Messenger "Botty"
Hits: 291