Mark Your Calendars for 'TikTok By Request' Featuring Spongecola!
Manila, Philippines – July 23, 2021 – TikTok, the leading destination for short-form mobile video, is launching a new series of live events on the platform, TikTok By Request. This first ever fan-powered online show in the Philippines that will give fans the chance to call the shots, and create a musical show that they want to see, adding a personal touch to a livestream.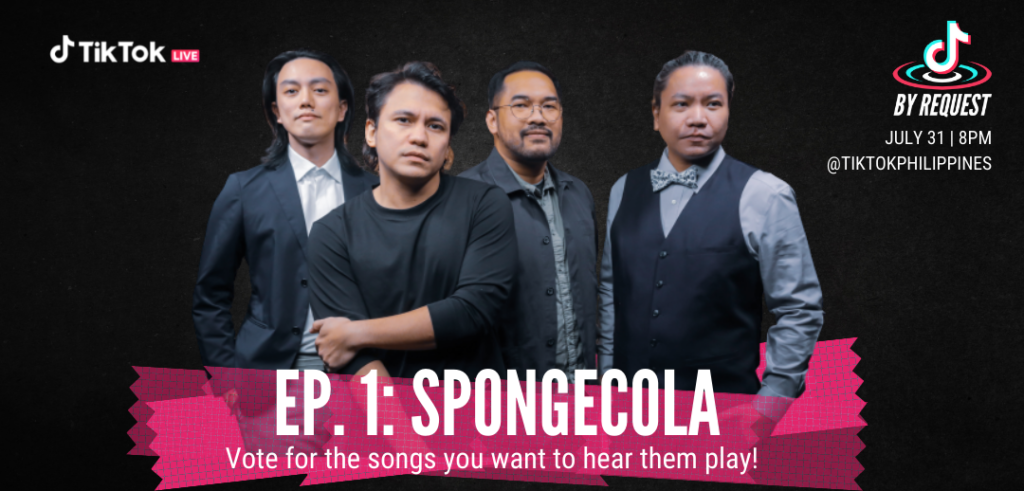 While the physical experience of music is currently impossible, our need for connection remains as strong as ever. This is especially true for artists and their fans. Nothing beats the feeling of listening to your favorite band or artist live, surrounded by fellow fans swaying to the same beat. Events like these have the power to turn a group strangers into a community, deeply connected by their common love for music.
The first episode of TikTok By Request will be headlined by Filipino rock band Spongecola, living legends of the local music scene. In addition to Spongecola, up-and-coming singer-songwriter, Raven, will be opening the show. The special online concert will stream on July 31, Saturday, 8:00 PM through TikTok Philippines, as well as on Spongecola and Raven's TikTok accounts.
Through TikTok By Request, fans will also get the rare chance to participate in building the band's set list for the show as they vote for the songs that they want to hear. To vote, users may type Spongecola on the TikTok search bar or click on the Spongecola banner found on the TikTok Discover page, from July 23 to 25. As an added treat, Spongecola will release a special surprise if fans work together to hit the target coins quota during the online concert. Top gifters during the stream will also receive a gift from the band.
Connect with your favorite artist, discover new music, and enjoy a one-of-a-kind concert experience that only TikTok By Request can deliver! Download TikTok on your iOS and Android devices today.
Hits: 214