Pares Takes: A Nod to Noodles
Beef pares has long been popular "street food," ever since it was invented in the 1970s by the Tiu family. Their restaurant, Jonas, along Mayon Street in Quezon City, used to be the go-to place if you wanted Beef Pares.
The Chinese-style beef stew, mildly sweet and aromatic, is served with garlic topped with fried rice and some beef broth. Since its invention in the late seventies, Pares has spread mostly in the northern part of Metro Manila, namely in La Loma, Sampaloc, and Caloocan.
More recently, the love for this beef stew combo meal has taken it everywhere, from street carts in Makati to different Pares restaurants all over the metropolis and beyond. There are even Beef Pares served with bone marrow in some of the newer restaurants that specialize in this beef dish. For this recipe, I decided to pair the Beef Pares with noodles instead of rice and include the soup in the dish as opposed to serving it on the side. This version is closer to a typical Beef Mami but the sweeter and thicker sauce which has a hint of anise flavor still makes it unique.
Beef Pares Noodle Soup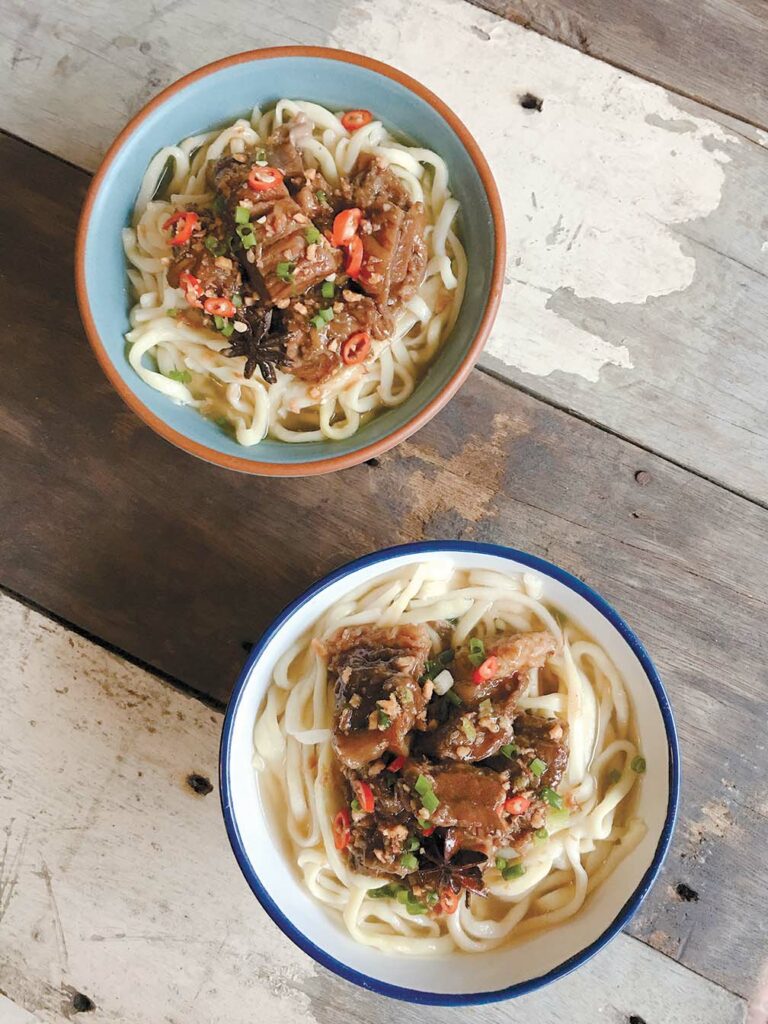 Ingredients:
500g beef brisket, cut ito 1.5 inch
extra bones for soup
cooking oil
salt and pepper
4 cloves garlic crushed
2 tbsp ginger, minced
1 pc large onion, minced
1-1.5L water
1/4 cup soy sauce
1 tsp ground black pepper
1/4 cup brown sugar
2 pcs star anise
1 tbsp slurry (equal parts of water and cornstarch)
500g fresh egg noodles
For topping (garnish):
spring onion, sliced
fried chopped garlic
freshchilli, chopped
Procedure:
Season beef and bones with salt and pepper. Over high heat, Brown beef and bones in a pot. Remove and set aside.
Saute half of onion, garlic and ginger in vegetable oil.
Return beef and bones and pour water. Bring to a boil and lower heat. Cook until beef are tender.
Pour the water in a pot and bring to a boil.
When the meat is tender, remove from the pot and allow to cool down. Leave the bones and continue to simmer to infuse more flavors.
Using a separate pan, Saute the remaining onion, garlic, and ginger.
Add beef, soy sauce , 1 to 1.5 cup of beef stock (stock used in boiling the meat), star anise, and sugar and then bring to a boil.
Adjust taste by adding salt and ground black pepper. Stir in slurry and then simmer until the sauce thickens.
Cook fresh noodles in simmering beef stock, place in a bowl. Add beef with sauce on top on noodles.Pour beef stock and add your preferred toppings (fried garlic, spring onion and chilli).