BRING HOME HOLIDAY CHEER FROM EASTWOOD RICHMONDE HOTEL
'Tis the season to be jolly—and indulgent! As we usher in the holidays, expect glad tidings with fun feasts and delightful bites from the kitchen of Eastwood Café+Barheaded by Executive Chef Victor Barangan. Choose from freshly baked treats and mouth-watering savory meats for your Yuletide celebrations at home, potluck parties with friends, and office get-togethers.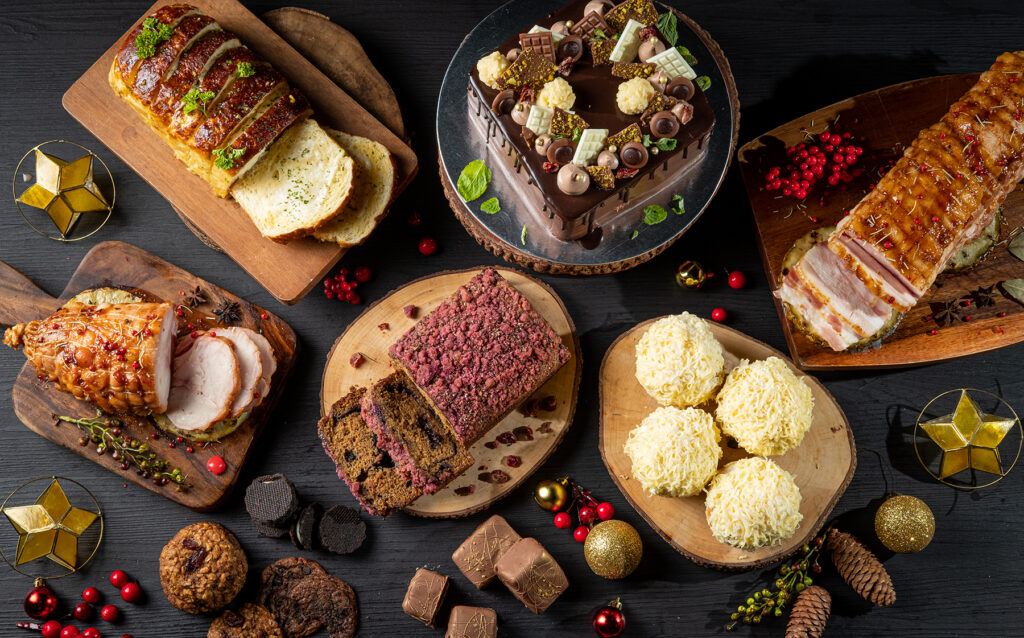 Tried and tested and simply yummy, Richmonde's signature pastries are all-time bestsellers for a reason. Soft, oversized, and ultra cheesy, the hotel's classic plain ensaymada (PhP 185) will go perfectly with a hot chocolate drink or a steaming cup of brewed coffee on a cool Christmas morning. If you want more to share, mini ensaymadas in boxes of 6 pcs (PhP 255) and 12 pcs (PhP 455) are also available. For the perfect dessert, the moist and fudgy Richmonde Chocolate Cake has just the right amount of sweetness, with a texture that stays smooth and velvety even after refrigeration. It comes in two sizes—4" at PhP 215 and 8" at PhP 755.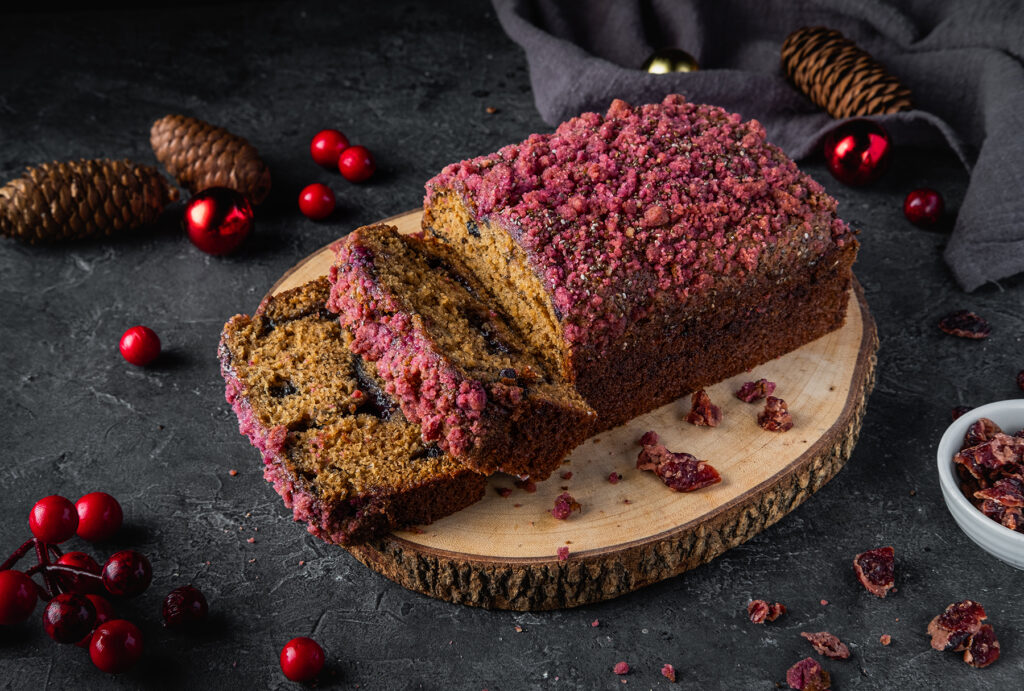 The moist and fluffy banana bread of Eastwood Richmond has always been a favorite go-to snack. This Christmas it has two new yummy flavors—the rich Choco Walnut Banana Bread (PhP 295) and the healthy Blueberry Banana Chia Bread (PhP 495). Craving for something K-inspired, perhaps? The Savory Cream Cheese Garlic Bread (PhP 265) is Richmonde'sanswer to the popular bread bun recipe of Korea and is great for sharing. Need a boost of Christmas energy to get you through the holiday hustle and bustle? Get Santa's Little Helpers (PhP 535/box), a set of assorted cookies to give you a boxful of delightful sugar rush. The set includes four pieces each of the chocolate double Trouble Cookies, the chewy Oatmeal Cranberry Cookies, the Charcoreo cookie sandwich, and two pieces of Homemade "Twix" Bars. Because it tastes as good as it looks, make the Hazelnut Cookie Butter Christmas Cake (PhP 1,325) the centerpiece of your holiday feasts. This moist chocolate cake with hazelnut ganache frosting and delicate chocolate toppings may be too pretty to eat, but it will definitely be worth it.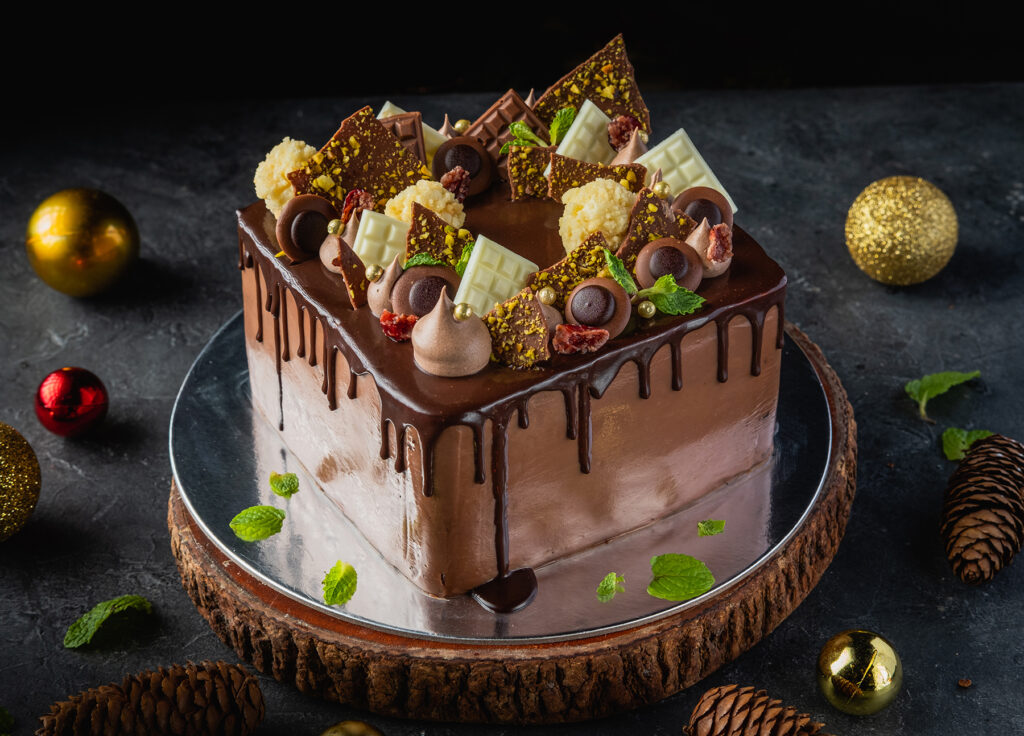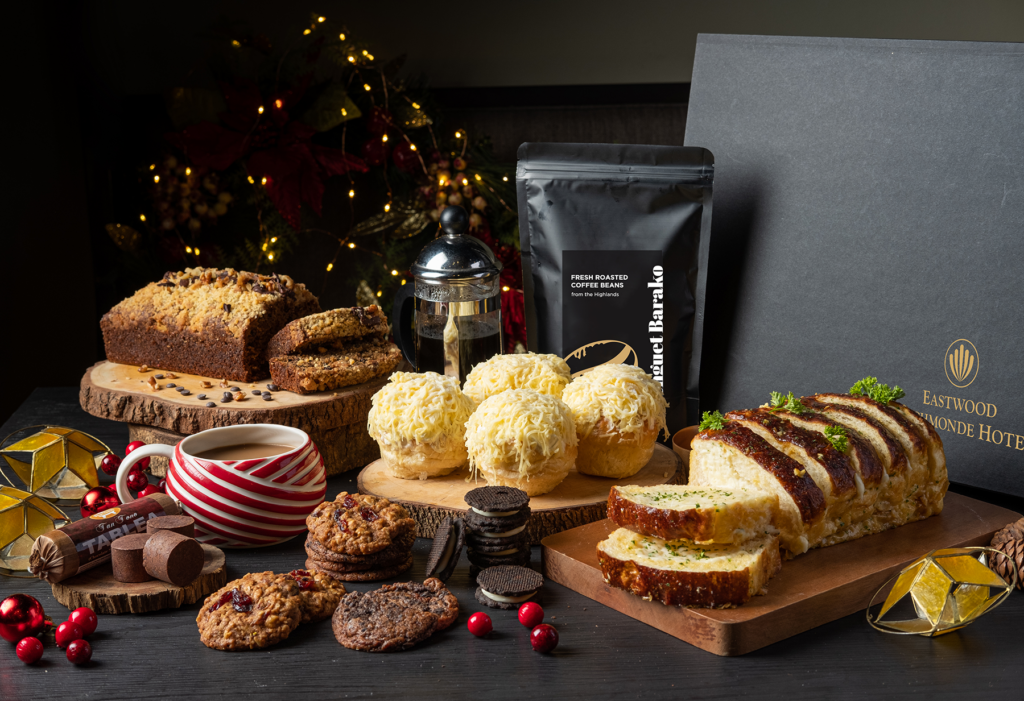 If you wish you share the joy of sweet and savory bites this season, simply order Eastwood Richmonde's Holiday Hamper of Goodies (PhP 1,600) which contains an awesome array of curated freshly baked treats, paired with coffee and cocoa, and packed conveniently in a chic black box. Goodies include Choco Walnut Banana Bread, Savory Cream Cheese Garlic Bread, Mini RichmondeEnsaymada, Charcoreo, Oatmeal Cranberry, and Double Trouble Cookies, plus CabatuanTsokolateTablea, and Benguet Barako Roasted Ground Coffee.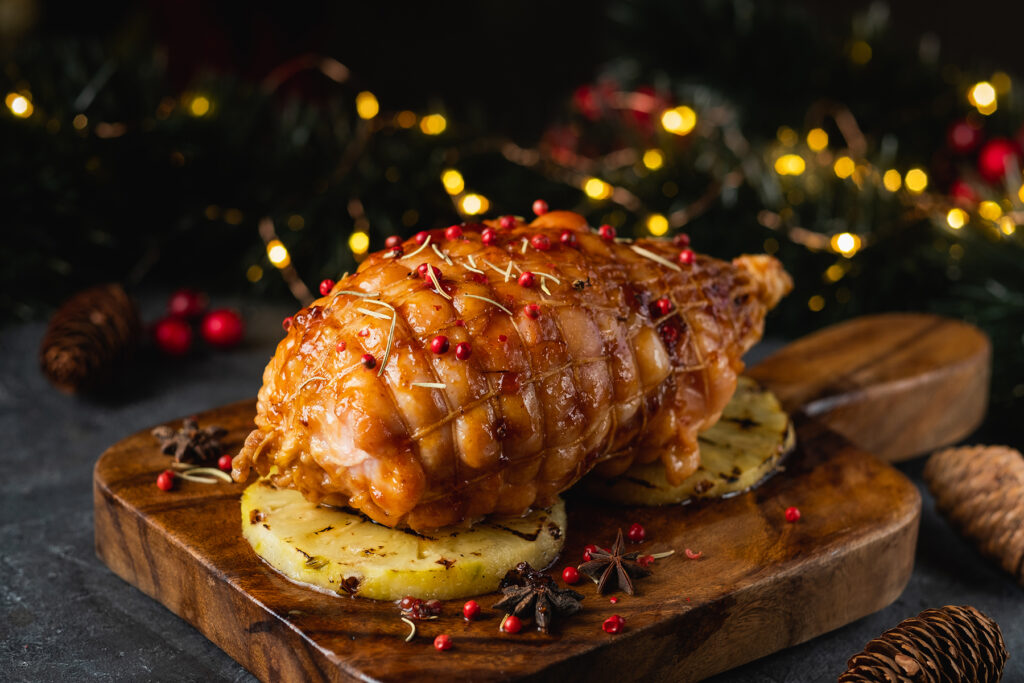 What's Christmas without ham? Preparation is easy with Eastwood Café+Bar's holiday hams so don't forget to add it to your order list. Choose between the 1.6kg Muscovado Cured Ham (PhP 1,450) that's bursting with salty-sweet flavors and the 1.3kg Chicken Ham (PhP 1,100) for the calorie-conscious. 
All Holiday Goodies of Eastwood Richmonde Hotel are available for pickup and delivery within Metro Manila until January 10, 2022. A minimum lead time of 48 hours is required. For orders and inquiries, call +632 8570 7777 or +63 917 821 0333.
Hits: 281