Jollibee to debut in Scotland, opening two stores within a month
MANILA, Philippines. 16 February 2022 – Homegrown restaurant chain Jollibee – famous for Chickenjoy – announce the opening dates of its much-anticipated first Scottish locations. On Thursday, 24th February, Jollibee will open its doors in the capital's city center at 136 Princes Street, Edinburgh, marking its entry into Scotland. The brand will quickly open its second Scottish store in Glasgow on Friday, 25th March. The two restaurants in Scotland will serve halal meat to cater to all communities in both cities.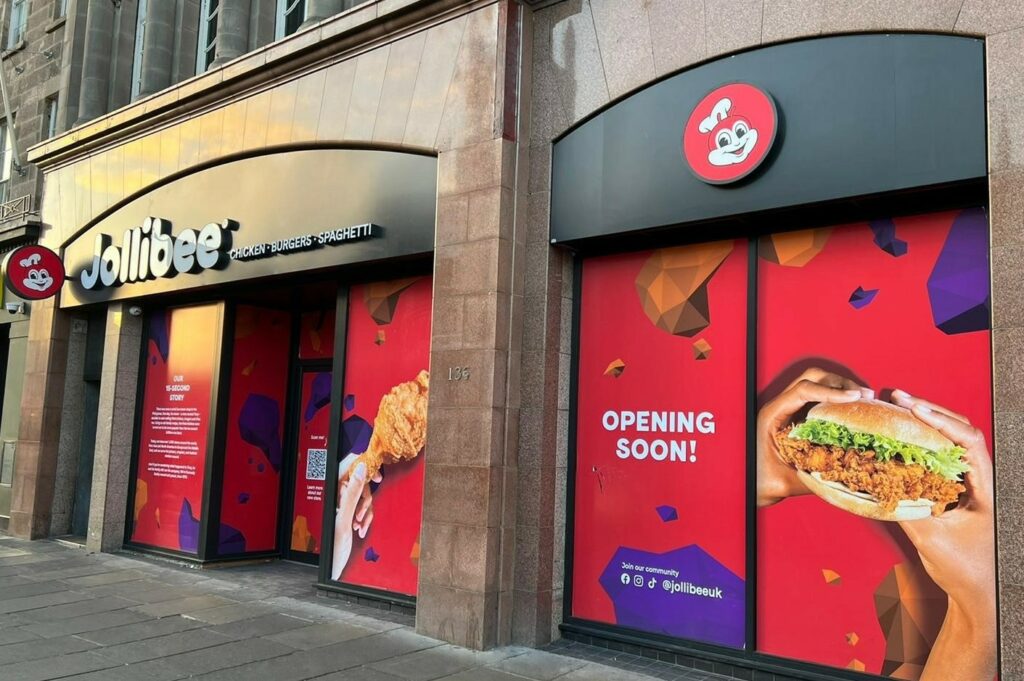 "This is an important moment for us as we introduce Jollibee to Scotland with not only 1 but 2 restaurants launching within a month, showing our commitment to expand in Europe. We are looking forward to serving our Scottish customer's delicious food in a joyful restaurant experience. We know there are many in Scotland who have waited a long time for Jollibee to arrive, and we're excited to see the local communities experience Jollibee for the first time," Ernesto Tanmantiong, CEO of Jollibee Group, said.
Both Edinburgh and Glasgow have a large student presence and active youth community, making them the perfect cities for Jollibee, which has seen huge success among young people looking for new food experiences. In the last 18 months, overall UK sales rose by 417%, with the Jollibee Chicken Sandwich and the new Spicy Chickenjoy are receiving rave reviews.

"The reception for Jollibee in 2021 gave us confidence that our new store design and locally relevant menu created specifically for our European audience was working. We are very happy to be opening on one of the busiest streets in Edinburgh and Glasgow and expect to see big queues of chicken lovers at its launch," Dennis Flores, President of Jollibee Europe, Middle East, Asia, and Australia, added.
The unveiling of Jollibee's first Scottish location coincides with the announcement last month that further COVID restrictions would be lifted across Scotland. Jollibee's menu in Scotland will have its best-selling Chickenjoy – known for its next-level crispiness and juiciness, the Jolly Spaghetti with its signature sweet style sauce, fan-staple Yumburger, and Spicy Chickenjoy – the fiery version of its flagship product. The Jollibee Chicken Sandwich, almost as popular as Chickenjoy in the UK, will also be served with its hefty chicken fillet that's been marinated in a secret recipe, breaded to crunch perfection, and then topped with its own special dressing. Across its UK restaurants, Jollibee has served up an incredible 1.3 million pieces of Chickenjoy since January 2021.
"We are optimistic that opening now in Scotland is an opportune time for Jollibee and will bring customers something different and exciting. Most people have not been able to try new things in the last few years, so bringing the fun, joyful, and colorful Jollibee restaurant to customers will be a great start to 2022," Adam Parkinson, Business Head of Jollibee Europe, said. Jollibee was originally founded in 1978 and has over 1,500 stores across 17 countries, including the USA, Canada, Spain, Italy, Philippines, Singapore, Vietnam, UAE, and the UK in England and Wales. The first Jollibee in the UK opened in London in 2018 and has since added another eight locations to the map including Cardiff, Newcastle, Liverpool, Leeds, and Leicester Square in London's West End.
Hits: 978