Conti's Ramps Up The Healthy for 2022
This year, yummy gets healthy at Conti's Bakeshop and Restaurant with a new product offering that's sure to delight the tummy as well as the body.
With the ever-increasing health awareness among customers and the Lenten season upon us, the popular food chain has introduced its latest additions to its menu, the Healthy Bowls.
With the new Healthy Grain Bowls and Gourmet Greens, Conti's gives more deliciously healthy options not just for the faithful flock but for anyone with a taste for something fresh and hearty.
Grain goodness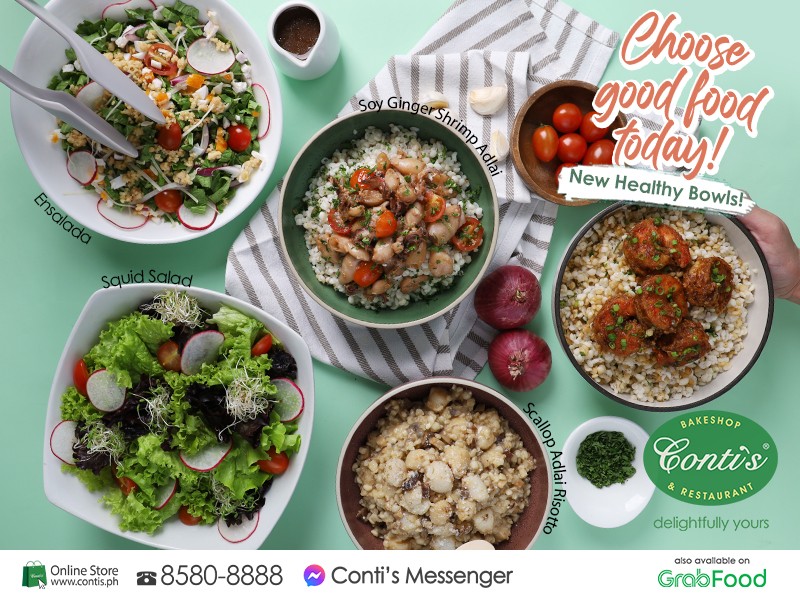 Conti's Healthy Grain Bowls are similar to rice toppings, but instead of white rice, these seafood meals are paired with locally-sourced grains called Adlai – nutrient-packed, energy-boosting, protein-rich, and low in glucose. They're also gluten-free.
Scallop Adlai Risotto
Rich and creamy, whole-grain Adlai risotto with savory tender-seared scallops mixed with earthy shiitake and fresh button mushrooms.
Garlic Squid Adlai
Soft and tender squid sautéed in olive oil together with garlic, parsley, and cherry tomatoes, served with Adlai rice.
Soy Ginger Shrimp Adlai
Pan-fried juicy shrimps coated in soy-ginger dressing topped with spring onions served with Adlai rice.
Nothing could be more guilt-free and convenient than having all things good for you mixed in one bowl.
Get your greens in
Have yourself a bowl or plate of crisp, cool bright green salad with our Gourmet Greens. This new signature dish combines fresh greens, fruits, vegetables, and nuts with Conti's own dressings, made in-house using farm-fresh ingredients.
Ensalada
A refreshing salad mix of crisp mustard leaves, red cherry tomatoes, green papaya, white radish, and salted egg, topped with Bicol's pili nuts and served with a zesty bagoong vinaigrette.
Squid Salad
Garden-fresh salad with tender squid, mixed greens, juicy cherry tomatoes, and alfalfa sprouts, served with a citrusy soy-ginger vinaigrette.
Whether you're keeping your figure beach-ready or maintaining your physical health in general, these meals will make it easier than ever to eat well.
To know more about Conti's Bakeshop & Restaurant visit http://www.contis.ph/ or check out the Facebook (@contispastryshopandrestaurant) and Instagram (@contis_ph) pages. Other pages bearing the name and images are fake. They do not in any way represent the brand.
Hits: 353