Cooking for people on the hunt for good and healthy food
Chef Grace Chua's passion for the foodservice industry started at a young age. Back then, she would take the initiative to help prepare food for their family and would curiously ask her mother various questions related to cooking. She took delight in watching her mother cook different recipes. She knew from then on that she would develop her love for cooking. And the rest is history.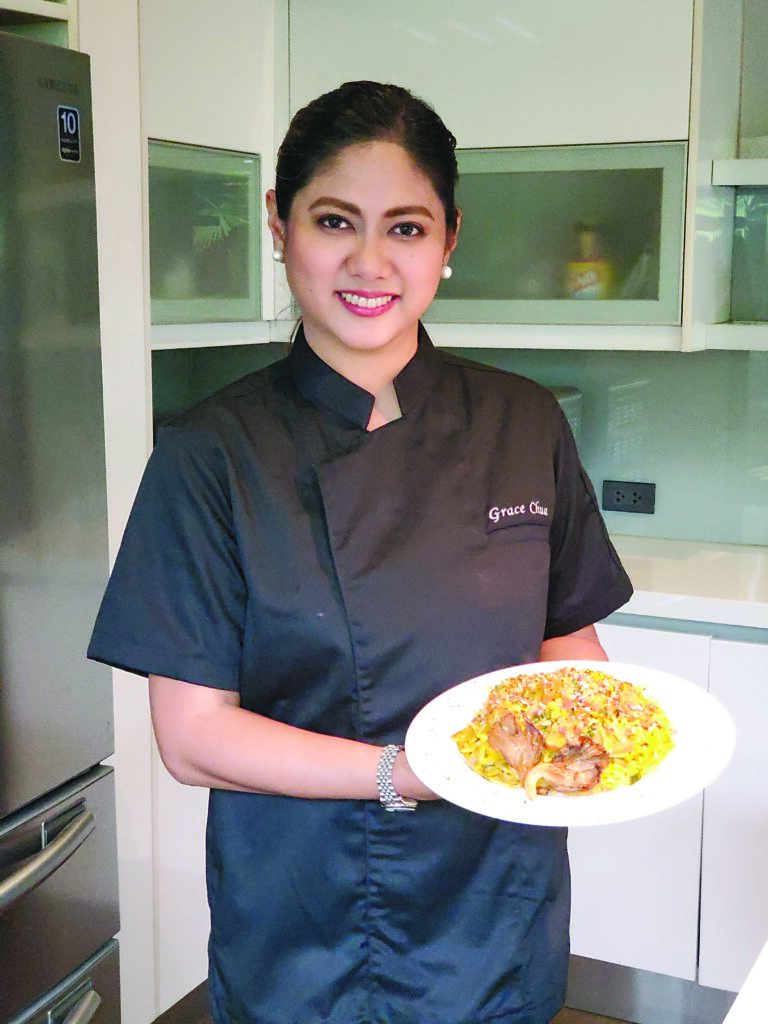 Curiously, Grace's career began in the media industry. She became a newscaster, television host, writer, radio announcer, and print ad model that worked for different media agencies. But through all her various incarnations, she always seemed to get pulled back into the culinary world. Between career and family life, she would find time to cook and create recipes that her family would enjoy. Grace soon discovered her real passion and love: the food industry. She loved the challenge of cooking for people who are on the hunt for good and healthy food.   She also wanted to be able to live a happy and healthy life and to be able to share this life with others. Inevitably, she stepped away from her media career to pursue her passion.
GLOBAL ACADEMY
Grace started her first restaurant 18 years ago, owning and managing several more restaurants that catered to different people. She went on to open a variety of different themed restaurants and cuisines ranging from cafes, buffets, international to local food—making sure to always incorporate her love and passion for cooking not only in her restaurants but in every dish she serves. Grace then went into the Global Academy Culinary school to further enhance her knowledge and skills in the food industry. She also took classes everywhere she went—whether in Asia, North America, or Europe—just to learn more about different types of cuisines. Determined to succeed and be the best that she can be, she powered through and became the Chef Gracie she is known today.
FROM WAFFLES TO VEGAN
Her past cooking experiences together with what she learned and acquired in culinary school enabled her to become just like the chefs that inspired and made her in awe of the culinary world. Chef Gracie still continues to make delicious dishes and find new and incredible ways to heighten the food experiences of people.    Her most recent projects include her newly conceptualized waffle house called Waffle Waffee Creations by Chef Gracie, which is located in Makati that serves waffles, coffee, cakes, pastries, and, light meals. She is also opening a vegan-friendly restaurant in Quezon City, where all the meals offered are guaranteed to be fresh and healthy.
HEALTHY LIFESTYLE
Chef Gracie believes that a healthy lifestyle starts from the moment an individual dedicates himself or herself to clean, healthy, and nutritious food. Together with her partners, they own, manage and import Vegfuzion products, which are meatless meats that do not have hormones, antibiotics and are cruelty-free alternatives for meat. (for more information about vegfuzion products, you can visit their website @ www.vegfuzion.com)    Chef Gracie is truly one for the books. She stands true to her philosophy: "In order to be a good chef, you should be inspired (and inspire others) with your cooking, you should have a good creative technique, you should be knowledgeable of the different ingredients that are available out there and to always keep an open mind for options and suggestions of the people around you. She says that the best thing that keeps her motivated as a Chef is the challenge of exercising her creativity in the kitchen and the enjoyment of customizing her menus to suit each client's palate, creatively mixing a variety of spices and ingredients.
Hits: 522