Creamy Squash Carbonara with Roasted Oyster Mushrooms and Pine nuts
By: Chef Grace Chua
Squash is a fruit (that is mainly cooked like a vegetable). It is low in calories but high in vitamins and minerals. In the world today, Squashes are incorporated into different dishes that we find around us, such as deserts, soups, salads, main dishes, and plenty more.
More recipes are created by cooks that include squash in their meals because of the continuous discoveries about its benefits. It is said that it helps regulate blood pressure, reduces the risk of cancer. Squash contains antioxidants that protect against eye problems, prevents and control diabetes; and the list goes on. All these, motivated me to create a dish where the main star is a Squash! Not only that, a squash dish that is Vegan, too. Just imagine the many benefits this will bring to people.
The Vegan dish I prepared is Squash Carbonara with roasted oyster mushroom and pine nuts. All ingredients used are meat-free and it is just as flavorful and nutritious as a meat dish. The dish starts off as pieces of squash are puréed and combined with cashew milk. This transforms the flesh of the squash into a silky, delicious pasta sauce. Topped with Vegfuzion bacon, freshly chopped parsley, roasted pine nuts, vegan parmesan, and chili flakes, served with roasted oyster mushrooms on the side. It is a dish that is all about health and comfort. Take my word for it, this dish will surely satisfy and surprise your appetite to a point that you won't even notice your craving for more! Instagram: chefgraciegourmet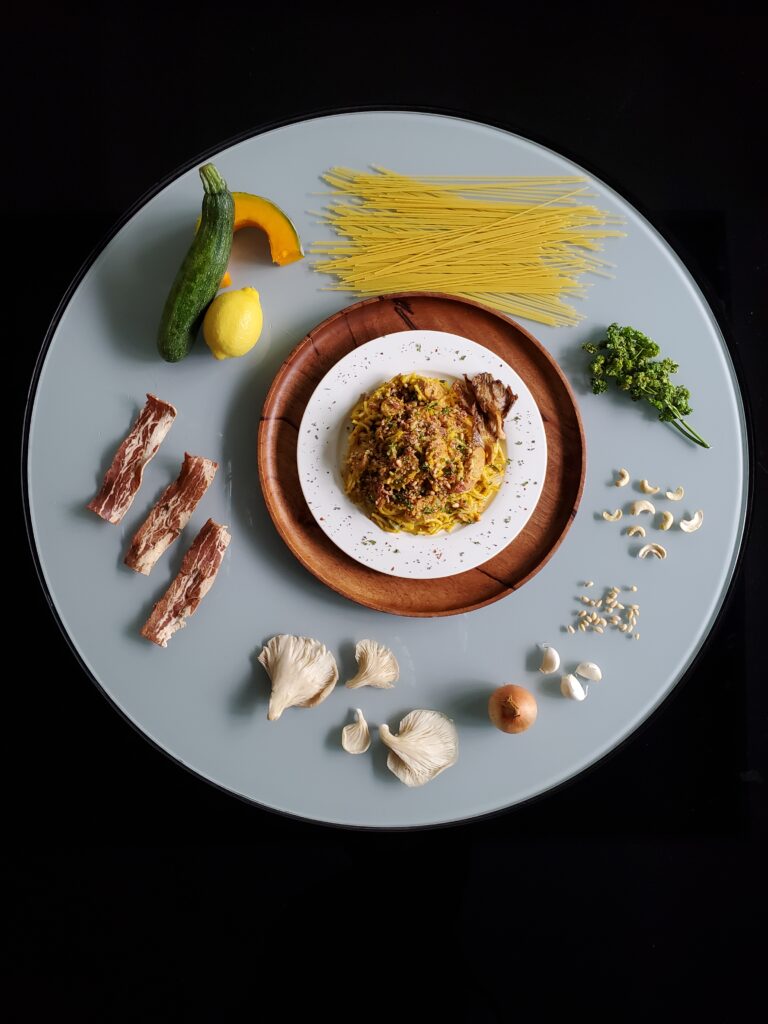 Ingredients:
2 tbsp. Olive oil
3 cloves of Garlic (minced)
1 whole medium sized white Onion (finely chopped)
4 pcs. Vegan Sausage (sliced diagonally)
(by: VegFuzion)
8 to 10 pcs. Oyster mushroom (roughly chopped)
1 pc Zucchini (small diced)
1 tbsp. Nutritional Yeast
2 tsp. dried Basil
1/2 tsp. dried Thyme
1/2 tsp. ground Cumin
1/2 cup Pasta Water
1 cup puréed oven roasted squash
1 cup Cashew Milk
1 cup Coconut cream
Salt and Pepper to taste
250g pasta
Toppings:
3 to 4pcs.Vegan Bacon
(by: VegFuzion)
chopped Parsley
Chili Flakes
Vegan Parmesan
Roasted Pine nuts
Procedure:
1. Bring a large pot of salted water to a boil and
cook the pasta until aldente according to
package directions, stirring occasionally.
Drain well making sure to set aside 1 cup of
pasta water.
2. Chop Vegan bacon into small pieces, Fry in olive
oil then sprinkle over some salt, cook until crispy.
Remove from the heat then drain the grease on a
paper towel lined plate. Set aside as you will use
this for toppings later.
3. Meantime, roast squash halves in oven for about
45 mins at 195 degrees Celsius. Scoop the meat off
the squash, throw it in a food processor (or you can
use a handheld blender) then add 6 tbsp. of cashew
milk for that extra creaminess. Blend until it has a
smooth texture. Set aside.
4. Start roasting your oyster mushrooms in the same
oven for about 10 mins. Drizzle with olive oil and
add about a pinch of salt and pepper then set aside.
5. Heat olive oil in a large skillet over medium
heat. Sauté garlic and onion. Add the vegan
sausage, chopped oyster mushrooms and sauté
until sausage and mushrooms are cooked.
6. Next, add the sliced zucchini and continue tossing
all the ingredients together. Add the nutritional
yeast, dried basil, thyme and cumin. Mix and pour
in the reserved pasta water, cover for a minute.
7. Stir in the puréed oven roasted squash, cashew
milk and coconut cream. Continue mixing until
you reach your desired consistency. Season with
salt and pepper to taste.
8. Toss in the cooked pasta. Serve while warm and
add the toppings on top together with the roasted
oyster mushrooms on the side.
*optional: You can squeeze a slice of lemon, for that extra kick in your dish!
Hits: 722