Building on food trends in 2022
By: Ms. Anne Dela Cruz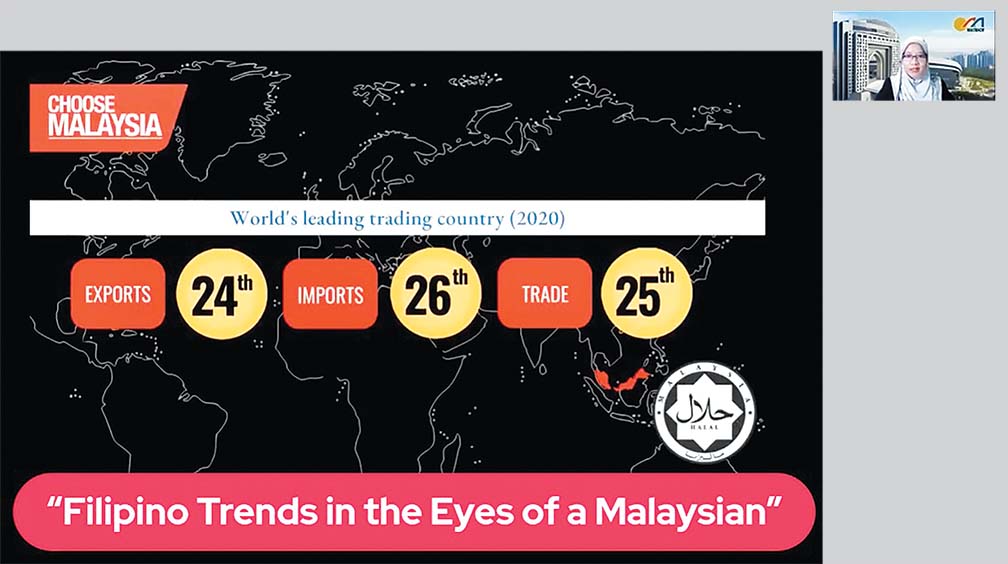 The Philippines is a consumer-based market that is dominated by young people who are adventurous to try out new things. This opens opportunities for food from different cuisines. Siti Azlina, Trade Commissioner of the Embassy of Malaysia Trade Section in the Philippines, took note of this adventurous and youthful trend in food. In addition to being adventurous, the younger market is gradually becoming more health-conscious to try new healthy cuisine, and this has opened up opportunities for imported food, like food items from Malaysia," Azlina said.   The Malaysian Trade Commissioner shared her thoughts in a webinar organized by COOK Magazine in partnership with TikTok Philippines. The food webinar tackled the topic:  "Make your Business More Competitive with an Innovative Solution—What are the trends we will be seeing in 2022?"
NATURAL ALTERNATIVES
Being health-conscious means that people are consuming less sugar and choosing more natural alternatives like stevia or other substitutes. The Philippines, Azlina pointed out, is also home "to quite a number of expatriates and that excites the market even more with various flavors." As quarantine restrictions are gradually being lifted, more people are expected to troop to the malls to enjoy a meal at their favorite restaurant. This is something that they have been unable to do for the past two years. The trend now is towards fresh food that is ready to eat and is convenient. Cooking at home is still preferred especially for those who are cautious about the food safety aspect," she said, adding that there is a rising interest in plant-based alternatives to cater to the small but growing segment of vegan consumers.
HALAL FOOD
Malaysia, a predominantly Muslim country, is known as the pioneer of halal food and this has been recognized internationally. Halal is an Arabic word that means permissible. A Halal-certified product means that the product is permissible or acceptable in accordance with Islamic Law. In order for products to receive this certification, they must be from an acceptable source such as a cow or chicken and slaughtered according to the laws of Islam. Halal foods are those that are free from any component that Muslims are prohibited from consuming. Food that is processed, made, produced, manufactured, and/or stored using utensils, equipment, and/or machinery that have been cleansed according to Islamic law qualifies as Halal food.


VEGAN CONSUMERS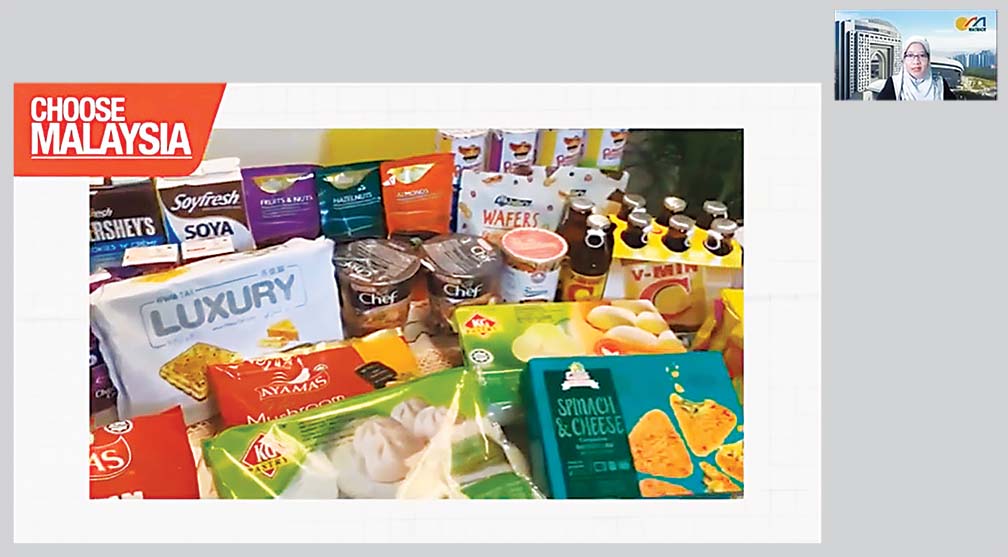 According to Azlina, many Malaysian processed foods and beverages have exciting, healthy flavors and can meet to some extent the needs of vegan consumers. "More importantly, they are halal-certified but cater not only to Muslims. These food items also cater to those who are looking for hygienic food," she said. Azlina's views about Filipinos loving food are seconded by Alex Soon, Community Operations Manager for Food and Entertainment of Tiktok Philippines. In her presentation titled, "How to build your brand on Food Tiktok," Soon noted that "food is a language of its own. When our mom asks us if we have eaten already, it is her way of saying hello. There is this milk tea culture among the youth and the best way to actually ask for forgiveness is not through words but by giving that person a cup of milk tea," Soon noted.
SPREADING JOY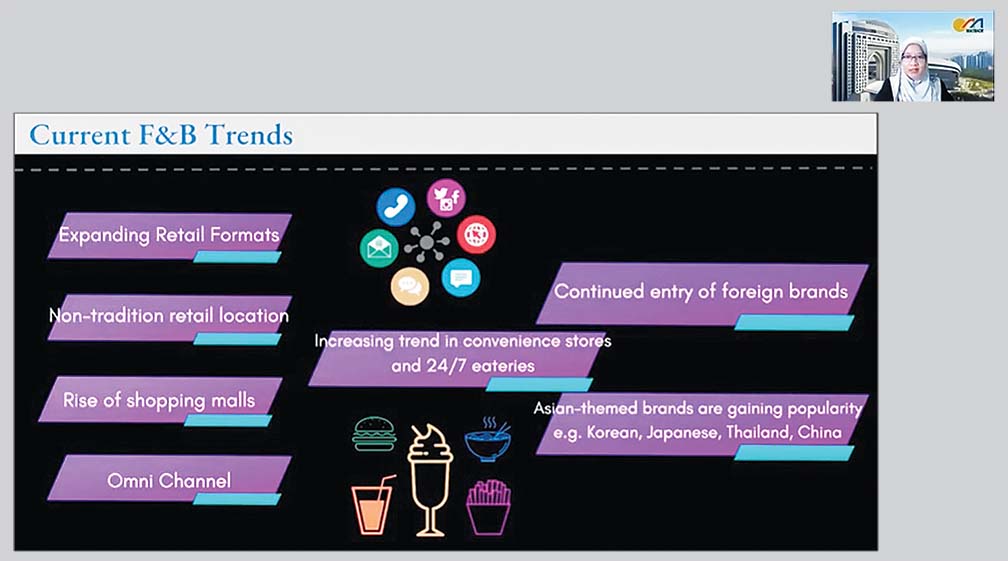 Soon talked about how Filipino foodies "are spreading joy in the kitchen through Food TikTok," adding that one way of knowing the latest food trends is by tuning in to Food Tiktok. Food Tiktok is an open window platform through which millions are discovering new hobbies, ingredients, and cuisines every day. It is like we have a community of food lovers on this platform and many were discovered here. There are many new ideas that you can actually do in your own home," she said. Soon related that she had never actually cooked before. Through TikTok, however, she was inspired to try the recipes. "We do have a lot of overnight quarantine chefs because of watching videos online and on TikTok," she said.
CAMPAIGN
One of the campaigns that Food TikTok launched is #EatsTravelTime. It allows platform visitors "to go outside of the country and travel through our taste buds." "The whole food TikTok community actually shared recipes or food inspirations of dishes from all over Asia like the Butter Chicken from India. We also had recipes from Korea, Vietnam, and Thailand. It's a fun way to experience different flavors while staying safe at home," Soon said, adding that she also tried her hand at cooking Butter Chicken. "So here, food is discovered, shared, purchased, and made. If you look at TikTok, it is not about a highly followed few—the celebrities who are the ones getting famous. It is actually the everyday people who get to shape the culture that we have and the community," Soon said.
FOOD TRENDS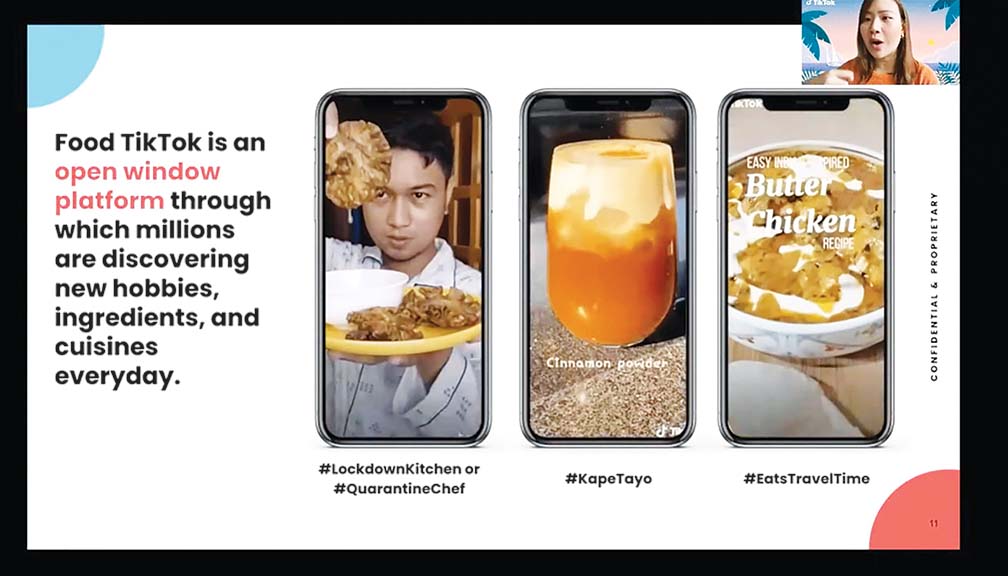 Two of the trends that were made famous on TikTok were the Dalgona Coffee and Feta Pasta which caused a shortage of Feta Cheese in the groceries. "And just to build on that, the platform is also so strong that people on Food TikTok are actually extending their actions or activities beyond the app. People are actually eating and buying things that they watch on Tiktok," she said. After watching food content on TikTok, 65% of those who watched actually cooked a recipe they saw on Tiktok. Another 54% purchased ingredients and supplies they saw on TikTok while 53% purchased a new snack, food, or beverage.
New things were discovered by 42% of the viewers while 50% have either discovered or were inspired to find out more about a food or beverage brand."This really shows how influential or how TikTok can actually help food brands reach a wider set of audience. That's because the TikTok food community is really keen to get inspired from the recipes that they see on the platform," Soon explained.
DIGITAL-FIRST
Soon pointed out that for any food brand or any brand to succeed, a "digital-first" approach is highly recommended. This means that digital channels should always be prioritized over other offline methods."During a lockdown and in a pandemic, being digital is actually a means of survival because there really is no offline physical channel that can be used to deliver the message you want," she said. "Whether it is to generate awareness, build your brand's image, or connect with your target audience, there's room for that on Tiktok," she concluded.
Hits: 1018