Alex Gonzaga is the New Face of Ever Bilena
"I'm so happy and I'm so proud. EB has been here for 39 years and they're still the number 1 beauty brand in the Philippines…" Alex Gonzaga (AG) said about being the newest face of Ever Bilena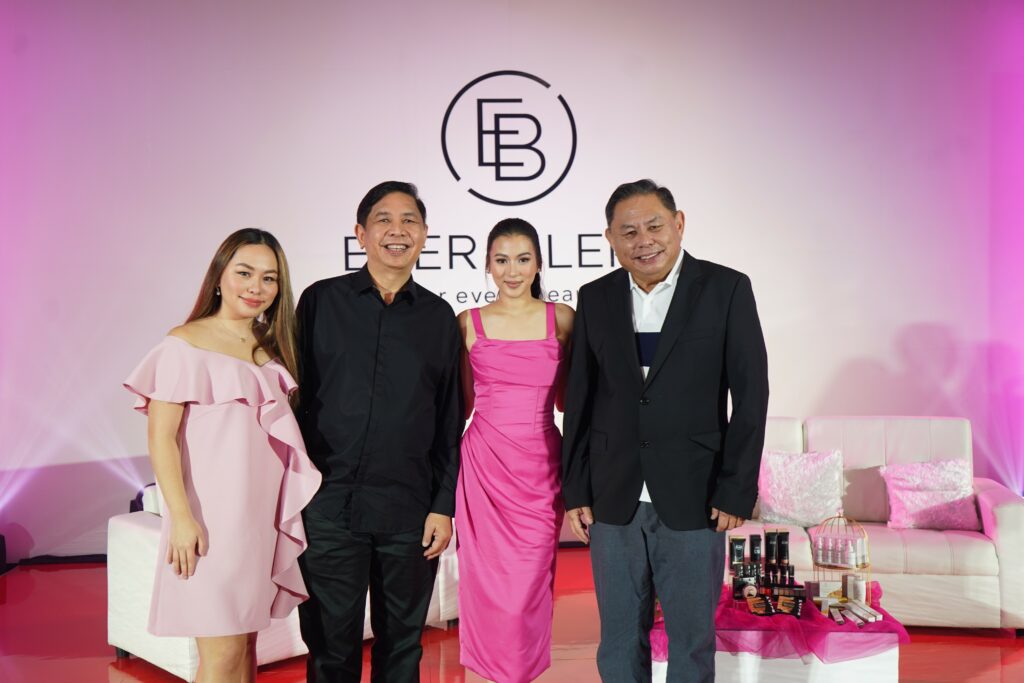 Ever Bilena (EB) introduced us to "AG in Everland" to celebrate the launch of its newest celebrity endorser, Alex Gonzaga, last September 19.
The event space was beautifully decorated in blooming shades of pink.
Guests were invited to participate in various fun games and beauty challenges for a chance to win more EB freebies.
Using the hashtag #AGforEverBilena, the event was hosted by Samantha Bernardo and held at Eton Centris Elements.
According to Ever Bilena's Chief Sales & Marketing Officer, Denice Sy-Muñez, this was their first ever big event since the lockdown happened almost two and a half years ago.
Denice mentions her happiness in reconnecting with influencers, editors, and users who have played an active role in creating conversations for Ever Bilena – "It's been awhile since we met and caught up, and it's so nice to see the local beauty community thriving towards normalcy!"
Truly, a major Ever Bilena event was surely missed by influencers and media alike, as key opinion leaders and personalities made time to come to Everland. Among the attendees were Youtubers Letisha Velasco, Johnrey, Michelle Dy and Bing Castro; Beauty Tiktokers Lenie Aycardo, Hajie Alejandro, Leishki, Chachaboom, celebrities Mariel Pamintuan, Alyana Asistio and Anykka Asistio were also present.
For Ever Bilena, there's no one better than AG to be the Filipina brand's newest face. Denice describes her as "fun, versatile, and relatable — representative of the kind of personality and beauty that Ever Bilena stands for."
Denice shares that Ever Bilena is for the hardworking, modern Filipinas.
"Whether they are stay-at-home moms, career women, college students, or hard working entrepreneurs, we are inspired by our users and by what motivates them."
When asked what EB customers can expect from the brand, Denice states that EB aims "to continuously tell stories and release innovations that resonate with [EB customers]. We will continue to be affordable because we recognize money is hard earned and we want our users to get every bang for their buck!"
Alex reiterates the sentiment, proudly remarking that "Almost all Filipinas have tried Ever Bilena. Even those abroad, they look for Ever Bilena kasi 'yun 'yung kinalakihan nila (because that's what they grew up with). And then now, there's a new line of products that cater to the new generation that look for products with certain ingredients. It's just such an honor to be part of this beauty mogul [brand] in the Philippines."
In a Q&A Session, Samantha Bernardo and Alex Gonzaga exchanged stories about their favorite Ever Bilena moments and products. Alex mentions that part of her day to day makeup routine consists of EB's All Day BB cream, the EB Plus shape and set brow liner, EB Pro highlighter in the shade Spotlight, and topping the routine off with her go-to lipstick shade – "Toast of New York."
Alex says, "[This] EB lipstick kasi kahit 'yun lang isuot ko parang complete na look ko. (This EB lipstick, even if I wear it alone, it completes my look.)" She likes a "low maintenance" effort for her glammed up looks. Meaning, she wants products that are economical and easy to use, but deliver pigment and quality. Alex adds that her days are usually packed with vlog shoots and TV guestings, so it's important for her makeup to be set in a way that can make her feel made up but still light and fresh.
Aside from Alex's press launch, the brand also revealed their newest EB New Plus range at the event. The new line was created to meet the consumers' clamor for the rewarding feeling of wearing makeup that is also good for the skin.
In line with Ever Bilena's advocacy of making global trends accessible to Filipinos, EB Plus integrates skincare and makeup in one. Part of the EB Plus portfolio includes: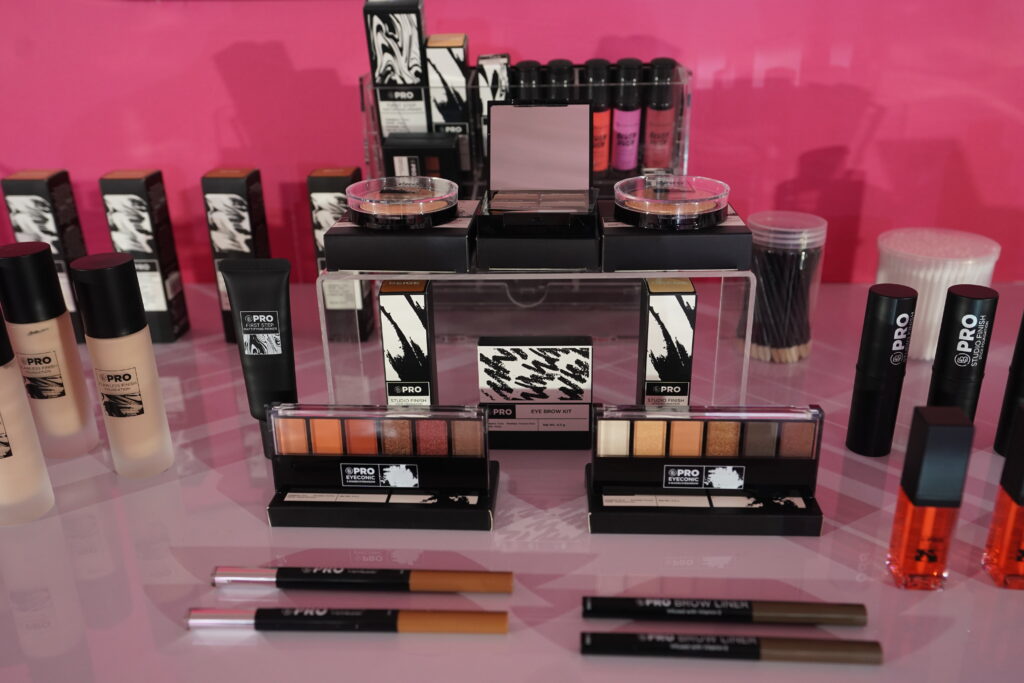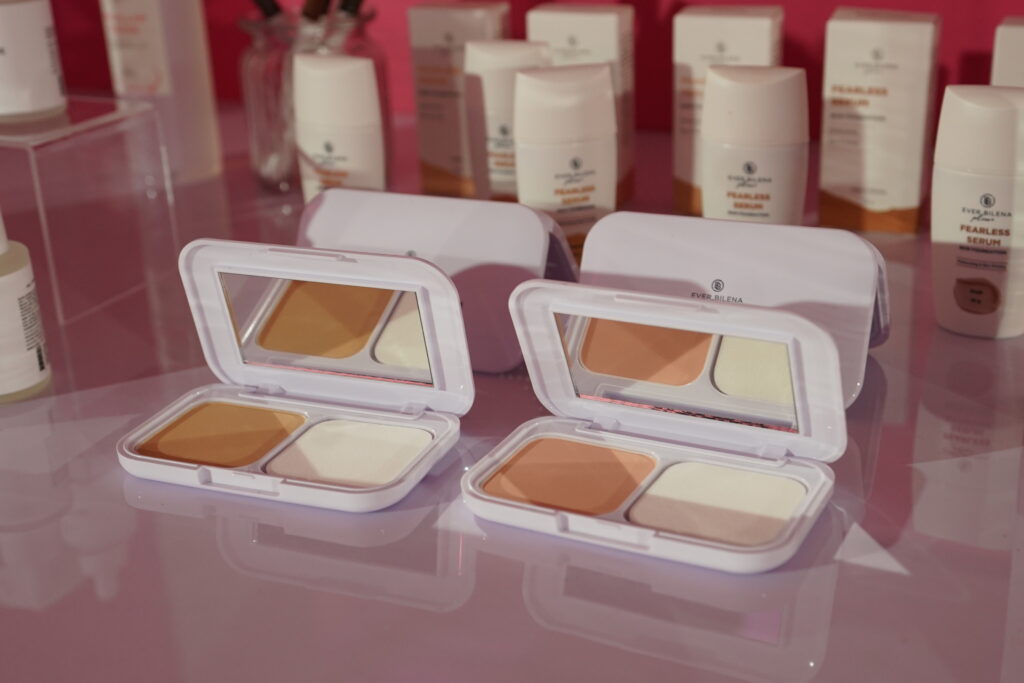 The EB Plus Wide Awake Caffeine Concealer, which comes in three shades and is infused with Kaolin for oil-control, and Caffeine for de-puffing eye circles. As an additional feature, this concealer utilizes a metal roller applicator to relax and cool under eyes.
The EB Plus Fearless Serum Foundation, which comes in five shades, has a lightweight formula that delivers medium to full coverage. It is infused with sunscreen filters, Vitamin E and CoQ10 for anti-aging and moisturizing benefits.
The EB Plus Two Way Serum Powder Foundation incorporates Vitamin C, Squalane and Kaolin for antioxidant benefits while keeping oiliness at bay.
Finally, Keratin-powered eye products are the first in the country. The EB Plus Super Charge Liner is a jet black liquid liner pen that can nourish lashes as it provides a powerful and precise line. The EB Plus Shape & Set Brow Serum Duo, on the other hand, has Vitamin E and Vitamin C on top of its Keratin-infused clear brow serum gel that can hold the brows up all day!
There's so much to celebrate with Ever Bilena. From partnering with one of the most popular and sought after endorsers of this generation, Alex Gonzaga, to releasing their newest EB Plus line, which demonstrates the brand's adaptability in understanding its customers and delivering innovations that resonate with them.
Hits: 418