Miso Eggplant Steak with Spicy Cashew Udon Noodles
By Chef Gracie Chua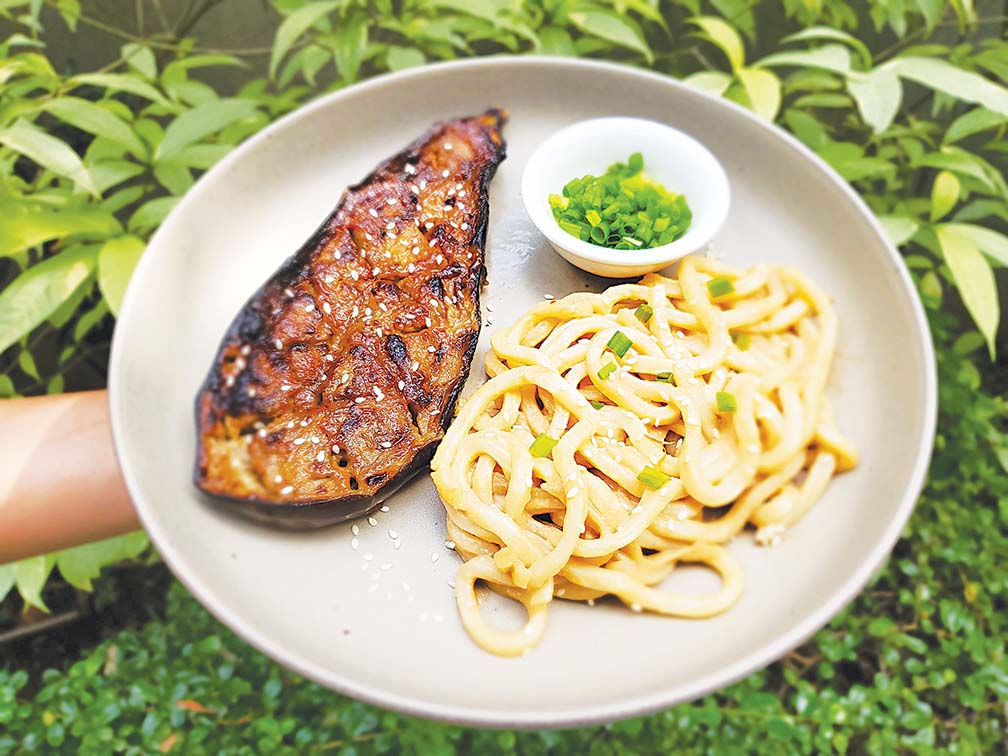 Veganism is excellent at taking everyday meat creations and turning meat ideas into delicious vegan meats. It always finds a way to create meat-free food from day today things we eat and see, and sometimes incorporates well with carnivore meals.
It's unbelievable how we vegans can create a tasty vegan (meat-free) sinigang, a dish we Filipinos love, without taking away the essence of what a real sinigang tastes like. So many other vegan meals taste exactly like their real meat counterparts. It's hard to tell the difference at times because these vegan dishes just taste that good.
For this recipe, we will be creating a dish that we all know and love—Steak! But not just any steak. This is a vegan steak made with eggplant. Eggplants are rich in anthocyanins, which is what gives them their unusual color. This pigment has antioxidant properties that protect our cells from damage.
The texture and umami flavor of the eggplant that we will be using will give the dish a steak-like taste. This vegan steak will consist of miso that will give the meaty and savory flavor of a real steak, while the roasting of our eggplant will provide that nice steak texture.
The steak will be accompanied with cashew noodles and its sauce will come from the glaze of the miso that is also used to brush onto the eggplant steak during the cooking process.
Not only will it taste like you're eating real steak, but you will also have a benefit of what a normal meat steak can't give you.
Indulge away in this mouthwatering vegan recipe.
INGREDIENTS:
(Serves 2)
1 ½ Tbsp. dark soy sauce
1 Tbsp. low sodium tamari or light soy sauce
1 ½ Tbsp. Agave Syrup or Maple Syrup
1 Tbsp. white miso
1 Tbsp. cashew butter or peanut butter
1 Tsp. sesame oil
½ Tsp. chili garlic sauce
1 Tbsp. water
1 Medium Eggplant, Sliced in half lengthwise
2 packs of Frozen Udon Noodles
(230grams each)
Sesame oil (for brushing)
For Garnish:
2 Tsp. toasted sesame seeds
Chopped Spring Onions
PROCEDURE:
First, preheat your oven to 400 Fahrenheit
Make the glaze:
▢ In a medium bowl, mix together the dark soy sauce, tamari, agave syrup, miso, cashew butter, sesame oil, chili garlic sauce and 1 tablespoon of water making sure that the miso is fully dissolved.
▢ Cut the eggplant in halves and cut slits on the surface using the tip of a small knife in a crosshatch pattern, then brush the flesh side of both halves with sesame oil.
▢ Over medium high heat, cook the eggplant flesh side down for three minutes. Turning over both pieces and cook the skin side for two minutes more, then transfer the eggplant to the prepared baking sheet (be sure to line a parchment paper or a silicone mat)
▢ Using a teaspoon, drizzle a generous amount of the glaze on top and between the incisions of the eggplant. Be sure that the glaze gets into all the cuts. Then brush a thin layer of the glaze into the flesh of the eggplant using a pastry brush. It should be fully coated with glaze by this time.
▢ Now it's time to roast the eggplant steaks. Roast the eggplant flesh side up for 10 minutes. Remove from the oven and brush to glaze the flesh again, basting each half until fully coated. Roast for another 7-10 minutes or until desired texture is reached.
▢ Cook the frozen Udon Noodles in boiling water for one minute and set aside.
▢ Heat the remaining glaze in a small pan over low heat until it starts to thicken. Remove pan from the heat and stir in the noodles until they are fully coated in the glaze.
▢ Now for the fun part. Start plating and garnish the eggplant and noodles with toasted sesame seeds and spring onions.
Serve immediately. Enjoy!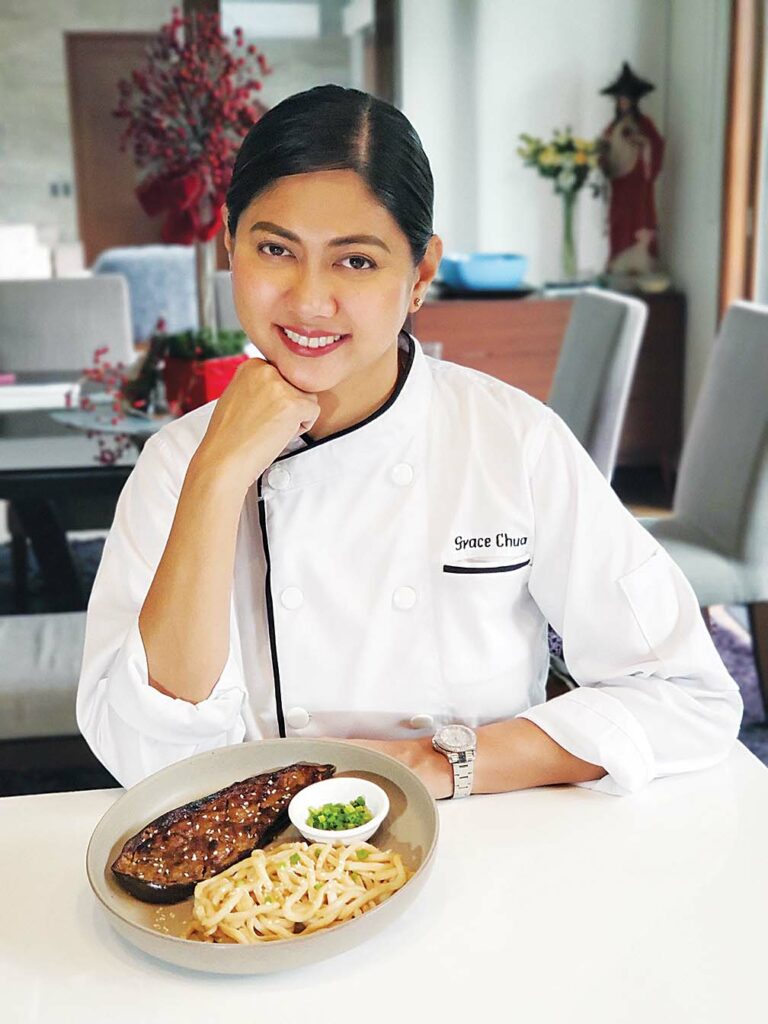 Hits: 135